The Independent's journalism is supported by our readers. When you purchase through links on our site, we may earn commission.
Calvin Klein are selling a 'torso-less' jumper for $2,000
Say goodbye to sleeveless shirts and hello to shirtless sleeves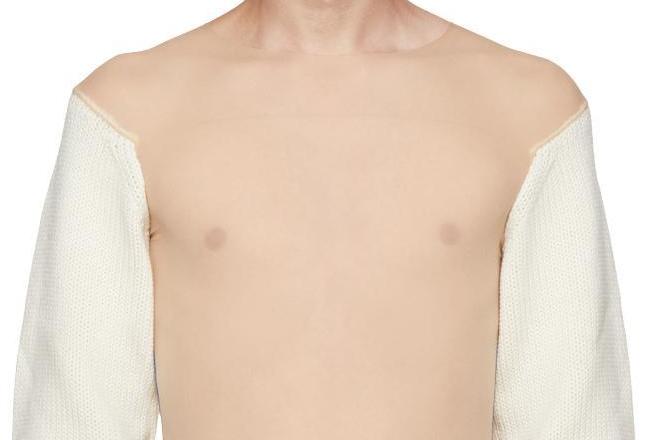 If you're feeling nippy, Calvin Klein's latest knitwear creation isn't the garment for you.
The American designer has released a wool jumper with a see-through torso and is selling it for $2,000 (£1,471).
Guaranteed to make quite the fashion statement, the jumper is made from a sheer fabric that practically keeps your entire upper body exposed with just your arms covered.
It's safe to say that the unique garment is more style than substance, guaranteed to both free - and possible freeze - the nipple.
The "multicolour wool cheerleader sweater" does boast conventional sleeves though: a blue and white colour-blocking combo featuring thick white stripes.
At least your arms will be warm, right?
Naturally, the innovative jumper has caused quite a stir online, with some people criticising the designer label for producing something that "can literally be made at home" and others writing on Twitter that "we've lost the plot."
However, some outward-thinking Tweeters suggested that the sweater might have been designed as part of a coordinating item which should be worn with a vest.
Although, such a concept has neither been advised nor suggested by the brand.
Others were quick to point out that the shade of the torso would only be suited to men with fair skin.
"Where are the dark skinned ones though?" wrote one Twitter user.
The polarising garment was available to buy on SSENSE, where it was described as a "long sleeve semi-sheer stretch nylon and wool sweater" with a crewneck collar and contrast stitching.
However, it's proven so popular with the avant-garde fashionistas of today that it's actually sold out.
Darn.
Join our commenting forum
Join thought-provoking conversations, follow other Independent readers and see their replies