Cardi B gifted three-year-old daughter Kulture a bedazzled Birkin bag worth £35,000
The customised luxury handbag features more than 30,000 Swarovski crystals in the shape of a rainbow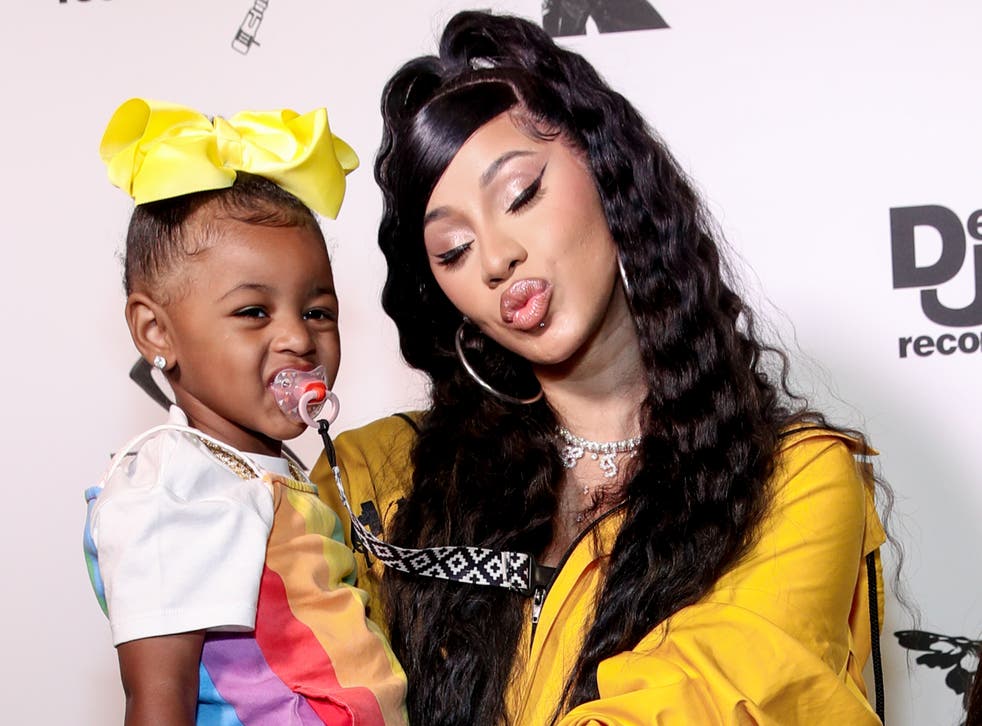 Leer en Español
Cardi B has gifted her three-year-old daughter, Kulture, a yellow Hermès Birkin handbag with a bedazzled rainbow worth around US$48,000 (approximately £34,778).
In a series of photographs posted on Instagram, the rapper – who is expecting her second child with husband Offset – showed off her baby bump and Kulture with her new customised luxury handbag.
The post was captioned: "Me & my best friend for life."
Cardi wore a black Alyx Studio minidress with Bottega Veneta boots and a pastel green wig that matched the soles of her shoes. Kulture was clad in a matching pastel yellow T-shirt and joggers set, paired with a Minnie Mouse chain necklace and white Nike trainers.
The Birkin bag gifted to Kulture features more than 30,000 Swarovski crystals forming a sparkly rainbow and clouds, customised by Privé Porter.
Michelle Berk, CEO of Privé Porter, told Page Six Style that the design for the customised handbag came from a bag Kulture had initially seen in high street accessories store, Claire's.
Kulture "begged" Cardi for a small bag with a rainbow, but Cardi decided to ask Berk to "try to replicate that rainbow on a Birkin" for her daughter.
Berk said they went "back and forth" to perfect the design, which took 100 hours of work to complete.
Prices for Birkin bags can range between US$12,000 (approximately £8,693) to US$200,000 (approximately £144,897). Berk said the price tag on Kulture's very own Birkin included the cost of customisation.
Birkin bags are famous for being eye-wateringly expensive. In 2017, auction house Christie's in Hong Kong broke the world record for the most expensive bag ever sold at auction when a Hermès Himalaya Birkin bag sold for £293,000.
Cardi is an avid collector of the coveted handbag, with 23 of her own Birkin bags in an array of colours and shapes. Last year, she posted a photograph of herself posing in front of her collection on Instagram, with the caption: "Pick a colour."
Register for free to continue reading
Registration is a free and easy way to support our truly independent journalism
By registering, you will also enjoy limited access to Premium articles, exclusive newsletters, commenting, and virtual events with our leading journalists
Already have an account? sign in
Register for free to continue reading
Registration is a free and easy way to support our truly independent journalism
By registering, you will also enjoy limited access to Premium articles, exclusive newsletters, commenting, and virtual events with our leading journalists
Already have an account? sign in
Join our new commenting forum
Join thought-provoking conversations, follow other Independent readers and see their replies