Why everyone's talking about Celine's fashion show (and not in a good way)
Some have labelled it a 'big f*** you to women'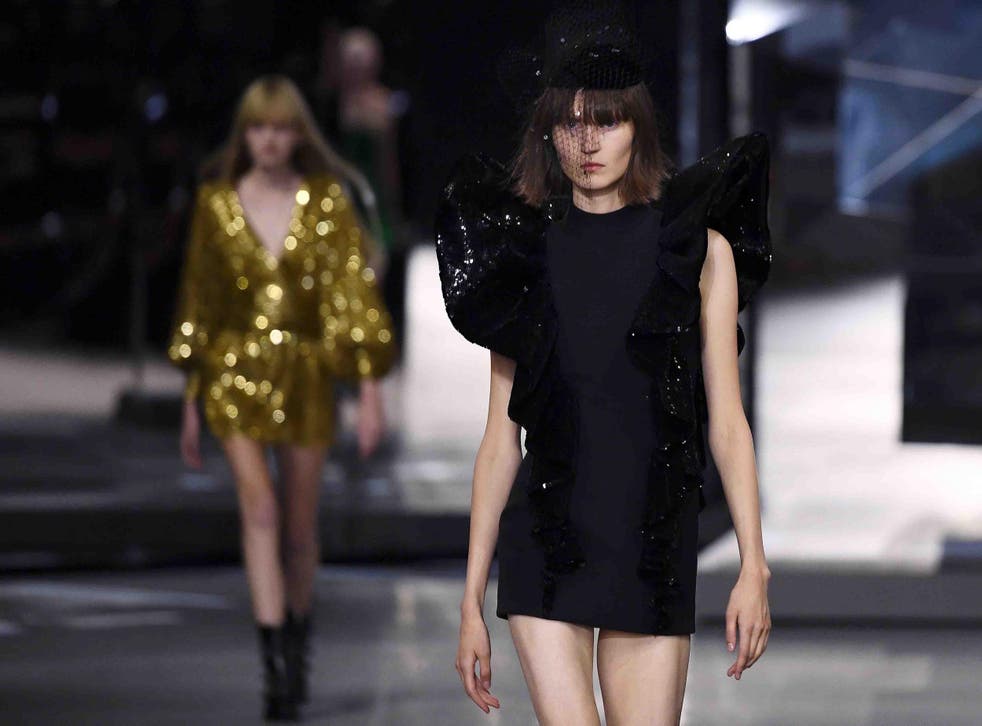 Hedi Slimane revealed his first collection for Celine in Paris on Friday in what was arguably the most anticipated show on the Fashion Week calendar.
As many predicted, the French fashion designer's debut quickly became the talk of the sartorial town, but not for the reasons Slimane may have wanted it to.
You see, instead of winning accolade for his takeover of the LVMH brand, Slimane was engulfed by a flock of angry fashion fans who labelled his inaugural collection "narcissistic", "tone-deaf" and a "big f*** you to women." But, why?
Phoebe Philo
For ten years, Celine was a brand that embodied the female gaze in fashion. Under the helm of British fashion designer Phoebe Philo, it became synonymous with minimalism, clean lines and creating clothes that were designed for a woman who didn't want to dress for anyone but herself.
Philo's designs were created with the wearer in mind. But, as Slimane attempted to fill her Stan Smiths, the designer's gender-bending take on the brand became lost in translation – something which began when he decided to drop the "é" from the brand's name, just as he did with the Yves from Yves Saint Laurent.
A stark contrast from the Celine fashion fans had come to know and love, many took to social media to share their contempt before the show had even ended, and in the days that ensued.
A number of disgruntled followers highlighted the significance of the Celine show taking place on the same day as the Kavanaugh hearings in Washington.
"I'm sorry to tweet about fashion right now, but it's just too perfect that Hedi Slimane's first collection for Céline is, predictably, a giant f***-you to women who love Céline," one person wrote on Twitter.
Someone else said: "I am taking a break from my outrage at the racist/sexist men of the Kavanaugh hearing to indulge in some outrage over Hedi Slimane's entirely predictable, heinous Céline debut (Saint Laurent 2.0 on primarily emaciated white models). F*** power-hungry white men."
Same same, but different
For some the problem was that Slimane had so drastically changed the aesthetic of Celine while others explained that the 96-piece collection – which consisted of sexed-up, rock-and-roll mini skirts and skin-tight, skimpy dresses - bore a striking resemblance to his previous work at Saint Laurent.
"Hedi does Hedi (at Dior) does Hedi (at Saint Laurent) does Hedi (at Celine) does Hedi," one person wrote on Twitter.
Another added: "New Celine, Old Saint Laurent."
Among those to deride the collection for its narcissism was fashion writer, curator and contributing editor of British GQ, Lou Stoppard.
"Celine was f***ing horrible. A big f*** you to women who just wanted something non-demeaning to wear," she said on Twitter.
Later, she expanded on her thoughts on the collection with an Instagram post writing: "This idea that his singular vision is so essential, so vital, that it should be projected again and again is so offensive especially under the name of a brand that was known for a sense of dialogue with the women who bought it."
Diet Prada – the infamous Instagram account that calls out injustices in the fashion industry – agreed adding: "Hedi Slimane picks right back up where he left off at @ysl . TBH, did we expect anything else?
"LVMH is banking on the $limane dollars, but apparently not the creativity."
The models
The clothes weren't the only thing that infuriated fashion fans; then there was the casting.
Numerous people were quick to point out that there were only a handful of non-white models who hit the runway, and almost all of them were super-slim.
In fact, 87 of the 96 models were white, and it was a third of the way through the show before viewers even saw the first model of colour.
"The casting was upsettingly pale," one person wrote.
Another added: "That Hedi at Celine (sans accent, ofc) was mainly predictable but also an absolute mess in terms of casting.
"It's increasingly clear his vision is becoming hugely out of step with what more innovative designers are doing and actively representing."
But just as new Celine arrived, fans of Philo's version attempted to repair their wounds by following a new Instagram account called @oldceline.
The account, which launched shortly after Slimane announced that he would be dropping the line's "é", acts as an "archive and tribute" to Philo's work and has already amassed more than 42,000 followers.
Similarly, others have rushed out to buy a final piece of Philo's Celine legacy before it leaves stores for good.
Ahead of his debut at the fashion house, Slimane opened up about his new direction for the brand.
"We don't enter a fashion house to imitate our predecessor, much less to take over the essence of their work, their codes and elements of language," he told Le Figaro.
"The goal is not to go the opposite way of their work either. It would be a misinterpretation. Respect means preserving the integrity of each individual, recognising the things that belong to another person with honesty and discernment.
He continued: "It also means starting a new chapter. We arrive then with our own stories, our own culture, a personal semantic that is different from the ones of houses in which we create. We have to be ourselves, without any stance, against all odds."
Register for free to continue reading
Registration is a free and easy way to support our truly independent journalism
By registering, you will also enjoy limited access to Premium articles, exclusive newsletters, commenting, and virtual events with our leading journalists
Already have an account? sign in
Register for free to continue reading
Registration is a free and easy way to support our truly independent journalism
By registering, you will also enjoy limited access to Premium articles, exclusive newsletters, commenting, and virtual events with our leading journalists
Already have an account? sign in
Join our new commenting forum
Join thought-provoking conversations, follow other Independent readers and see their replies