Best looks from Chanel's autumn/winter 2019 couture show

Show all 16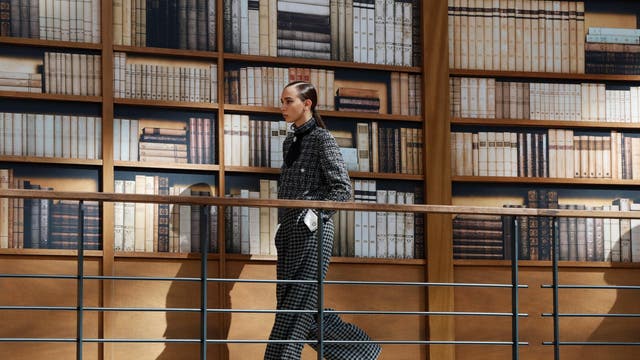 The most standout moments from Chanel's autumn/winter 2019 couture show
There were bow ties, thin-framed glasses, and bookshelves aplentycolle
Chanel's creative director Virginie Viard has showcased her first solo haute couture collection for the luxury fashion brand since the death of Karl Lagerfeld.
On Tuesday, the French fashion designer debuted her latest collection inside Paris' Grand Palais, opening its doors to a library-inspired catwalk.
Models sashayed among the setting's circular set in skirt-sets which boasted balloon sleeves, two-tone bow-tie heels, feathered trains, and high-neck collars.
The spectacle came almost five months after Chanel confirmed the death of Lagerfeld, who passed away at the age of 85.
From the celebrity-filled front row (FROW) to the book-lined catwalk walls, here are the five most impressive moments from the Chanel autumn/winter 2019 haute couture show.
Best looks from Chanel's autumn/winter 2019 couture show

Show all 16
1) Virginie Viard's first Paris haute couture collection
Following Lagerfeld's death in February, Viard was named as the designer's successor at Chanel.
Dubbed Lagerfeld's "right hand woman", the designer previously held the role of fashion creation studio director at the French fashion house and worked alongside the former creative director for more than three years.
Previously in charge of embroidery in the early years of her career at Chanel, Viard's eye for haberdashery was clear at her haute couture show on Monday, with an array of embroidered sequined ensembles, buttoned pockets and cuffs, and monochrome bowed shoes on the runway.
Thin-framed glasses, bow ties and feathered singular earrings also adorned models.
2) The library-inspired setting
Fashion innovator. Creator. Designer. Visionary. These are just a few of the words to describe Lagerfeld, but a little known fact about the former Chanel creative director was that he was a renowned polyglot and collector of books.
So, it seems fitting that the Paris's Grand Palais was transformed into a circular library for the couture show, taking inspiration from Mademoiselle Chanel's library at her 31 Rue Cambon apartment.
The show's setting was furnished with walkways between shelves, coffee tables, rugs, and sofas.
Works from the literary greats including the likes of Plato, Virgil, and Montaigne lines the set's shelves and mirrored the near "encyclopaedic mind" British Vogue editor-in-chief Edward Enniful described earlier this year.
"I would nod along, but would often have to go and research who the hell he was talking about," he added.
3) Kaia Gerber has a Jackie Kennedy Onassis moment
For her latest appearance walking for the French fashion house, US model Kaia Gerber strutted through between the winding book shelves wearing a bight orange and cream blazer and a thigh-high skirt.
The look was a nod to the 1960s glamour of Jackie Kennedy Onassis with its uniformed buttons, structured silhouettes, and sharp padded shoulders.
The 17-year-old was styled with a slick of black-winged eyeliner, a pair of quintessentially Chanel black and white slip-on ballet pumps, and a slicked-back ponytail.
4) Celebrity FROW
Several celebrities graced the FROW at Tuesday's show including French actor Isabelle Huppert, who wore a black tulle skirt and grey Chanel jumper for the occasion, and American actor Amanda Stenberg in a pair of gold boot-cut trousers, button-up black shirt and black cross-body bag.
Oscar Winner Marion Cotillard was also spotted wearing a Chanel emblazoned T-shirt teamed with a pair of navy-blue pointed Mary Jane heels and a pair of orange-coloured vinyl trousers.
Meanwhile, Wolf of Wall Street actor Margot Robbie wore a long-lined monochrome blazer and patterned leggings.
5) No wedding dress finale
Contrary to Chanel haute couture shows under the helm of Lagerfeld, Viard did away with tradition on Tuesday and chose not to close her show with a wedding dress.
Instead, models walked to the beat of Portishead's hit 1995 song "Glory Box" which includes the lyrics "I just want to be a woman".
Viard also made an appearance at the end of the show dressed in a black buttoned-up shirt, patterned trousers, and heeled boots.
Over the years, several high-profile models including Lily Cole, Cara Delevingne, and Kendall Jenner have sported bridal attire for the finishing walk on the haute couture runway, often hand-in-hand at the end of the show with Lagerfeld.
Last year, Sudanese-Australian model Adut Akech wore a mint-green wedding dress skirt suit at the end of the show, while in 2014 pregnant model Ashleigh Good was escorted down the runway by the former Chanel creative director.
Read more about Chanel on The Independent here.
Join our new commenting forum
Join thought-provoking conversations, follow other Independent readers and see their replies