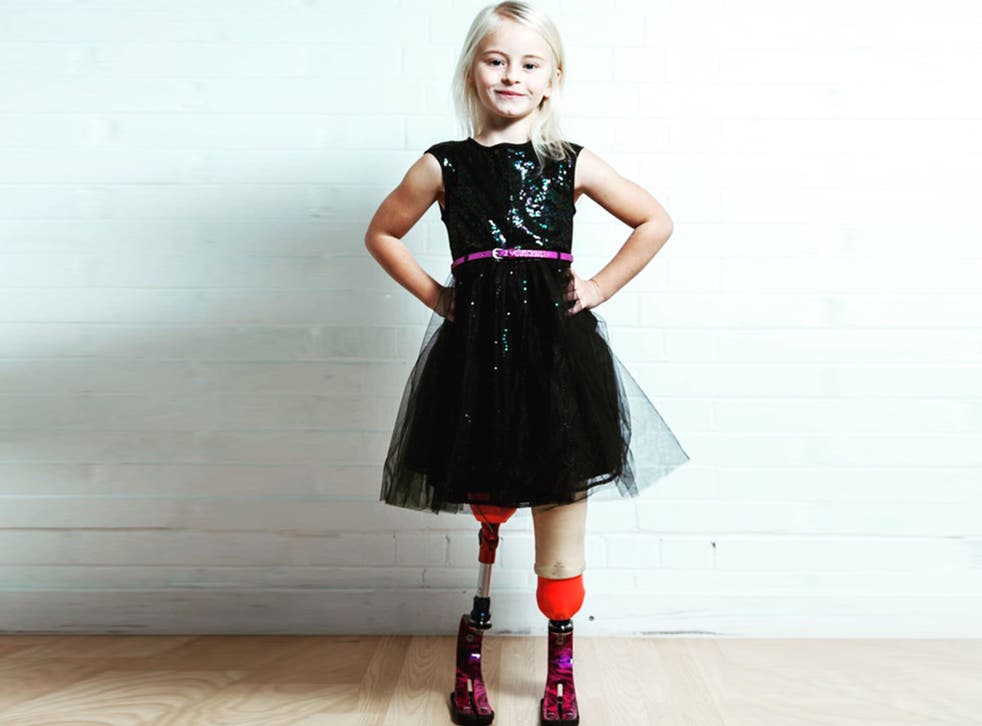 Seven-year-old double amputee inspires social media with modelling career
'She is inspirational, she is full of energy, nothing will stop her ever in life'
Sabrina Barr
Monday 16 July 2018 15:56 Comments
A seven-year-old double-amputee is inspiring thousands on social media with her burgeoning career in child modelling.
When Daisy-May Demetre was born, she was diagnosed with a birth defect called fibular hemimelia.
Neither of her feet had developed properly due to the condition, as she had no fibular bone in her left leg and an extremely small one in her right.
"The feet never formed properly, it came like a ball - the other one very flappy and sort of unusable," her father, Alex, from Birmingham, tells Barcroft TV.
When Daisy was still a baby, her parents decided to have both of her legs amputated below the knee, as she was unable to balance or move properly with her legs as they were.
Following the surgery, Daisy struggled with agonising pain and poor quality plaster casts on the end of her legs.
However, she was eventually fitted with prosthetic legs that allowed her to learn how to walk, run and jump at a rapid pace.
Her father explains that she has two sets of prosthetics, springs or blades that are ideal for fast-paced activities, and basic blades that she wears to school.
"To be honest you can put anything on her now and she will adapt that quick; she just puts something on and she will be doing cartwheels on them in about five minutes time and you think, 'Wow it's amazing.'"
Alex created an Instagram account for his daughter so that she could inspire others with her vivacity and zest for life.
Daisy quickly caught the attention of many people online, which is why the family decided to put her forward for inclusive modelling agency Zebedee Management.
The seven-year-old has since walked the runway at modelling shows and has been featured in a campaign for River Island.
When asked by her father about how she feels about being different, Alex says that Daisy isn't bothered about standing out from the crowd.
"I ask her all the time to be honest about being different, her answer is that she doesn't care and you know what, that's exactly how I brought her up to be," he says.
"It's good to be different, to stand out and it doesn't phase her, it really doesn't and it is amazing.
"She is inspirational, she is full of energy, nothing will stop her ever in life."
Daisy currently has a following of more than 1,000 people on Instagram, and can count model Tess Holliday as one of her fans.
Holliday recently commented on one of her posts, writing: "Love this so much!!!"
Register for free to continue reading
Registration is a free and easy way to support our truly independent journalism
By registering, you will also enjoy limited access to Premium articles, exclusive newsletters, commenting, and virtual events with our leading journalists
Already have an account? sign in
Join our new commenting forum
Join thought-provoking conversations, follow other Independent readers and see their replies