King of soles Christian Louboutin reveals he'd love to see the Queen wearing his shoes
The famous footwear designer talks to Olivia Petter about his upcoming exhibition and the ubiquitous appeal of his signature red soles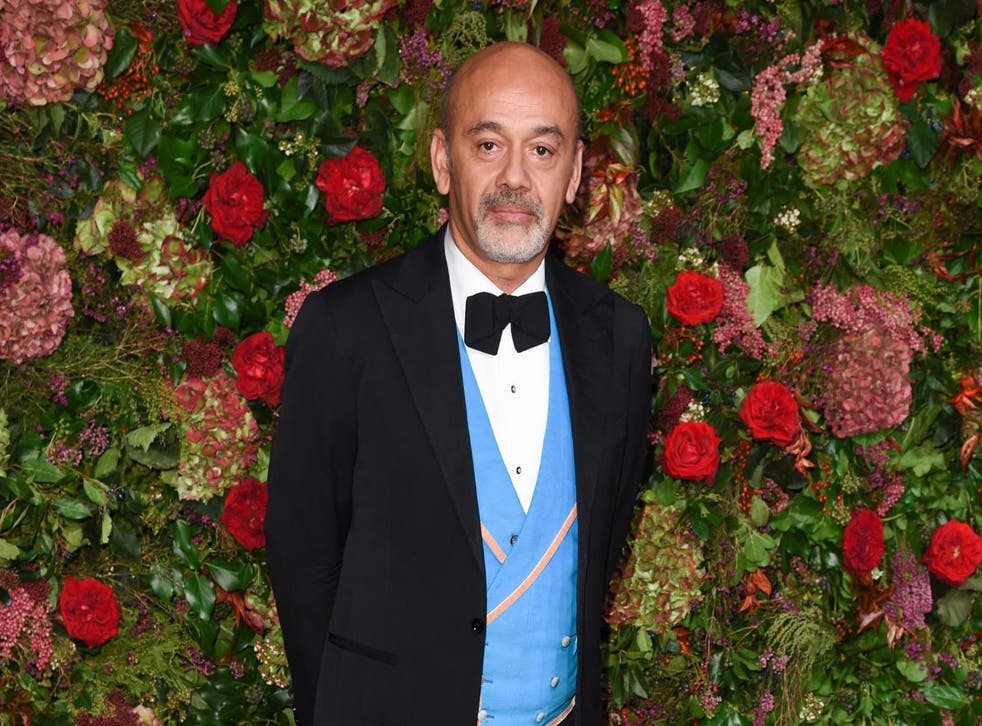 Even if you know nothing about fashion, you will be familiar with Christian Louboutin.
You might have heard the French shoe designer's name uttered in a film, or in an episode of Sex and the City – given protagonist Carrie Bradshaw's longstanding obsession with his creations. Perhaps you can recall Cardi B singing about his famous "red bottoms" in her hit track, "Bodak Yellow". Louboutin is the man who made rappers, models, actors and, well, everyone else with an interest in fashion, care about the soles of their shoes. The 56-year-old's designs are instantly recognisable thanks to the lacquered scarlet shade of their "bottoms".
Louboutin is undoubtedly one of the most revered and successful shoe designers of all time, with everyone from Beyoncé and Katy Perry to Miley Cyrus and Melania Trump having worn his shoes. People save up for years to buy them (the average pair will set you back £500) and will proceed to refer to their "Louboutins" with such pride of ownership that you'd think they were talking about their first born. Such is the social and cultural reverence surrounding his designs.
Now, 29 years into his career, a landmark exhibition of Louboutin's work is coming to the Palais de la Porte Dorée in Paris in February 2020. The show will see roughly 500 pairs of shoes on display alongside the myriad objects, artworks and personal items that inspired them. Visitors will also be able to take part in immersive experiences that will transport them from the flamboyant theatres of French cabaret into the intoxicating world of David Lynch's cult neo-noir, Blue Velvet.
It might seem like everyone in the public eye has worn a pair of Louboutin's theatrical and masterful designs. But the footwear designer reveals he is still holding out for one person in particular.
38 of the Queen's most colourful fashion moments

Show all 38
"I would love to see the Queen of England in my shoes," Louboutin tells The Independent, recalling how he once thought he had seen the monarch wearing a pair he had designed.
"She was stepping out of a car and you couldn't see, but there was a red carpet there and because of that, there was a reflection and it looked like the sole of her shoe was red!" he laughs.
"So many people called me and said 'Oh my god, the Queen of England!'"
When Louboutin looked closer at the photograph, he soon realised the chunky mid-heels the monarch was wearing were in fact not one of his designs. "But I remember thinking how hilarious it was," he adds, hopeful that the day will come when the Queen really does don his red-soled shoes.
While the red soles are what Louboutin might be famous for, they came about quite organically. Prior to formally launching his career, the designer spotted one of his assistants painting their nails in a vivid red shade. "I grabbed her nail polish and started painting the bottom of a shoe," he recalls. And just like that, Louboutin's signature aesthetic was born.
"Even if you don't like colours, you like red," Louboutin says, noting women he knows who vow to never wear colours but still wear red lipstick or nail varnish, because "it's not the same".
"Red is fire, blood, love and passion," he continues. "It carries a symbolism that you don't get with other shades."
Louboutin has been designing shoes for nearly three decades, but there is one collection that remains his most socially prolific: the nudes. The range of skin-coloured stilettos launched in 2013 and were specifically designed to match a spectrum of skin tones.
The idea for the collection, which will feature prominently in the exhibition, came about more than a decade ago when a woman pointed out to him that the shoes he had previously been marketing as "nude" were not in fact nude at all.
Louboutin was showing his new collection to a group of buyers and noticed one woman who he says was angrily huffing and puffing the entire way through his presentation. "She was very rude," he recalls, explaining how he confronted her after the presentation and asked her what the issue was.
"She said, 'You're showing a shoe and calling it nude, but it is not nude to me. This is beige. Nude is a colour of skin and this is not the colour of my skin. This is why I was really annoyed'," he recalls.
"So I looked at her, she's black, and I thought, 'Well I'm sorry, you're right, this is beige and not nude'. Immediately when she told me that, I understood."
Louboutin subsequently created his first nude collection with shoes that matched a range of skin colours. The first range launched in 2013 and included five shades. He has since expanded it to consist of seven colours – and an eighth is on the way.
"I think the nude shoes will always remain fashionable," Louboutin says, pointing to the way they elongate a woman's legs. "They just disappear and it suddenly doesn't become about the shoe anymore, it becomes about flattering the body."
As fans will know, Louboutin has a flair for the dramatic, one that he channels as much into his designs as into how he chooses to present them to the world. His most recent sartorial spectacle took place on Tuesday at Paris Couture Week, where Louboutin debuted his spring/summer 2020 collection, which was inspired by sport and childhood games. The brightly coloured range included several Rubik's Cube-inspired designs in addition to a sandal named Tennis Elbow.
The designer also took the opportunity to present a new capsule collection dedicated to his love of Bhutan. For this part of the presentation, guests boarded the "Loubhoutan Express" – a replica Orient Express carriage complete with Louboutin red furnishings – that virtually transported them to the Himalayas before presenting them with a series of decadent designs produced using elaborate techniques such as wood carving, metal work and embroidery. This is not a man who does things by halves.
Christian Louboutin: The Exhibition will run from 25 February to 28 July 2020 at The Palais de la Porte Dorée in Paris
Register for free to continue reading
Registration is a free and easy way to support our truly independent journalism
By registering, you will also enjoy limited access to Premium articles, exclusive newsletters, commenting, and virtual events with our leading journalists
Already have an account? sign in
Register for free to continue reading
Registration is a free and easy way to support our truly independent journalism
By registering, you will also enjoy limited access to Premium articles, exclusive newsletters, commenting, and virtual events with our leading journalists
Already have an account? sign in
Join our new commenting forum
Join thought-provoking conversations, follow other Independent readers and see their replies