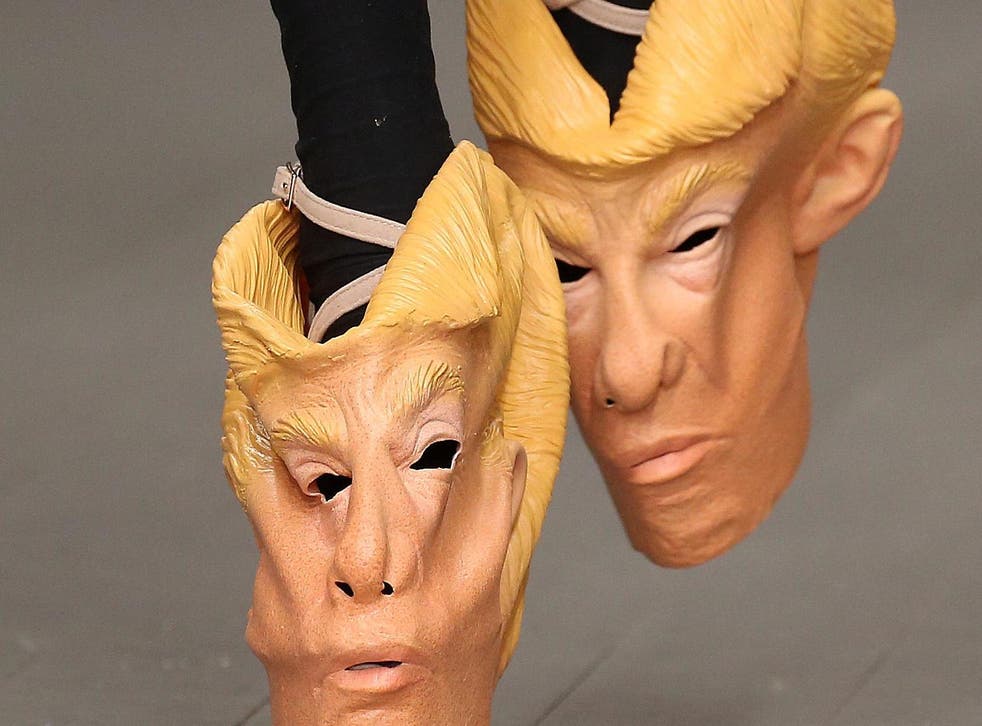 London Fashion Week features condom dresses and 'Trumpettos'
'Looks like they ran out of practical ideas'
Fashion week is nothing if not eccentric.
This season, it was Central Saint Martins MA fashion design graduate Edwin Mohney who got the style set talking with his lilo skirts, condom dresses and 'Trumpettos' - rubber stilettos designed to look like the President of the United States.
Evidently, practicality was not the port-of-call for the New York designer, whose surrealist collection was an immediate hit on Instagram.
Numerous variations of Mohney's distinctive condom dress appeared on the runway, however, none of them provided much wiggle room for the arms or shoulders, which seemed constricted within the garment.
Some of his condom-inspired designs were two-fold, featuring a bubble skirt and a translucent hat in the shape of the common contraceptive.
Then, there were the lilos and inflatable swimming pools, used as skirts and dresses with models literally standing inside them.
While they might not be a hit amongst the commuter crowd, they could possibly be a useful getup come BBQ season, when a paddling pool is is just the thing on everyone's mind after a few too many beers in the sunshine (just make sure to bring an extra set of clothes).
Some fashion fans took to Twitter to express their bewilderment at Mohney's outlandish designs.
"Looks like they ran out of practical ideas!" wrote one person.
"Think I'll 'lilo' if these ever hit shops," joked another.
However, the real star of Mohney's show was his "Trumpetto" heels.
Bound to be a talking point at dinner party tables if and when they hit shops, the rubber masks-turned-stiletto heels were not the most aesthetically-pleasing of designs.
However, if the designer's mission statement was to "make fashion great again" he has certainly succeeded with aplomb.
Register for free to continue reading
Registration is a free and easy way to support our truly independent journalism
By registering, you will also enjoy limited access to Premium articles, exclusive newsletters, commenting, and virtual events with our leading journalists
Already have an account? sign in
Register for free to continue reading
Registration is a free and easy way to support our truly independent journalism
By registering, you will also enjoy limited access to Premium articles, exclusive newsletters, commenting, and virtual events with our leading journalists
Already have an account? sign in
Join our new commenting forum
Join thought-provoking conversations, follow other Independent readers and see their replies