The Independent's journalism is supported by our readers. When you purchase through links on our site, we may earn commission.
Converse sells Chuck Taylors purposely made to look dirty for £70
Retailer states that a 'dirty wash treatment' gives the trainers 'a vintage look'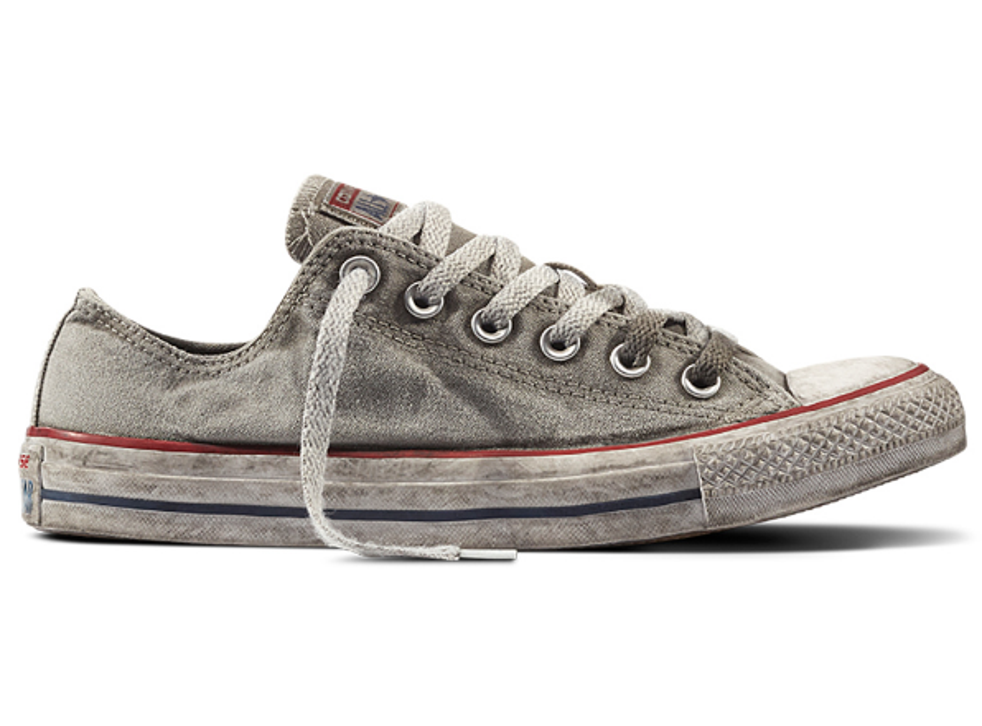 It is not unreasonable to expect a pair of new shoes to look, well, new when you buy them. The fresh-out-of-the-box appeal is usually the reason people opt for new and not second-hand shoes when they do so – despite the latter being a more eco-conscious way to shop.
So it comes as quite a surprise that Converse seems to have overlooked this basic tenet of shopping, by releasing a pair of trainers designed purposefully to appear dirty.
We're not even talking slightly scuffed. If you were to take a quick glance at the trainers in question, you would not guess that they are a brand new pair of shoes, with grubby marks on the rubber and the grey colour of the canvas.
But lo and behold, they are – and they cost £70.
The trainers, which are called the "Chuck Taylor All Star Basic Wash", are low-top and come in two colours: either navy and white or grey and white.
In the description for the product on the Converse website, it states that customers can "skip the break-in period" with these shoes, saying they have been given "an aged makeover".
"A dirty wash treatment gives these classic Chucks a vintage look, straight out of the box," it says.
Several Twitter users expressed their incredulity over the trainers, with one person questioning: "This... This isn't a parody?!"
Another person stated: "Could get them for a fiver in charity shops looking better than that."
Converse is not the only retailer to have offered trainers intentionally made to look dirty for a hefty price.
In March last year, Gucci sparked criticism for selling a pair of shoes purposely made to look dirty for £615, with critics accusing the fashion house of "commercialising poverty".
Meanwhile in September 2018, Italian designer shoe brand Golden Goose was condemned on social media for selling a pair of shoes for £400 that looked battered, featuring duct tape over the toes.
Register for free to continue reading
Registration is a free and easy way to support our truly independent journalism
By registering, you will also enjoy limited access to Premium articles, exclusive newsletters, commenting, and virtual events with our leading journalists
Already have an account? sign in
Register for free to continue reading
Registration is a free and easy way to support our truly independent journalism
By registering, you will also enjoy limited access to Premium articles, exclusive newsletters, commenting, and virtual events with our leading journalists
Already have an account? sign in
Join our new commenting forum
Join thought-provoking conversations, follow other Independent readers and see their replies