Naomi Campbell wears black lingerie on Dolce and Gabbana catwalk
The supermodel closed the Milan Fashion Week show. By Katie Wright.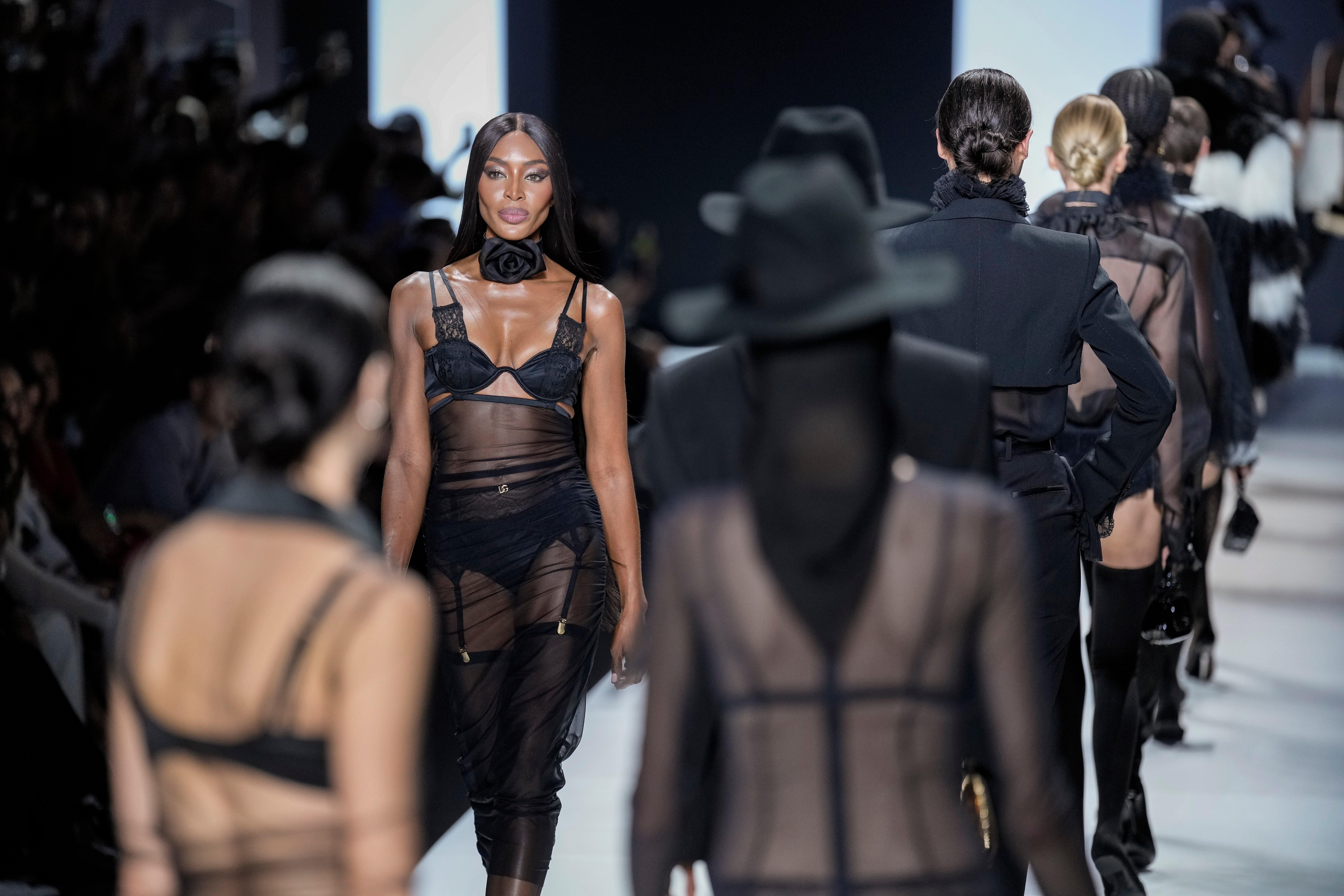 Naomi Campbell stole the show at Milan Fashion Week as Dolce and Gabbana unveiled their spring/summer collection.
The iconic supermodel walked the runway in black lingerie, a form-fitting, sheer slip dress, stockings and suspenders, with a black rose corsage around her neck.
Watching from the front row were a host of celebrities including Kylie Jenner, British model Rosie Huntington-Whiteley and Halle Bailey, star of the Little Mermaid movie.
Love Island host and recent D&G campaign star Maya Jama was also in attendance, wearing a long-sleeved black dress with patent knee-high boots.
Italian designers Domenico Dolce and Stefano Gabbana took 'underwear as outerwear' to the extreme with this collection.
Almost entirely black and white (apart from a handful of leopard print looks), the show opened with a series of 'office meets boudoir' outfits that combined pinstripe tailoring with visible lingerie.
A few floaty polka dot frocks appeared before the lingerie parade continued with a dizzying array of sheer dresses, ruffled blouses and corset gowns that revealed black bras, knickers, stockings and suspenders underneath.
Plus-size model Ashley Graham walked the show in an all-black ensemble.
The former Vogue cover star donned a corset and high-waisted briefs with a sheer overlay, stockings and high heels.
Russian model Irina Shayk wore a diaphanous slip dress over black lace lingerie.
Other underwear-clad models were styled with see-through plastic macs and matching rain bonnets.
There was a more sedate section of the show featuring a range of black and white high-necked shift minidresses, some with bib fronts or lace collars, plus several tuxedo jackets.
A pair of black skinny jeans was a huge shock given the prevalence of baggy denim on the spring catwalks.
Shortly before Campbell took her turn on the runway, a pair of sheer white lace gowns worn over – you guessed it – matching lingerie offered some very sexy bridalwear options.
While this collection didn't deliver much that can be worn in a church, the lacy underwear-esque dresses will no doubt be a hit with celebs who want to send the flashbulbs popping on the red carpet.