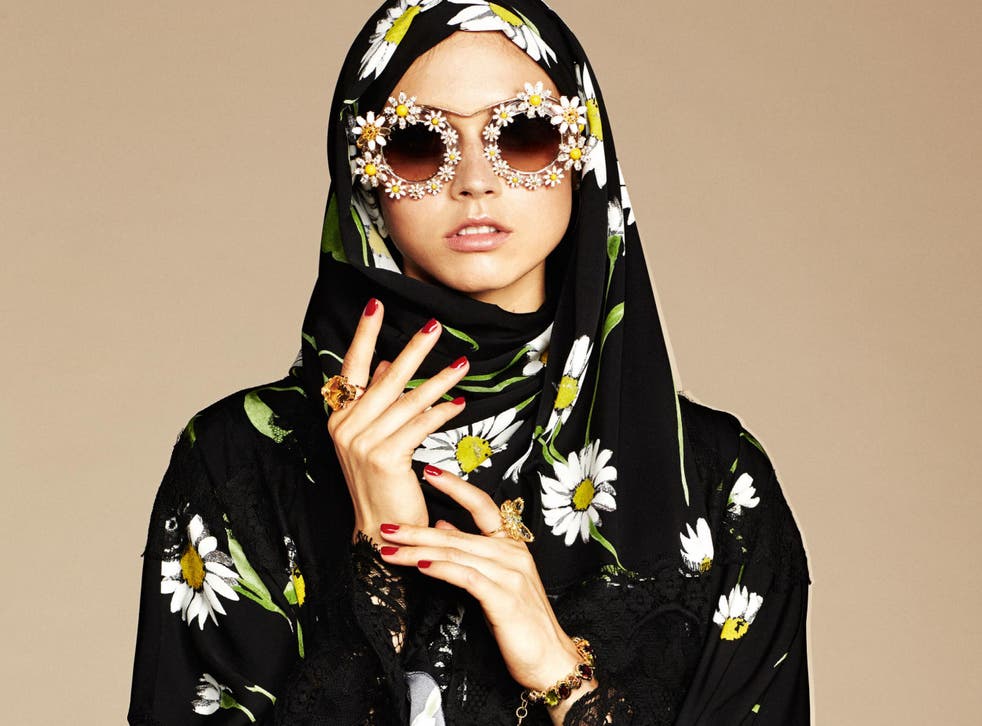 Dolce & Gabbana debuts abaya and hijab collection
The Italian fashion house debuted the range of abayas and hijabs this week. 
Italian fashion house Dolce & Gabbana is well known for its ostentatious designs inspired by the brand's Sicilian heritage, but a new collection sees the brand take its inspiration further afield, all the way to the Middle East.
The abaya collection, according to the brand celebrates 'the allure of the middle east' with a line of abayas and hijabs.
A first for the label, the collection includes a mix of classic long, flowing dresses with more elaborate designs including some that incorporate rose, daisy and lemon prints from the mainline spring/summer 2016 range.
Dolce & Gabbana Abaya collection

Show all 17
Hijabs complete the looks with traditional black styles alongside lace trim and polka-dot designs. The trademark Dolce & Gabbana bling is not forgotten with oversized jewellery and opulent sunglasses accessorizing the looks.
The move is a smart one for the brand with sales of luxury goods from Middle Eastern customers on the rise; Forbes reported sales reached record breaking levels in 2015 up to $8.7 billion.
Dolce & Gabbana is not the first brand to create a collection especially for the Middle Eastern consumer; ranges have previously been created by the likes of Oscar de la Renta, DKNY and Tommy Hilfiger often released around Ramadan with the anticipated increase in sales from Muslim customers who are gearing up for the celebratory religious occasion. Net-a-porter also last year launched a dedicated shopping campaign titled 'The Ramadan Edit.'
The high street has followed suit with Uniqlo retailing a range of hijabs in Singapore late last year and H&M casting its first hijab wearing model - Mariah Idrissi.
Idrissi told The Telegraph: "Seeing Dolce & Gabbana launch in this market is definitely a positive thing, I think [brands] are realising; let's not just do it in that one month [Ramadan], let's make this something to stay."
Dolce & Gabbana's new collection has been well received on social media with users sharing their thoughts on the new line:
The collection goes on sale this month in all Dolce&Gabbana boutiques in the Middle East as well and in Paris and London.
Join our new commenting forum
Join thought-provoking conversations, follow other Independent readers and see their replies