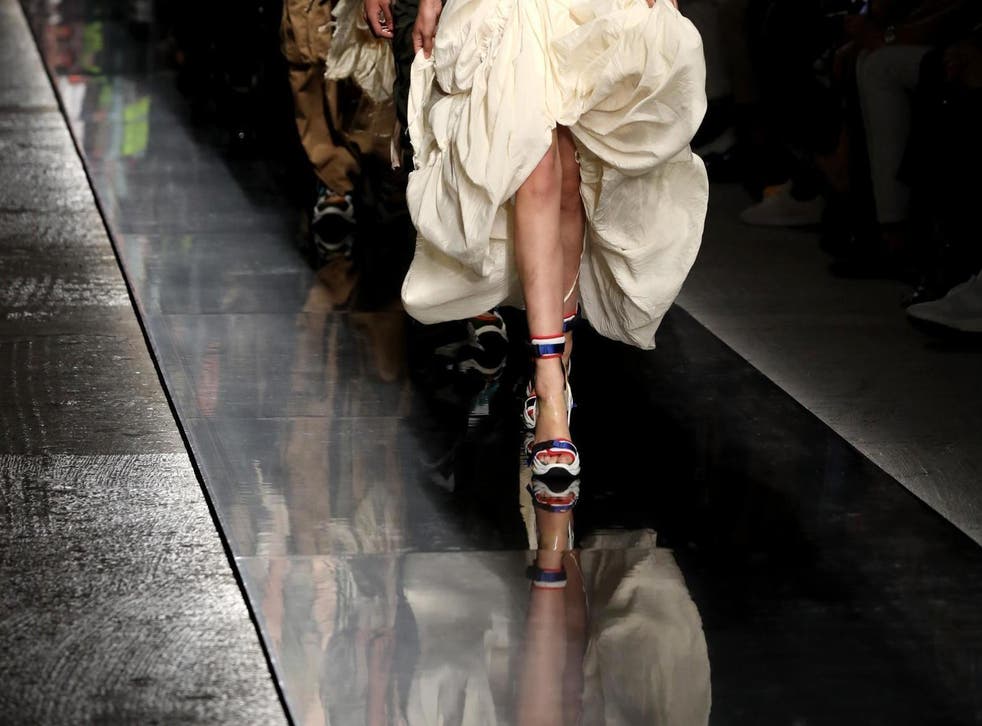 Designers Dsquared2's new sneaker heels have people confused
Despite having a sneaker-inspired bottom, sports would be impossible in these shoes
Style is all about personal expression but one pair of shoes have people questioning where to draw the line.
Designed by Dsquared2, the shoes are a blend of a sneaker and a very high heel - and they have been raising eyebrows since their debut at the 2019 Spring Men's Fashion Week in Milan.
The "Giant Heels," which indeed they are, feature thick white rubber bottoms, velcro ankle and toe straps - in an array of vibrant colours.
But even though they slightly resemble sneakers, it would be unwise to attempt sports in the shoes - as the wedge heel is dangerously high.
Since their reveal on numerous models on the runway, the shoes have been ridiculed on social media.
On Dsquared2's Instagram post, a photo of the shoes received more than 37,000 likes - but the majority of the comments range from insults to confusion.
"No. Go back to the drawing board please," one person recommended Dsquared2 designers Dean and Dan Caten.
Another said: "These are the ugliest things I've ever seen."
On Twitter, Vogue menswear critic Luke Leitch commended the designers on creating the ugliest shoe: "Could there be a fuglier shoe? Bravo," he wrote.
While some people have questioned, and hoped, that the shoes are a publicity stunt, it appears they are the real deal.
Although the wedge heels are not yet available on Dsquared2's website, they likely won't be cheap.
And unfortunately, as one woman pointed out, the giant heels don't even look like they would be comfortable to wear.
"Sorry guys, I usually love your designs, but these don't look the least bit comfortable. Her foot is running forward. That band will cut into her toes. Her heel isn't properly seated in the shoe. I can't see the magic here," she wrote.
Join our new commenting forum
Join thought-provoking conversations, follow other Independent readers and see their replies