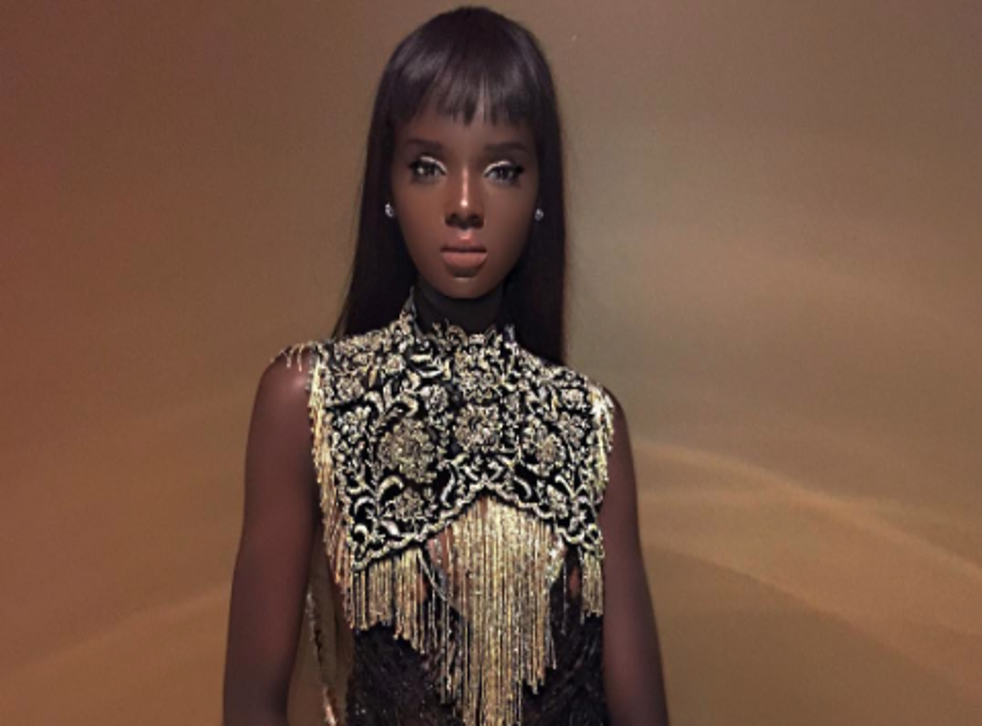 Model Duckie Thot confuses Twitter users with her Barbie doll beauty
An Australian-Sudanese model's stunning doll-like features have left Twitter users confused as to whether she is actually real.
Nyadak Thot, also known as Duckie, isn't new to the industry – she rose to fame on Australia's Next Top Model when she was just 17-years-old – but the internet is currently in disarray over how stunning she is, with many convinced that she looks like a real-life Barbie doll.
The confusion began when Thot posted a photo of herself to Twitter with the caption "ducks after dark".
In the image, she's wearing a lacy black and gold dress, with matching make-up and both hands rest on her thigh.
But, the model's flawless skin, perfect pout and seriously long limbs led to a flood of comments from people believing she was a doll.
"I won't believe she's real until I see her in person," one person wrote.
Others added, "Are you even human?" and, "What the hell — I thought this was a literal doll."
And, in case you were still wondering, yes this is an actual photo of the 21-year-old model.
Thot was clearly amused by the comparisons and followed the comments with a humorous tweet showing a dishevelled Barbie with the caption, "I'm not perfect. Sometimes, a girl slips."
Her friends joined in on the gag too with one of them sending her a photo showing a Barbie doll taking a selfie in the mirror.
Unsurprisingly, fans are now calling for the model to have her own Barbie and it seems as though she's totally on board with the idea.
"Yeah…we need a Duckie Barbie doll @Barbie what's good??", she tweeted.
Join our new commenting forum
Join thought-provoking conversations, follow other Independent readers and see their replies