The Independent's journalism is supported by our readers. When you purchase through links on our site, we may earn commission.
London Fashion Week
Edie Campbell interview: 'Everyone knew about allegations of sexual harassment against Mario Testino'
The British model speaks to Olivia Petter about predatory photographers, racial diversity, and why the fashion industry should impose a carbon tax
Thursday 13 February 2020 22:54 Comments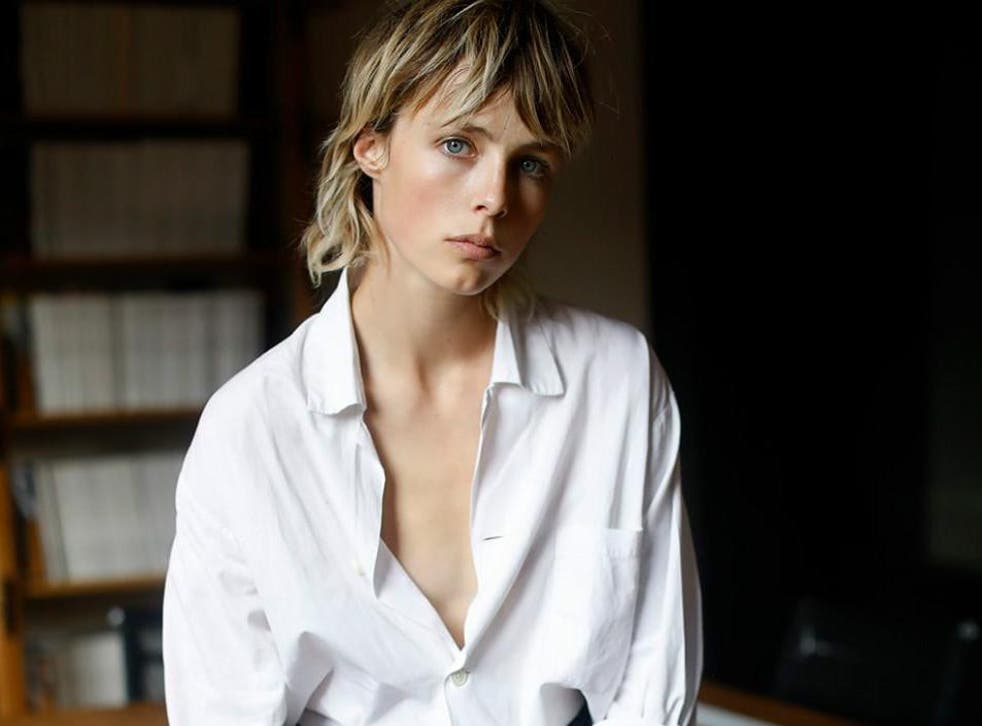 There have been plenty of times when Edie Campbell has felt uncomfortable at work. "It's inherent to being a model," she tells me in a private members club in west London. "I've often been working with a photographer and thought, 'You're a creep but I'm going to have to ride it out because what else can I do?"' Report it, I suggest. "To who?" she demands. Your agent? "And then what's your agent going to do? Maybe you choose not to work with that person again," Campbell continues. "But you're trying not to ruin your career and create a relationship with the photographer. So if the photographer wants that relationship to be a certain way, well, why wouldn't you play along?"
The 29-year-old and I are speaking ahead of London Fashion Week, which Campbell would normally be modelling in, usually a regular on the runway for esteemed brands like Burberry and Molly Goddard. "I decided that I'm not really going to do any shows this season," she says. "Every few months you go and do this round of shows and it's like, 'What is this for? Is this something I need in my life? I wanted a bit of a break."
Campbell has been modelling since she was a teenager, having landed her first major job in 2006 when she starred in a Burberry campaign alongside Kate Moss. By the time she reached her early twenties, the pixie-haired west Londoner was in demand by those at the upper echelons of the fashion industry and walking in shows for Chanel, Marc Jacobs and Fendi while fronting campaigns for Saint Laurent, Michael Kors and Versace. In 2013, she was awarded Model of the Year at the British Fashion Awards. "Models don't usually speak," she famously said in her acceptance speech. "This could mark the end of my career."
Evidently, it did not. Because, as Campbell's career has gone on to flourish, so has her public platform, which she wields to speak up about everything from body image to the lack of changing rooms for models. In November 2017, shortly after allegations of sexual assault against US producer Harvey Weinstein emerged, Campbell released an open letter about the mistreatment of models in the fashion industry, writing: "If you are creative, and if your work is good, you will be forgiven anything."
But Campbell, who graduated from the Courtauld Institute of Arts with a first in history of art, still has plenty to say. And she says it well, peppering our conversation with assertions on diversity ("It's really important that it's not just white faces in a magazine"), the downfall of Victoria's Secret ("It's not exactly surprising") and the fashion industry's darkest corners. For example, when we discuss the allegations of sexual misconduct against acclaimed photographers Mario Testino and Bruce Weber, who were accused of "sexually exploiting" male models on set (they dispute the allegations), Campbell says: "Everyone knew."
As for Terry Richardson, who has faced multiple accusations of sexual misconduct throughout his career: "He was always a creep." While she won't name names, Campbell also tells me that there are many other people in the industry who have yet to face retribution for their behaviour but is keen to stress that it's not as simple as calling someone out. "It takes a lot for someone to say 'that is not acceptable and you're a bad person'," Campbell says, adding that she has previously refused the advances of photographers and then never worked with them again. "I would have a lower tolerance for that stuff now because I'm nearly 30. I'm financially secure and I have nothing to lose. But it wouldn't be that way if I was 19 again, when I would have done anything to be successful."
One issue Campbell has always felt confident discussing is climate change. Last year, she wrote an essay for The Guardian with the headline "Fashion has an environmental problem – and I am complicit", in which she criticised the industry's lack of progression and addressed her own self-confessed hypocrisy given how much she is required to travel for work. "I don't fly within Europe when it's feasible for me to get there any other way," she says. "It's something I'm able to do because my schedule has become more manageable in the last few years. So it's massively hypocritical and I'm not judging anyone who flies to Paris."
Campbell also insists she doesn't "really" shop unless it's vintage, but admits this is partly because she is able to borrow clothes from designers – today, she is wearing a pair of vintage Levi's and a blazer by Hillier Bartley. Despite gently encouraging her friends not to fly when they can, Campbell is keen to stress that judging someone for their lifestyle choices is ultimately unhelpful to the cause. "You've got to exist in the world," she explains. "So you can't be absolutist about it, you've got to do what you see fit in your life and can manage. It's not helpful being puritanical about it."
It's for these reasons that Campbell doesn't understand why Extinction Rebellion is demanding to cancel autumn/winter London Fashion Week altogether as a way of erasing the damage that the industry does to the planet. "You're asking a whole industry to disappear," she says. "It's impossible and not feasible. The whole industry has to go through a sea change and I think it's really difficult to see how that will happen. I don't know how it could work other than by imposing a carbon tax that would just make it really f***ing expensive to pollute. It was sad to me that that was on no one's manifestos at the last election."
Paris Fashion Week: Best street style stars at Fashion Month AW20

Show all 95
Carbon tax aside, there are certainly some simple changes fashion houses could make to be more sustainable, such as eliminating destination shows that require the industry to fly halfway across the world simply to attend. "I do find things like that really problematic because it just seems uncreative for me," says Campbell, going on to reference the recent Dior menswear show in Miami where attendees were given a refillable water bottle on arrival. "So everyone got off their flights and had a carbon-neutral water bottle," she says, rattled. "The irony is almost suffocating."
The next few months look less hectic than usual for Campbell, who has slowed things down since suffering a severe head injury in June. "I fell off my horse while I was competing and smashed my head up so I had to kind of stop everything," she says, recalling how she was bed-bound at her parents' house for three months. "I just stared at the ceiling because I couldn't cognitively do anything." Since then, life has been "kind of chilled" and Campbell says she has practically stopped drinking, "which is quite nice actually" and has been spending time on "exciting fashion-related projects" that she can't talk about yet.
In an industry where successful models are often propelled into celebrity – think Kendall Jenner, Bella Hadid and Gigi Hadid – it begs the question of how Campbell has managed to stay mostly out of the limelight, rarely making headlines or getting photographed by paparazzi. "You get that kind of public attention if you invite it. I think fame is constructed by you and for you," she says. "You don't become famous by accident unless you're, like, Monica Lewinsky." Would she like to be famous? "No, that's not for me. I think fame is really bad for the soul," she says. "And I hate the idea that I wouldn't be able to pick my nose if I wanted to. What a horrible way to live."
Register for free to continue reading
Registration is a free and easy way to support our truly independent journalism
By registering, you will also enjoy limited access to Premium articles, exclusive newsletters, commenting, and virtual events with our leading journalists
Already have an account? sign in
Join our new commenting forum
Join thought-provoking conversations, follow other Independent readers and see their replies