Shein: Fast fashion retailer accused of 'stealing' independent brand's design
'They're all about money, they don't care', says Emma Warren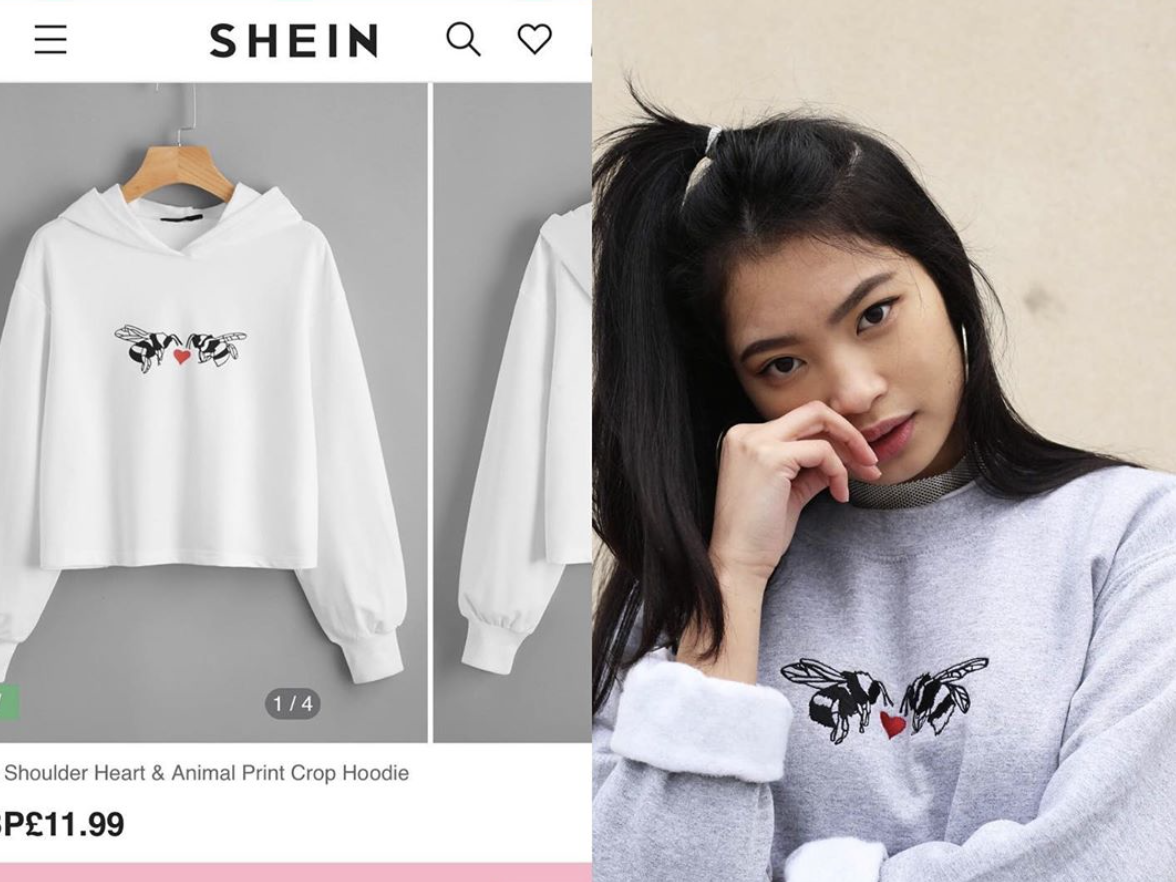 Leer en Español
Fast fashion retailer Shein has been accused of stealing a garment pattern from an independent designer.
On Saturday, Emma Warren, the founder and designer behind eponymous fashion brand Emma Warren Design, shared a post on her Instagram account that featured two side-by-side photos.
The first image showed a screenshot taken from the Shein website of a white, cropped hoodie adorned with a print of two bees hovering either side of a red heart.
The second photo showed a model wearing one of Emma's own sweatshirts, which features what appears to be the exact same motif.
In the caption of the post, Emma criticised the retailer and accused them of "stealing" her work.
"@sheinofficial have stolen my bee design," she wrote alongside a crying emoji.
"Please share and tag @sheinofficial @shein.uk. On the left a screenshot from their website and on the right my design from my site."
Emma's post, which has since received more than 1,600 likes, was quickly flooded with messages of support from her followers.
"Absolutely disgusting! @sheinofficial should be ashamed of themselves for stealing designs from small businesses," one person wrote.
Another commented: "This is terrible and so blatant!! I have seen this happen to someone else I follow on Insta. Shared to try and help get it removed!"
A third person wrote: "Absolutely terrible. I've shared on my stories. Hopefully with everyone sharing they'll take it down."
Emma later clarified on Instagram stories that she was made aware of the Shein hoodie by one of her customers. She added that the company has cut back on quality by printing the motif onto the garment rather than embroidering it in order to sell them for a lower price.
Emma's unisex sweatshirt, which features intricate embroidery, is available to buy for £33, while the Shein garment is currently being sold online for £11.99.
"I know they're notorious for it. They do it a lot. I don't think they've ever taken any of my designs before, not that I know of," she told her followers.
"It's literally exact, they've just taken it and put it on something. I think they've printed it to make it a little cheaper I suppose. That's fast fashion for you. It's infuriating because they're selling it for a third of the price as well."
Emma went on to ask why big fashion companies such as Shein do not consider working with independent designers on a freelance basis instead of simply taking their designs.
"I don't understand why all these big companies – well I do understand because they're all about money, they don't care – but, why don't they approach these designers and be like, 'oh, we really like your work and would like to work with you freelance'," she said.
"I suppose what they do is take a design, use it for a couple of weeks, sell loads of it for cheap and then it's gone and hope that no one ever knows."
Emma concluded by saying she hopes that garment will be removed from the Shein website and thanked her followers for raising awareness by sharing her post on social media.
"Hopefully it gets removed soon because it's still on there but thank you for all the shares and stuff. Hopefully they'll sort themselves out," she said.
The Independent has contacted Emma Warren and Shein for comment.
Join our commenting forum
Join thought-provoking conversations, follow other Independent readers and see their replies