Is it a mistake to store perfume in the bathroom? Experts respond to viral TikTok video
A fragrance influencer suggests people are at risk of damaging their scents. By Katie Wright.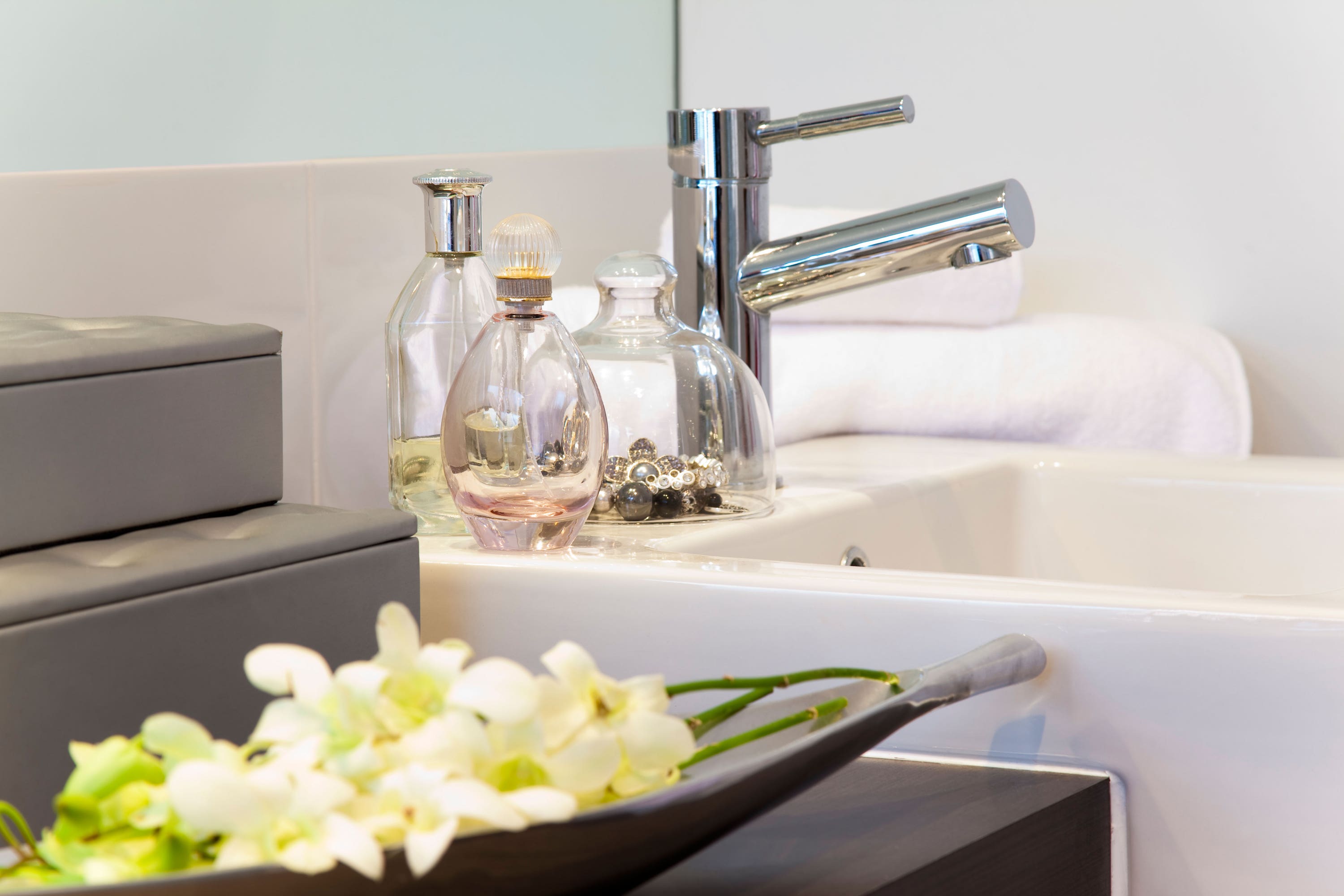 A TikTok video has gone viral after an influencer highlighted a common error that fragrance fans might be making.
"It's come to my attention that nobody on TikTok or Pinterest knows the proper way to store perfume," says Emelia O'Toole aka Professor Perfume (tiktok.com/@professorperfume) in the post that has racked up 5.2m views.
"If you keep your perfume in the bathroom, when you shower, all of the steam, all of the constant temperature fluctuations, are going to spoil your perfume a lot faster than if you store them correctly."
The post has attracted more than 484,000 likes, with many users complaining that their fragrance bottles are so pretty (not to mention expensive) that they want to display them proudly, while others are sceptical about O'Toole's claim.
So, should we be following her advice? Is it really a bad idea to keep your beloved Chanel No5 or Dior Sauvage in the bathroom?
"Yes, it is," says Nicola Pozzani, creative director of fragrance brand The Merchant of Venice (themerchantofvenice.com).
"Heat and light are perfume's worst enemies, hence keep them away from the bathroom if you shower or bathe in it – and your bathroom window."
The problem with heat is that it affects the top notes of a perfume, the ones that you smell for the first five to 15 minutes after spritzing.
"Top notes may grow sharper, more sour, less familiar, or even undetectable with too much heat exposure," says Steve Thompson, fragrance expert at The Fragrance Shop (thefragranceshop.co.uk).
"Exposure to hot temperatures can also cause perfume to develop a musty smell."
At the other end of the spectrum, cold temperatures can impact the longevity, he explains: "If a perfume is kept too cold for too long, the scent doesn't project as far for as long, so you might find yourself spraying yourself more often to keep up a lasting scent."
Plus, the fluctuating temperatures typical of a bathroom, can cause issues for eau de toilettes and parfums.
"If a fragrance is stored in a place where the temperature changes a lot, this can cause the fragrance to sweat, with condensation getting into the fragrance and causing unwanted chemical reactions to occur," Thompson continues. "This can result in your favourite scent being ruined."
Some fragrances are more susceptible than others, Pozzani says: "You will most likely notice it on a citrus, light fragrance, which may soon not smell as sparkling and zesty as you remembered. Citrus ingredients are the most fragile."
So, what's the best way to store perfume if not in the bathroom?
"You're better off storing them in a cool dark place, such as a drawer away from direct sunlight, as this preserves your fragrance for longer," says Thompson.
And you might want to pop them in the fridge at the height of summer, he adds: "Whilst you don't have to go to this extreme to keep your fragrances fresh, you can do it when your usual room temperature is too high."
Especially if you're a fan of light, citrusy scents: "Storing these fragrances in the fridge can actually extend their power by keeping them more stable."
Those with large cologne collections should take extra care, Pozzani says: "If you have a so-called fragrance wardrobe, I'd definitely get a dedicated fridge, where you can keep perfumes for longer. Just don't store them with food."
As for looking after your perfumes when travelling to very hot or cold climates – should you decant the juice into a smaller bottle?
"That's a very good idea," says Pozzani, "Or maybe just bring a warmer ambery, woody fragrance with you, as opposed to fresh ones which will leave your skin more quickly."
Thompson agrees that portable perfume is best: "I would recommend buying travel-friendly atomisers. They are durable metal containers that keep a fragrance stable in different temperatures."