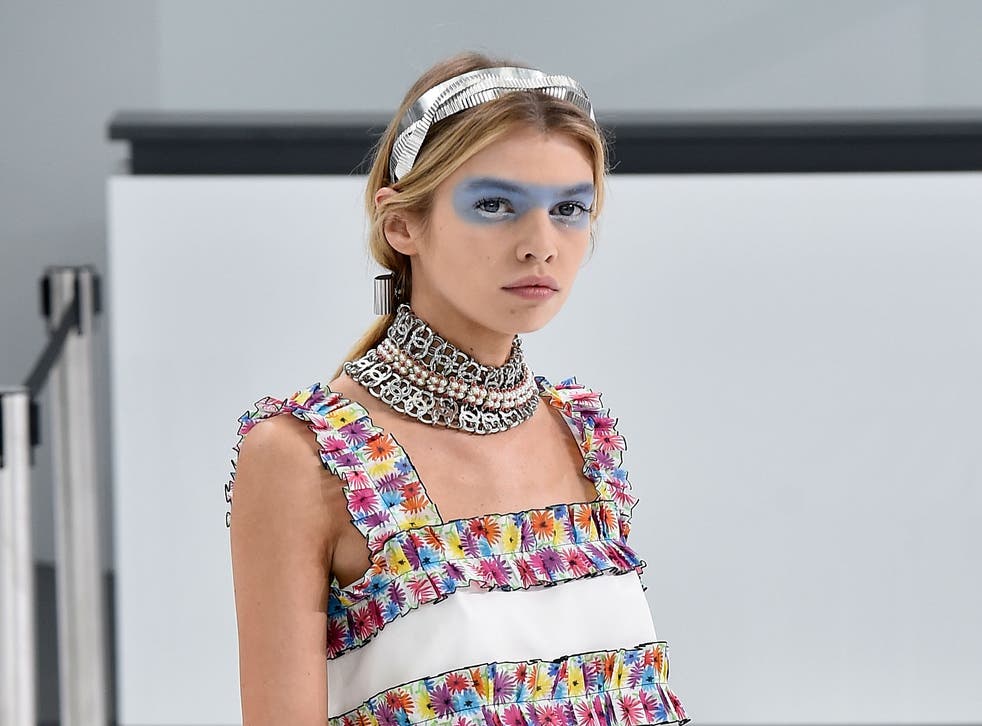 Fashion essentials: How to wear this season's catwalk beauty trends
From electric blue eye shadows to short crop hairstyles
There's so much more to a fashion show than just the clothes. Of course the clobber is the main event, but ever more attention is being paid to the hair and make-up styling that works so hard to complete a look. True, the catwalk and real life tend to diverge along certain lines, and beauty is one of them. But don't let that scare you off entirely; there are plenty of wearable ways to try the more extreme of the season's beauty trends.
Buzz Feed
The spring/summer 2016 season was a pretty significant one for Ruth May, a British model whose career really took off when a stylist took a pair of clippers to her long blonde locks. A buzz cut is a bold look, admittedly, but you can make it work: "Don't overthink it," recommends Adam Reed, a hair stylist and co-founder of Percy & Reed. "Short crops are always big for the spring/summer season, it's a great time of year for a change." Reed hasn't yet seen a huge uplift in requests for buzz cuts in his salon, but notes that more short crops and pixie cuts are being requested. A low-maintenance short style is an attractive choice in the summer months, but regular trims are key to keeping your style sharp: "Maintenance is very important for short hair as you want to make sure it looks tidy and tame. I recommend using an oil, as it ensures the scalp is nourished and hair is in good condition from the root, and a finishing product will help mould the hair and give it some texture."
Digital Life
Over the last few years our fingers have evolved into miniature canvases as nail art has become a subtle way to show a bit of flair. As founder of Wah Nails, Sharmadean Reid is in part responsible for this new take on nailing it – since 2008 the salon's elaborate nail art has earned it serious attention – and generated a successful product range. But nail culture moves fast, and Reid has noticed a sophisticated shift among her customers' requests: "In the beginning, there were lots of requests for gimmicky motifs such as cupcakes and love hearts. But now that nail art culture has changed, we get a lot more requests for abstract palettes and graphic designs. Prints from clothing are especially popular, and brands such as Kenzo and Miu Miu translate well to nails."
The best beauty gift sets

Show all 11
As for the graphic lines and checks of the season, Reid thinks that they're "totally easy" to achieve at home, so long as you have the right tools. The key to creating linear designs are a proper nail art pen and a guide, such the video-tutorial series found on the Wah Nails' YouTube channel.
Ol' Blue Eyes
Whether it's a sign of a forgiving nature or a short memory, blue eye shadow has been allowed to ditch its dodgy past and return nigh-on every spring/summer, albeit in diverse guises. The take at Chanel is a rather extreme example – as, when applying shadow, make-up artist Tom Pecheux didn't stop at the lids in order to create a mask of palest periwinkle. Given the Chanel Airways theme of the collection, the effect was probably meant to evoke a sleep mask, but it also inadvertently made the models look like impeccably dressed superheroes.
In the real world, Chanel's shadow palette is a symphony of blue that is best kept inside the lines. Alternatively, opt for an azure or aqua, which really come into their own when summer arrives. During the shows, at Dries Van Noten, a delicate line of turquoise liquid liner provided an electrifying highlight; while at Missoni, Lucia Pieroni artistically daubed lids with a light, bright blue. (To try this at home, opt for a creamy texture and dense pigmentation.) But if you've been far too scarred by the blues in the past, a midnight or navy is a subtle and sophisticated variation.
Register for free to continue reading
Registration is a free and easy way to support our truly independent journalism
By registering, you will also enjoy limited access to Premium articles, exclusive newsletters, commenting, and virtual events with our leading journalists
Already have an account? sign in
Register for free to continue reading
Registration is a free and easy way to support our truly independent journalism
By registering, you will also enjoy limited access to Premium articles, exclusive newsletters, commenting, and virtual events with our leading journalists
Already have an account? sign in
Join our new commenting forum
Join thought-provoking conversations, follow other Independent readers and see their replies