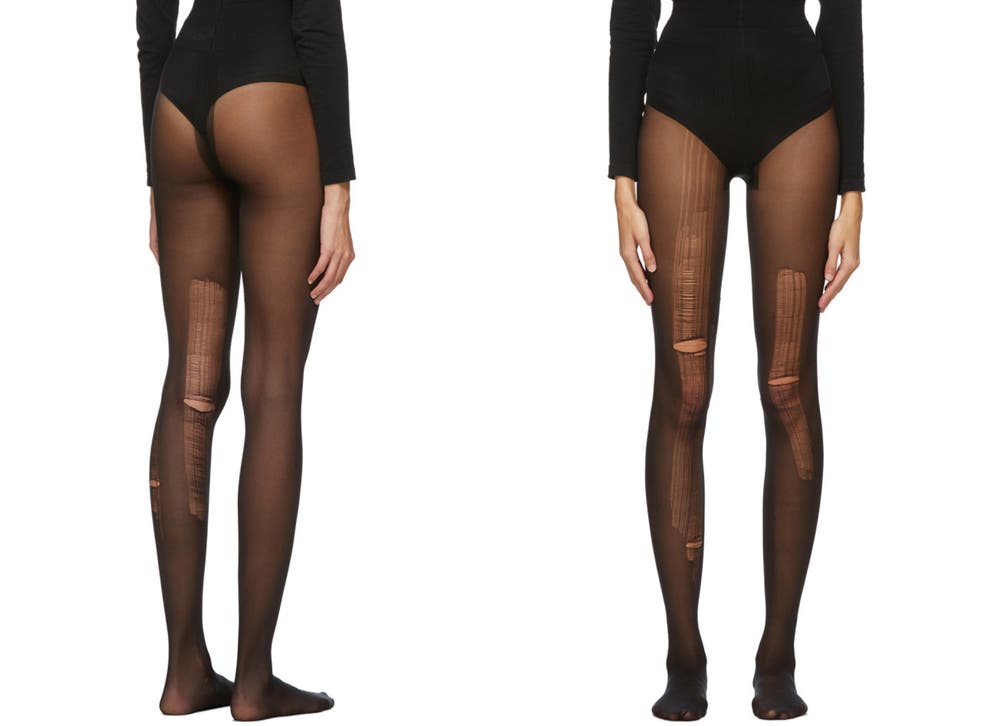 'Fashion is officially dead': Shoppers mock Gucci for selling ripped tights for £146
'Selling damaged stock does not count as sustainability,' teases shopper
Gucci has been mocked on social media for selling a pair of "distressed" black tights for $190 (£145).
The luxury Italian retailer describes the tights on its website as "stretch mesh tights in black. High-rise. Distressing throughout. Woven logo at elasticised waistband."
However, shoppers have argued that the tights look no different to any other laddered pair.
The popular Instagram account Diet Prada has posted about the tights, which have sold out online, prompting thousands of comments.
They captioned the image: "To whoever paid $190 for these @gucci pre-ripped tights... r u ok?" with the hashtag "ripped in italy".
"Wuuuuut I have six old ripped pairs I'll give away for Free99 [sic]," wrote one person.
"Fashion is officially DEAD!" another added.
One person teased that perhaps Gucci was trying to be eco-friendly, writing: "Selling damaged stock does not count as sustainability".
It's not the first time Gucci has come under fire for selling so-called "distressed" items at a high price tag.
In September, the Italian label was teased for selling denim dungarees with a grass "stain effect" for £850.
The Italian fashion house's "eco-washed organic denim overall", which has dark muddy-looking stains on the knee and thigh area, also quickly sold out online.
Gucci said of the product: "This denim overall is crafted from organic cotton and specifically treated for a stained-like, distressed effect", describing it as a "grunge vibe".
"Gucci explores new takes on the cult fabric, reinterpreting it with different designs and washing techniques that blur the line between vintage and contemporary," it adds.
One person on Twitter said: "Wow... I have two pairs that I can sell now that it's fashion…"
Additionally, in 2019, Gucci prompted criticism for selling a pair of trainers that purposefully look dirty for £615.
The Italian fashion house described the off-white men's leather trainers as "vintage", "distressed" and that the style references "old school shapes" on its website.
On Twitter, critics accused Gucci of "commercialising poverty" and described the trainers as an example of "peak capitalism".
The Independent has contacted Gucci for comment.
Join our new commenting forum
Join thought-provoking conversations, follow other Independent readers and see their replies