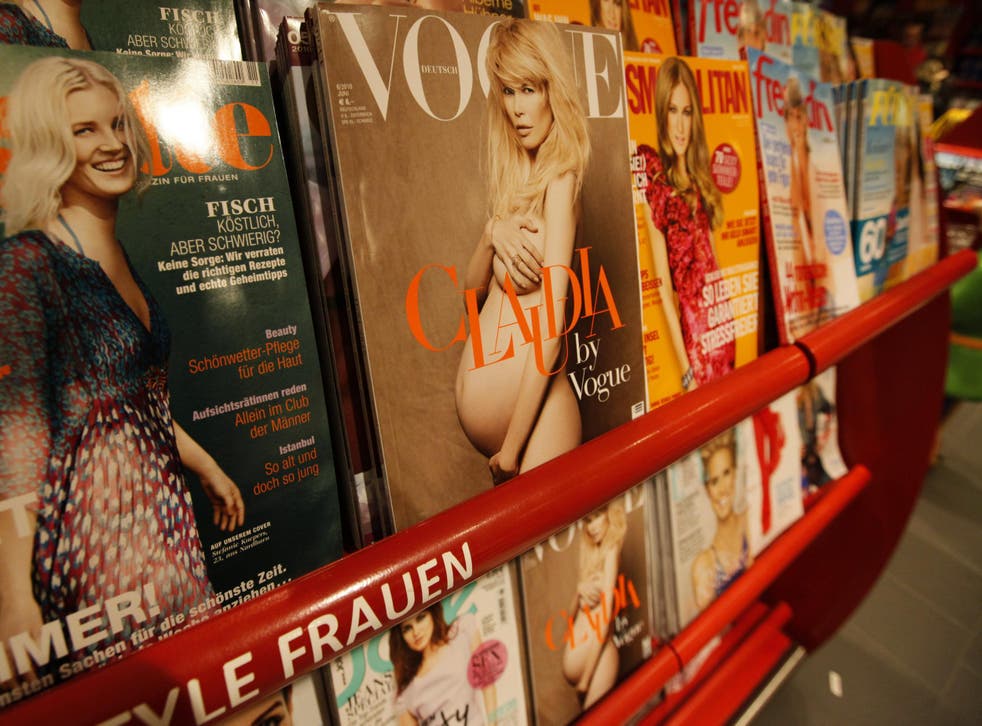 In 2018, fashion magazines still have a long way to go representing people of colour
In the last decade, non-white faces have appeared on just one cover out of every five, with east and southeast Asian women faring even worse than black models
In the occasionally parallel universe of fashion magazines, the calendar diverges from the standard. The Gregorian does not apply. For fashion magazines, September is Christmas. September is your birthday. September is New Year's Eve.
For women's fashion magazines, September issues are the most important, and mostly the biggest, issues of the year. It is not an accident that R J Cutler's documentary on the making of Vogue focused on the September issue. It is not an accident it was called The September Issue.
"As you know, September issues are important in the fashion world, our largest and most lavish of the year and a real statement about what the coming months will bring," Edward Enninful, the editor of British Vogue, wrote in a letter that went online with his September issue. "With this one being my first as editor-in-chief, I was determined it would be something special."
"As you know," Enninful wrote, because of course you know. And since you know, you know that the person (or people) who grace the covers of the September issues are, in the magazine's estimation, the most important people, though the projects they have to promote often come into play.
But then, those people know that, too. Enninful, for his first September issue, chose Rihanna, photographed by Nick Knight and styled by Enninful as a hothouse flower.
"Honestly, I'm so honoured to do it," Rihanna says in a behind-the-scenes video that went up on British Vogue's website. "I couldn't believe it. I just didn't expect it to be September."
There's some reason for this. In a survey I did of the last 10 years of September issues (2009 to 2018) from a sample set of 10 of the top international fashion magazines (Vogue, British Vogue, Vogue Paris, Vogue Italia, Elle, Harper's Bazaar, Marie Claire, W, Glamour and InStyle), people of colour appeared on September covers 22 per cent of the time.
Still, there was reason to think that 2018 might be different from years past. Beyoncé reprised her September 2015 spot on the cover of Vogue this year, with a shoot by Tyler Mitchell, the first African-American photographer in the history of Vogue covers. Beyoncé's "as told to" interview was conducted by Clover Hope, a black journalist.
"When I first started, 21 years ago," Beyoncé says in the interview, "I was told that it was hard for me to get onto covers of magazines because black people did not sell. Clearly that has been proven a myth."
Because of the perception that a cover model must "sell" an issue on the newsstand, I looked specifically at newsstand covers, which in some cases differ from covers sent to subscribers. For sceptics and the curious, a more detailed methodology follows.
As more of the September issues began to appear, it became clear that 2018 would increase the representation of previous years, if only incrementally. (Many of these titles did use women of colour for other issues.)
Five September 2018 issues in our sample feature women of colour: Vogue, British Vogue, W (whose Volume 4 issue, out in print next week, features Black Panther actress Letitia Wright on one cover and Millie Bobbie Brown on another), Glamour (Tiffany Haddish) and Marie Claire (Zendaya). (A handful of September issues had yet to arrive.)
In the last decade of Septembers in this cohort, three was the previous record for people of colour on the cover.
As Maiysha Kai wrote on The Glow Up, September 2018 is "shaping up to be a beautiful month for black women". She notes Rihanna on British Vogue, Beyoncé on Vogue and Haddish on Glamour. But her main focus is the Tracee Ellis Ross cover shoot for Elle Canada. (The model Slick Woods appears on the cover of another Elle: Elle UK.)
All too often, women and men of colour appear on smaller titles or, in some cases, subscriber-only editions. At Harper's Bazaar, which shot musicians with their families for its cover story, Kanye West and two of his children, North and Saint, are mailed to customers. But on the newsstand, it's Bruce Springsteen and his daughter, Jessica, who peer off the rack. At InStyle, which has six separate covers for its September issue, model Imaan Hammam is on one, but for subscribers only. Jennifer Aniston alone goes to the magazine shop.
Likewise, a look back at the last decade of covers makes clear that some magazines are more inclusive than others. InStyle had more models of colour on September issues than any other magazine – five out of the last 10 years (Selena Gomez in 2017, Kerry Washington in 2016, Jennifer Lopez in 2012, Beyoncé in 2011 and Lopez again in 2009). Glamour, Vogue and W followed, with four each.
The European titles lagged. Vogue Italia had a single black model on its September issue in the last decade: Naomi Campbell, who shared the space with models including Natalia Vodianova, Stella Tennant, Christy Turlington and Linda Evangelista, in 2014. Vogue Paris did not have any at all. (The September issues of Vogue Paris and Vogue Italia arrive at the end of this month; until then, their covers are a closely guarded secret.)
Asian and Asian-American women fared even worse. Across the board, not a single woman of East or Southeast Asian descent was featured on the main newsstand cover of any American or European magazine in the group surveyed.
What a look back indicates, as well, is a preference for repeats, which does not suggest much appetite for change. More than 20 women appeared more than once on September covers, and a handful three and four times each – among them, Beyoncé, Aniston, Jennifer Lawrence and Katy Perry.
As for Rihanna, she need not be so surprised by her September British Vogue coup. In fact, over the last 10 years, she has tied Aniston as the third most frequent choice for a September cover, behind only Kate Moss and Cara Delevingne.
The people
The term "person of colour" has definitions that may change across countries and cultures. Here, we are using primarily American constructions and definitions. Some examples: Gigi and Bella Hadid are of Palestinian and Dutch heritage. Emails to a representative for the sisters on how they prefer to identify were not returned. Because Gigi Hadid has spoken about the importance of her identity as Arab and is both welcomed and questioned for it, we count them as women of colour. (Zendaya is biracial too, after all.) And because of the vagaries of American construction of identity, Selena Gomez and Jennifer Lopez count and Penelope Cruz… doesn't. (Clover Hope herself agrees.)
The magazines
For this test, I exempted twice-yearly and quarterly magazines, and looked only at those with eight or more issues per year, which could reasonably be said to have September issues, even if they are not called "September" as such.
(W considers both its Volume 4 issue, out in print next week, and its Volume 5, out 4 September, as September issues, for instance. Volume 4 is discussed above; Volume 5 features Cate Blanchett, who guest-edited the issue with an all-female team of photographers, stylists and artists for a Female Gaze theme.)
I looked only at magazines currently putting out print issues, so Teen Vogue and Self were out. I focused on magazines that seemed specifically and primarily concerned with fashion; that removed Vanity Fair, though September is its annual "Style Issue", and magazines like Cosmopolitan and Allure.
And I wanted magazines with significant readership, so I eliminated most independent magazines and focused on the major (often corporate) players, from Condé Nast, Hearst and Meredith, which recently acquired Time Inc titles.
Extra caveats
Some magazines do covers for the issues they mail to subscribers that are different from the ones they sell on the newsstand, though for most fashion magazines, newsstand sales are now a fraction of total circulation. (For Elle, according to the most recent numbers it includes in its media kit, from the first half of 2017, single copy sales account for only 5.3 per cent.)
In some cases, those covers are different photographs of the same star, but in others, there are entirely different personalities. This count takes into account only people of colour on newsstand editions, where a cover image can make the difference between sale or no sale.
Lastly, some issues feature multiple stars on a single cover, sometimes on gatefold covers, which fold out into several panels (and accordingly, accommodate more people). I made the determination to count any cover that featured at least one model of colour.
There was no partial credit given for being one of many rather than one alone – provided that she or he was on the first, and most desirable panel (that is to say, not hidden behind a foldout).
© New York Times
Register for free to continue reading
Registration is a free and easy way to support our truly independent journalism
By registering, you will also enjoy limited access to Premium articles, exclusive newsletters, commenting, and virtual events with our leading journalists
Already have an account? sign in
Register for free to continue reading
Registration is a free and easy way to support our truly independent journalism
By registering, you will also enjoy limited access to Premium articles, exclusive newsletters, commenting, and virtual events with our leading journalists
Already have an account? sign in
Join our new commenting forum
Join thought-provoking conversations, follow other Independent readers and see their replies