Fashion month: Everything you need to know about New York, London, Milan and Paris Fashion Weeks
New York Fashion Week is already underway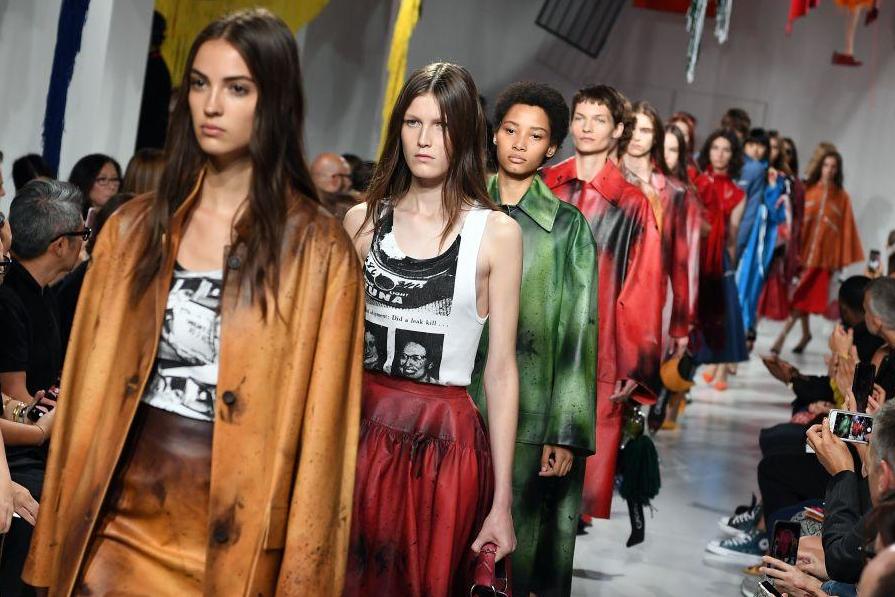 To the uninitiated, fashion month might seem like a crazed cacophony of stomping stilettos, clinking champagne flutes, and roaring hairdryers. Well, it kind of is.
But underneath the veil of glamour and frivolity lies a very real and economic purpose: to showcase the latest contributions to a $385.7bn (£298bn) global industry.
Lasting four weeks, fashion month sees designers from around the world debut their latest collections in New York, London, Milan and Paris.
Each city has its own distinct identity and aesthetic. Where some uphold the establishment, such as Chanel and Louis Vuitton, whose collections have been showing in Paris for decades, others champion emerging talents, think Central Saint Martins graduate Matty Bovan, who now shows in London.
Here is everything you need to know about fashion month, from who attends and why it matters to what each of the cities are known for.
What is fashion month?
Fashion month is a four-week period that happens twice a year in February and September, during which designers showcase their collections for the season ahead.
New York Fashion Week SS20: Best street style
Show all 33
It began as a trade event in New York in 1943, but has since evolved into an all-encompassing sartorial spectacle that now involves celebrities, influencers and eye-watering budgets.
As per tradition, things routinely kick off in New York before moving onto London, Milan and Paris.
The clothes showcased at fashion week set the trend agenda for the following months.
Everything you see in fashion magazines and on the shelves of high street shops will, most likely, have been influenced by what was on display during the previous fashion month.
What's the difference between the February and September shows?
In February, designers will debut their autumn/winter collections for that year, while spring/summer collections for the following year are showcased in September.
This is to give the buyers and editors in attendance enough time to choose what they want to purchase or feature before the clothes arrive in stores.
The shows themselves usually last no longer than 10 minutes, but presentations (which give guests the opportunity to peruse collections in an exhibition-like setting) can last a few hours
Who goes?
Despite its stratospheric impact, fashion month remains an invite-only event.
The front row is usually made up of the most important editors, buyers and influencers, while other industry players typically fill up the rows behind.
But there are still plenty of parties, shop openings and events that people can buy tickets to. In London, for example, there's London Fashion Week Festival, which is organised by the British Fashion Council and takes place immediately after fashion week.
Catwalks, talks with industry insiders and exclusive shopping events are on offer, giving fashion fans an insight into what fashion week is all about.
New York Fashion Week
This year, New York Fashion Week begins on Friday 6 September.
Best-dressed celebrities at New York Fashion Week, September 2019
Show all 53
It's normally the longest out of all the fashion weeks, with a jam-packed schedule including highlights such as Ralph Lauren, Oscar de la Renta, Marc Jacobs and Coach.
There are, however, some notable absences this season. Calvin Klein, usually one of the most highly anticipated shows, staged its final runway show last year, and Derek Lam, who announced the closure of his main line in July.
Shows take place all around the city, but there is a central hub in Soho where there are regular shows happening throughout the week.
London Fashion Week
London Fashion Week commences on Thursday 12 September.
Over the years, the event has become defined by its juxtaposition of established brands (Burberry, Roksanda, Erdem) and up-and-coming names (Matty Bovan, Halpern, Richard Quinn).
The majority of events used to take place at Somerset House, but LFW's home has moved down the road to 180 Strand.
Though, like with New York, designers often choose to host their shows in various locations across the capital, leaving the hub a space reserved for hosting designer showrooms and a number of low-key shows.
Milan Fashion Week
Milan offers some of the most elaborate and entertaining fashion shows around, with designers like Gucci, Dolce & Gabbana, Fendi, Versace and Prada putting all the stops out to contextualise their weird and wonderful sartorial visions.
It attracts a high calibre of spectators too, with recent attendees including Cate Blanchett, Julianne Moore and Cindy Crawford.
Milan Fashion Week 2018: Best Street Style
Show all 20
The street style is also particularly eye-catching, often spawning a whole other set of agenda-setting trends.
This year, events begin on Tuesday 17 September.
Paris Fashion Week
Everything comes to a head in Paris, which is by far the grandest of all the fashion weeks due to the calibre of brands who show there.
Dior, Louis Vuitton, and Chanel, are some of the oldest fashion houses in the business, and their runway shows reflect that, often paying homage to their rich histories and even richer aesthetics.
The front rows are always star-studded at Paris Fashion Week; Cara Delevingne sits alongside Pharrell Williams while Kristen Stewart mingles with Lily Rose Depp.
This year, it all starts on Monday 23 September.
Join our commenting forum
Join thought-provoking conversations, follow other Independent readers and see their replies