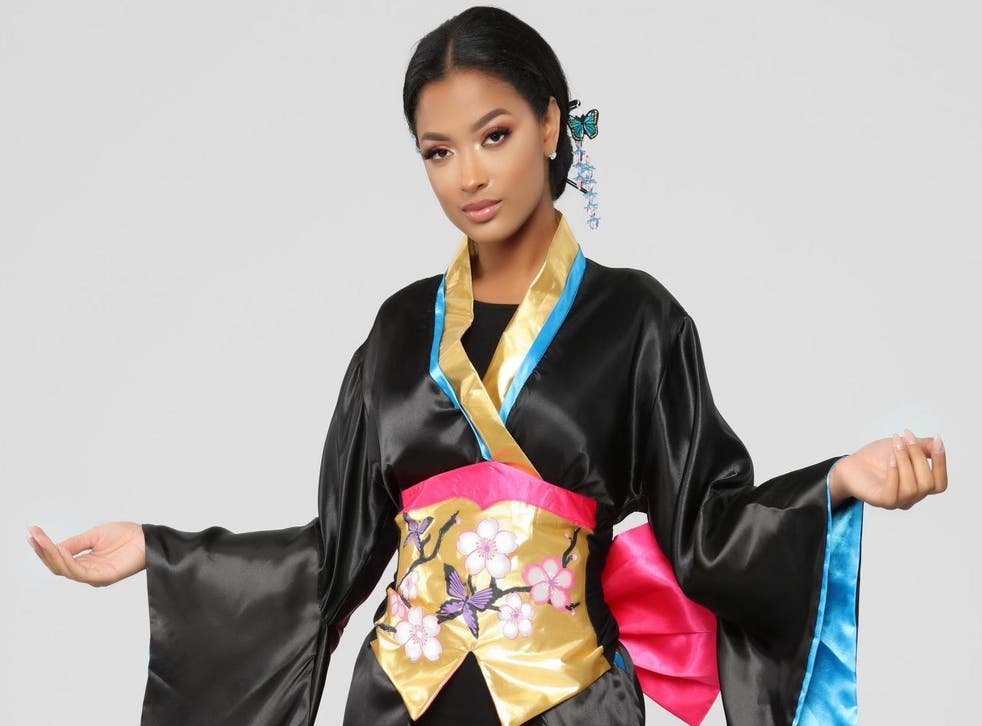 Fashion Nova sparks controversy with 'racially insensitive' geisha costume
'There are countless costumes we can choose from, without being insensitive jerks'
Fashion Nova has received a barrage of criticism for selling a geisha costume, with some describing the outfit as "racially insensitive".
For many people, Halloween is a fantastic opportunity to go all out with fancy dress, donning eccentric costumes that they would never otherwise have the chance to wear.
For others, it's an important annual reminder not to wear outfits that may be examples of cultural appropriation, such as geisha costumes or traditional Native American attire.
Fashion Nova, an LA-based fashion label, is currently selling a geisha costume for $49.99 (£38.10), which includes a kimono; an obi, which is a sash typically worn with traditional Japanese attire; a skirt; and hair sticks.
As many people have pointed out on social media, the arrival of Halloween doesn't provide people with an excuse to "insult" other cultures with insensitive costumes.
"Just a reminder that Halloween is tons of fun! But please… it is ignorant and insulting to use a race/culture as your costume (native American, gypsy, geisha/asian, POC, etc)," on Twitter user wrote.
Another person explained why dressing up as a geisha is especially problematic in the US, considering the way in which Japanese people have been treated in the country in the past.
"Dressing up as a geisha is cultural appropriation in the US, a country with a long history of official and unofficial racism against Japanese people," she wrote.
"There are countless costumes we can choose from, without being insensitive jerks."
Students Teaching About Racism in Society explained why Fashion Nova's geisha costume fails to accurately represent Japanese culture.
"What makes Fashion Nova's costume so racially insensitive is that it feeds into a stereotype of Asian women being sexual objects and temptresses for men's (almost always white men) desires," a spokesperson told Metro.co.uk.
"What is particularly alarming is that geishas were never prostitutes, they provided other forms of entertainment such as singing, dancing, poetry, or light conversation.
"But due to ignorance and lack of willingness to learn, this has been translated over to America and the rest of the western world as 'prostitution'."
Fashion Nova isn't the only fashion brand to be selling a geisha costume in the lead up to Halloween.
The Romanian community is fighting against cultural appropriation by launching their own fashion house
Fancy dress company Escapade is currently selling a "Playboy geisha costume", which has been described as being an ideal outfit to wear when serving "jasmine tea".
A couple of weeks ago, a petition was launched to demand that Yandy, an American online retailer, stop selling a "tribal trouble native American costume".
The petition currently has more than 15,000 signatures with a target of 25,000.
The Independent has contacted Fashion Nova for comment.
Join our new commenting forum
Join thought-provoking conversations, follow other Independent readers and see their replies