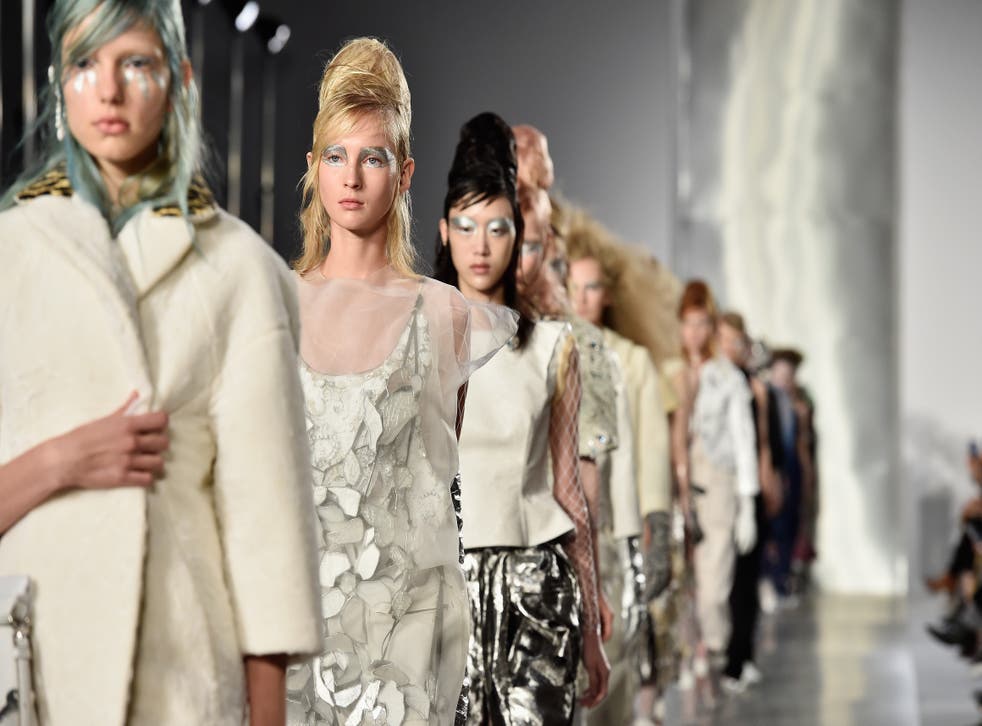 Fashion's greatest showman and his tin-foil Big Top: in Paris, John Galliano makes Margiela his Maison
John Galliano's confident, creative and celebratory 'Lo Fi' collection for Maison Margiela cemented his position at the label in a strong start to the spring 2016 Paris season
Alexander Fury
Paris
Wednesday 30 September 2015 19:07 Comments
John Galliano is fashion's great showman. He's decided what his stage will be at Maison Margiela: a silvery mirrored catwalk, like an unfurled roll of baco-foil; two stripped back rows of benches; strip lighting. That's your lot. It's about as different as you can imagine from the cast-of-a-thousand-interns spectaculars he threw two decades ago (yes, that long) where Galliano took over the Opera Garnier or a central Paris train platform as the mind-bending mise-en-scène for his wildly inaccurate historical re-enactments. But, here's the thing, it's a mise-en- scène, all the same. This morning, opening the spring/summer 2016 Paris collections true after a false start day of impressive duds (Anthony Vaccarello, who hit an impressively confident stride) and just duds (Jacquemus, who played the sympathy card to justify a rehashed collection of chopped up comme Comme des Garçons to a stony-faced audience), Galliano installed his Margiela tin-foil Big Top in Paris' Tuileries, the gargantuan space swamping the catwalk. It felt alien – and intentionally so.
Galliano's Margiela clothes feel alien too. They're supposed to. They're neither the comforting, slithery-dithery Galliano of old, all histrionic maidens and bias-cut dresses, nor stark Margiela, he of unravelled socks stitched into jumpers and the sloppily giant tailoring in a size seventy-something. Oddly enough, both feel relevant right now: there's been a distinct bias towards the bias from designers as diverse and Givenchy and Alexander Wang; and Vetements have bagged pole position as the most anticipated show of the season, by doing the most Margiela-y Margiela-isms (although there's a sense of soul to it, which is important).
It would be easy for Galliano to ride the wave, to toss a ginormous trench over a slithery slip-dress and show the world how well those two opposites attract. Too easy. This show wasn't about ease, it was about discomfort, and work, and experimentation. The clothes were ragged, worked and reworked, ripped apart and reconstructed, a sense of hand literally evident in every snip and stitch. "Lo Fi" Galliano called it – and, although that sense of handwork related to his love of couture, there was nothing 'haute' about it. Fabric was plastered with emulsion in a seemingly random frenzy, flaking from leather jackets and handbags; brooches trembled, haphazardly pinned to coats or skirts; a cricket sweater had its sleeves sliced away, the models thighs wrapped with plastic. A sense of the spontaneous. Even the embroidery – great orientalist whorls of roses that recalled the work of the great Paul Poiret, whose fashions have so influenced Galliano throughout his career – was executed not in painstaking satin-stitch but with safety-pins, intricately positioned, but nevertheless with a jolt of immediacy.
Galliano has used safety-pins before – he crafted them into entire dresses, twenty years ago, like a punkish chain-mail, transmogrifying the utilitarian into elaborate decoration. Indeed, inside the folds and exposed linings, the raw hems and blank labels that spell out "Margiela", you could uncover the fingerprints of Galliano himself. You could imagine his hand pinning and cutting and splattering these garments; but more fundamentally, his aesthetic stamp was firmer and stronger. Take the Galliano geishas, the love of Japonisme that has ignited his greatest collections. For his own label, it was sensual, sexy, the brevity of Kate Moss in a lipstick-pink mini-'mono in the mansion of São Schlumberger; at Dior, it was focussed on the house's construction. Here, Galliano cobbled together half a dozen examples, a Margiela Mikado of changeante fabric, handbags trussed to the body with cording like obi wraps. They were humorous – an essential component of his, and Martin Margiela's clothing. But they were also desirable.
That's a vital element of Galliano's Margiela: he has to sell the damn stuff. It's trickling into stores now, his first collection for the label, and is already enjoying a sell-through of 85%. That means stuff shifting at full-price, and that is quite extraordinary. Discovering Margiela clothes in store is quite another matter to the catwalk spectacle: their hidden details display Galliano's design ingenuity at play, so a row of buttons may unfurl a lining that tugs away from a coat to be worn as a dress, or a pair of trousers, slices into a skirt, can be worn a multitude of manners, determined by the wearer.
That's clever – that focus on the afterlife of a designer, rather than catwalk spectacle. Sticking to that visual script of tin-foil and white paint each time, means Galliano starts on a blank canvas – in itself, very Margiela, but also indicative of Galliano eschewing his own past as fashion's most visible designer, and focussing our attention on the clothes. That's where we find his identity now. They're the point of the whole damn exercise, after all.
Paris Fashion Week spring/summer 2016

Show all 35
Maybe Galliano wants to eschew his past – make us forget it, start with that blank canvas. He shouldn't and neither should we. Because despite the bad that ultimately ended the good, Galliano is one of the greatest designers of our times. The memory of his triumphs cannot be erased, and should not – especially in a season when so many others are referencing him. Towards the end, a model emerged in a tobacco-coloured bias-cut evening dress, and your heart sang. It was raw, daubed with paint, roughly-hemmed and sliced open at the back. It reminded you of Galliano, and Margiela, and yet was neither. A new hybrid. A new start. The fact Galliano himself seems to be embracing his own awe-inspiring history, and discovering his work anew, was joyous. The joy was infectious.
The overwhelming message here? Hopeful. Honest. And utterly convincing. Galliano has begun to feel comfortable at Maison Margiela: he's making this house into his home.
Register for free to continue reading
Registration is a free and easy way to support our truly independent journalism
By registering, you will also enjoy limited access to Premium articles, exclusive newsletters, commenting, and virtual events with our leading journalists
Already have an account? sign in
Join our new commenting forum
Join thought-provoking conversations, follow other Independent readers and see their replies