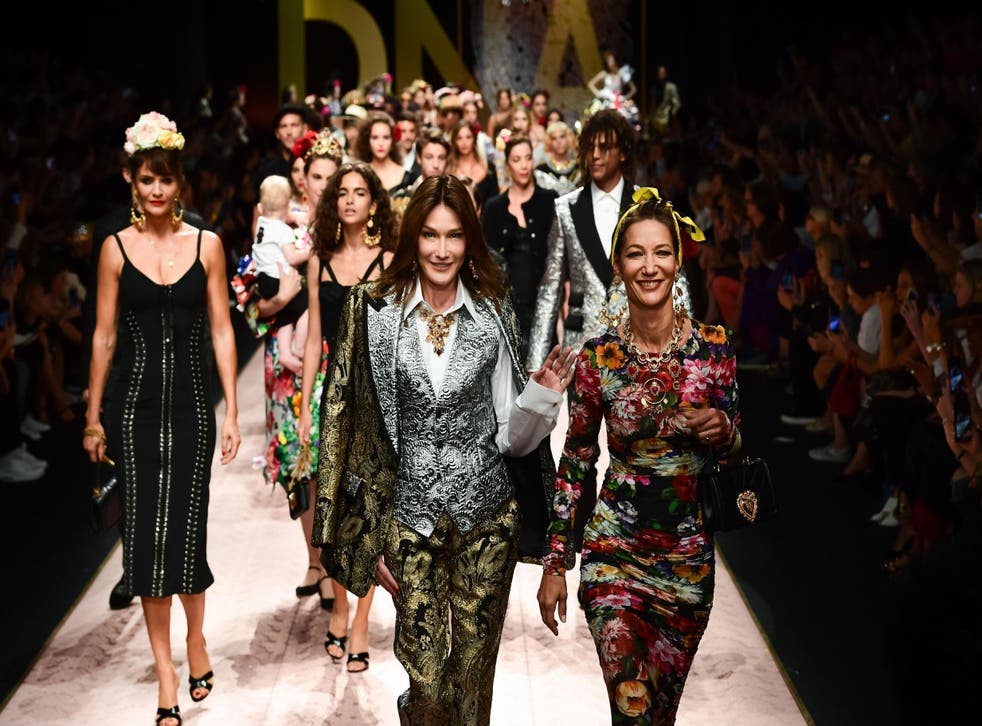 Is this the most age diverse fashion month ever? All the best moments from the catwalks
This season has been one for the ages
The fashion industry has historically celebrated youth above all else, with models as young as 16 walking runways and those over 25 rarely seen on them.
But, this fashion month, change is afoot.
Designers in New York, London and Milan have subverted industry norms by casting models of a variety of ages in their shows.
From veteran actors Monica Bellucci and Isabella Rosselini flexing their modelling muscles at Dolce & Gabbana to toddlers in trench coats at Ralph Lauren, if this season has taught us anything, it's that age really is just a number - one that fashion is no longer abiding by.
The move away from age homogeneity on the catwalks reflects an industry-wide shift in which major labels are casting older models in campaigns in a bid to embrace all ages and to show that older women are as much part of the conversation as young ones.
We saw a similar range of ages on display at Dries Van Noten in February, when Amber Valetta, 43, Erin O'Connor, 39 and Carolyn Murphy, 42, breezed down the runway to celebrate the brand's 100th fashion show.
In what Business of Fashion describes as a "Greynnnaissance", we've also seen Joan Didion front campaigns for Céline at the age of 80 while iconic singer Joni Mitchell did the same for Saint Laurent in 2015 when she was 71.
Meanwhile, over on the high street, Mango recently enlisted 64-year-old fashion blogger Lyn Slater for its spring/summer 2017 campaign.
Will we see a similarly diverse mix of ages gracing the runways at Paris Fashion Week, which starts on Tuesday? Watch this space.
In the meantime, here are all the best moments of age diversity from fashion month so far.
Ralph Lauren
For his 50th anniversary show, Ralph Lauren took a cross-generational approach, championing the brand's family appeal by sending adult models down the runway alongside children.
With every model wearing a uniform dominated by Western staples - lumberjack shirts, suede jackets and cable-knits - the brand asserted its timeless mass market appeal.
In the words of Oprah Winfrey, who gave a speech after the show, Lauren's family-orientated runway brought a well-needed dose of "wholesomeness" to the glamour of fashion week.
Maryam Nassir Zadeh
Artist and fashion designer Susan Cianciolo, 49, modelled an embroidered bodysuit with a taupe trench coat on the runway at Maryam Nassir Zadeh.
The New York-based designer cast a number of creative women in her show in a bid to celebrate those who inspire her on a daily basis.
In addition to Cianciolo, she called on artist Ana Kras, New York it-girl, Camilla Deterre, and journalist Hailey Benton Gates to model her holiday-ready collection, which was heavy in flattering swimwear and animal prints.
Tome
Tome cast a range of ages in its spring/summer 2019 show, which marked the brand's return to New York after a stint of presentations in Paris.
The collection itself presented soft menswear-inspired tailoring in muted tones with a wide-ranging appeal, reflected in the diverse casting.
Temperley London
At London Fashion Week, age diversity came via Temperley London, where Game of Thrones star Nathalie Emmanuel, 29, singer Corinne Bailey Rae, 39, and photographer Ellen von Unwerth, 64, all took part alongside a more conventional line-up of models.
The designer also enlisted the help of her mother, Diana, who was among those walking the runway.
Salvatore Ferragamo
The 47-year-old Scottish model was among those walking on Salvatore Ferragamo's catwalk, which was awash with stiff leather textures and deep earthy hues.
Dolce & Gabbana
Meanwhile in Milan, it was Dolce & Gabbana who celebrated ageless style by casting Monica Bellucci, 53 and Isabella Rossellini, 66, alongside millennial poster-women, such as Emily Ratajkowski, 27, and Stella Maxwell, 28.
Register for free to continue reading
Registration is a free and easy way to support our truly independent journalism
By registering, you will also enjoy limited access to Premium articles, exclusive newsletters, commenting, and virtual events with our leading journalists
Already have an account? sign in
Register for free to continue reading
Registration is a free and easy way to support our truly independent journalism
By registering, you will also enjoy limited access to Premium articles, exclusive newsletters, commenting, and virtual events with our leading journalists
Already have an account? sign in
Join our new commenting forum
Join thought-provoking conversations, follow other Independent readers and see their replies