Feathers are this season's standout fashion trend – but are they ethical?
Peta has condemned designers who use feathers as 'ignorant and out of touch'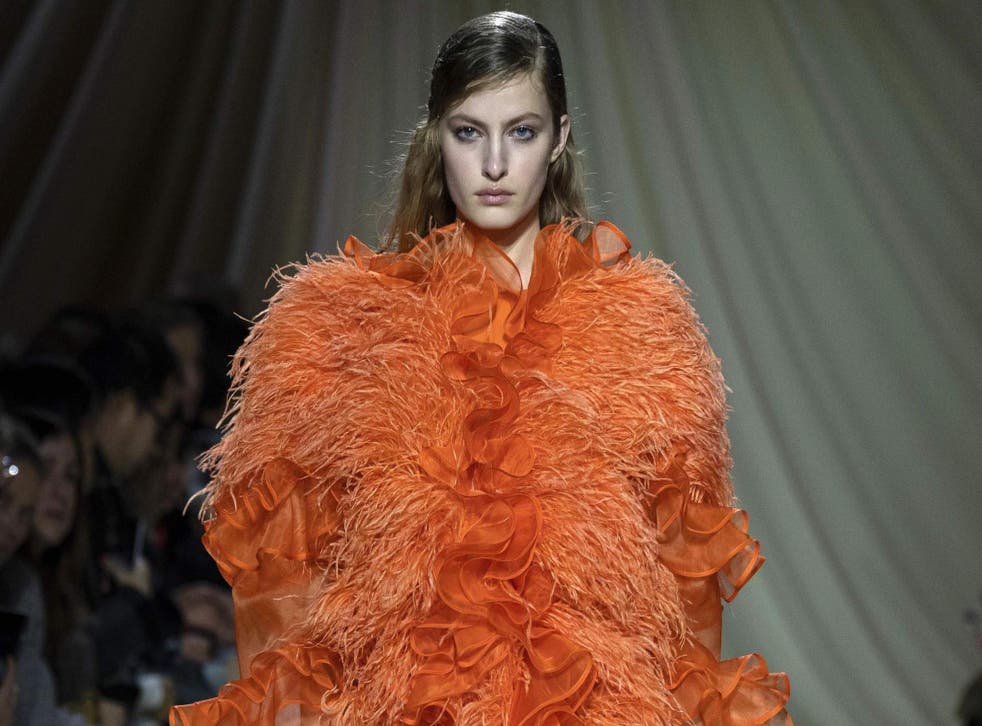 A trend that's vehemently associated with glamour – think Marilyn Monroe, Mae West and Las Vegas showgirls – feathers have been an increasing fixation of the fashion world of late.
Often referred to as the "plume boom", the popularity of wearing real feathers reached its peak in the early 20th century.
But ever since Miuccia Prada sent marabou and ostrich feathers down the runway for spring/summer 2017, designers have been determined to make them en vogue once again. And it seems they have succeeded.
The spring/summer 2019 catwalks have been plump with them, with everyone from Gucci and Tom Ford to Marc Jacobs and Oscar de la Renta decorating hems, cuffs, sandals and necklines with wispy details.
More recently, feathers made an appearance at London Fashion Week, bringing a touch of old Hollywood glamour to the autumn shows.
Sesame Street's Big Bird was the unwitting inspiration at Mary Katrantzou and JW Anderson, where models sported fabulously fluffy creations in vibrant shades of canary yellow and fuchsia pink.
London Fashion Week AW19: Best street style looks

Show all 36
"Understated" was the buzzword at Erdem, where a collection inspired by Italian nobility saw feathers sprout from two-tone gowns and headdresses, while emerging talent Richard Quinn offered a jaw-dropping feathered finale with a hooded wedding dress.
Feathers on the red carpet
The design detail is no stranger to the red carpet either, with everyone from Lady Gaga and Cate Blanchett to Debra Messing and Anna Kendrick trading in sequins for marabou feathers as their embellishment of choice.
For the premier of A Star is Born, Gaga walked the Venice Film Festival red carpet in a gown that has since been dubbed the "flamingo". Designed by Valentino Couture, the soft pink dress billowed with feathers that covered nearly every inch of its trailing gown.
But just why are they such a popular choice for red carpet events?
Speaking to The Independent, fashion stylist Aimee Croydsill said she believes the reason feathers are so well liked by A-listers is because "they make women feel like the definition of Hollywood glamour.
"The weightlessness of feathers moves in a way that makes the female form look like it's gliding when it walks," Croydsill said.
"This can give such confidence when setting foot on the red carpet."
A history of plumage
Of course, feathers are nothing new. According to Fashionista, they have been the go-to decoration for peacocking fashion fans ever since the court of Louis XIV.
However, their popularity has waxed and waned over the centuries.
While many believe this see-saw obsession has been in part due to issues with importing or the onset of war, others recognise a growing concern over the use of natural plumage.
Confused about cruelty?
From a rise in awareness of the natural world to concerns for conservation and animal welfare, the feather trade has been under constant scrutiny since the 1800s.
Today it seems as though this topic is more prevalent than ever before, with luxury houses like Gucci, Burberry and Victoria Beckham all pledging to ban fur from their collections.
But, is the use of feathers any more ethical?
According to Yvonne Taylor, director of corporate projects at Peta, the answer is no.
"Using feathers for fashion isn't desirable when you realise how they're obtained: by being plucked out of their rightful owners, often while the birds are still alive and held down under a knee or a boot or otherwise from their bloody bodies at slaughter," Taylor tells The Independent.
"Feathers described as 'marabou' are commonly taken not from marabou storks but rather from factory-farmed turkeys and chickens, most of whom are forced to live amid their own waste before being sent to the abattoir.
"As a Peta video exposé shows, 'live plucking' causes immense suffering, as feathers are yanked out so hard that the animals' skin is torn open, leaving gaping wounds."
Taylor goes on to condemn designers who use feathers in their collections as "ignorant and out of touch".
Fashion stylist and curator Rebekah Roy agrees, revealing that she refuses to wear feathers.
"In good conscience, aesthetics aside, feathers for me are a no-go, on a large scale it can never be ethical and finding a fallen peacock feather here isn't a practical business model," she tells The Independent.
"Regardless of trends we need to change how we shop. While feathers look beautiful on the catwalk they look more beautiful on a bird; I recently saw a cardinal and it was majestic.
"London Fashion Week is fur free and maybe we've replaced it with feather to create a feeling of luxury, but once you know that a bird's feathers are being plucked from her while she wriggles and screams, how could you wear feathers?"
So, what is the solution? Peta suggests that designers make vegan alternatives to feathers as they have done with exotic skins.
"The world of fashion is moving in a more civilised direction, which is why designers are increasingly choosing vegan fabrics to create show-stopping looks that are as stylish as they are kind – and therefore more desirable to today's conscientious consumers," Taylor explains.
For many consumers, it's important to know if a designer or high street store's feathers are responsibly sourced or indeed synthetic. But with a lack of transparency surrounding the issue, it can be tricky.
JW Anderson has confirmed to The Independent that real feathers were not used in its autumn/winter 2019 collection, revealing that it instead used "fabric with a similar movement".
In this instance, fashion stylist Croydsill recommends adopting a DIY approach to the trend if it's something you want to get on board with.
"There are some great haberdasheries in Soho or on eBay selling strips of feathers in fun colours," she tells The Independent.
"Hand stitch some to the hem of your jeans or the cuff of your trench coat and you'll turn something simple in to the most on-trend item of clothing in your wardrobe."
Join our new commenting forum
Join thought-provoking conversations, follow other Independent readers and see their replies