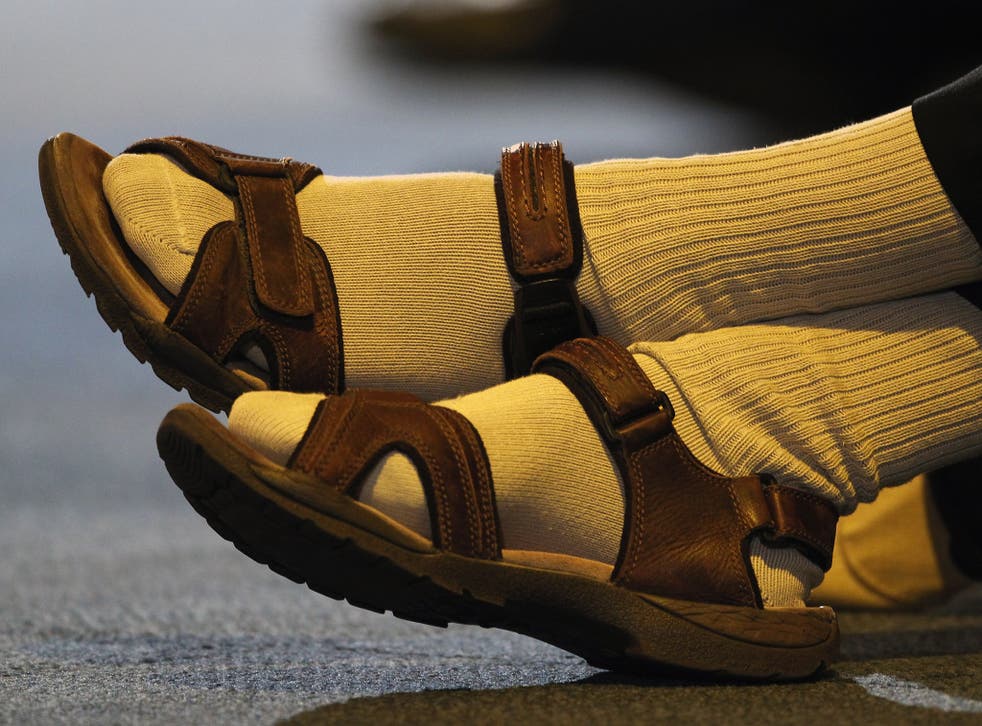 7 things no man should wear in the spring — and what they should wear instead
We're here to tell you exactly what you should wear instead of your sweaty boat shoes and baggy cargo shorts
Dennis Green
Friday 25 March 2016 16:53 Comments
Many times, when we tell men what not to wear, they ask what they should be wearing instead.
Well, ask no more: We're here to tell you exactly what you should wear instead of your sweaty boat shoes and baggy cargo shorts.
Here are seven things you shouldn't wear this season, and the items you should replace them with.
---
The problem: cargo shorts
The solution: Chino shorts that hit above the knee.
We've been over cargo shorts for a long time now. But every time we say so, we hear the inevitable cry of "But what am I supposed to wear?"
Let us introduce to you shorts that don't look terrible: Simple, slim-fit chino shorts that hit above the knee. (For most guys, that will be 9 inches or shorter, depending on how long your legs are.)
The slim profile doesn't flare out like cargo shorts, and the shorter inseam doesn't make it look like you'd rather be wearing pants.
J. Crew makes some of our favorites ($65).
---
The problem: boat shoes
The solution: Moccasin-style shoes.
We're over boat shoes in the worst way. They just remind us of college.
You're not in college anymore, and it's time to ditch your boat shoes for something a little more grown-up.
We heartily recommend any number of moccasin-style shoes, which feature a similar low-profile shape but eschew the frat-boy associations.
Pictured are L.L.Bean's Blucher Moccasins ($84), which we think perfectly fit the bill.
---
The problem: graphic tees
The solution: Plain, well-fitting T-shirts.
Graphic T-shirts are juvenile relics from the earlier part of the century. We've moved on, and it's time you move on, too.
There are absolutely zero instances we can think of where a graphic tee would work better than a plain old, regular T-shirt, like this one from Uniqlo ($10).
---
The problem: oversize hoodies
The solution: A nice layering piece.
Hoodies are one of the worst things you can wear when you want to keep warm. It's impossible to make it anything less than casual, it's inherently baggy and ill fitting, and it's impossible to layer.
Instead, try a piece like a denim jacket, which can be worn on top of a T-shirt, a button-up shirt, a sweater, or even underneath a wool coat.
We called the denim jacket the perfect layering jacket for fall and spring for exactly that reason.
Levi's makes the classic version ($68).
---
The problem: ugly running shoes
The solution: Crisp, minimal white shoes.
Many men wear horrible-looking running shoes for lack of a better option.
White shoes are our go-tos, and they look good on pretty much everyone. The best part: There's one for every budget.
Pictured is Rancourt & Co's Court Classic Low ($260).
---
The problem: dad jeans
The solution: Slim, dark denim.
When you don't know what you're doing with jeans, you buy some awful pre-faded distressed denim that fits terribly.
When you do know what you're doing, you buy slim, dark denim that lightens over time, fading naturally over wears and washes. When they're too faded, you buy new ones.
It's as simple as that.
Pictured is the Levi's 511 in clean dark ($70), which will fit most tastes.
---
The problem: the "going out" shirt
The solution: Any other nice button up.
Many men think they need special "going out" clothing when they hit the clubs and bars.
The truth is that you don't need a special wardrobe apart from your regular one. Instead of a shiny, patterned shirt solely for nighttime wear, choose a plain, high-quality button-down, like this Oxford cloth version from French minimalist label APC ($195).
It's more versatile, and it won't make you look out of place in any environment.
Read more:
• Tampons are used as a weapon against the EU
• The bonfire of the hedge funds
• Apple is unveiling a new iPhone next week
Read the original article on Business Insider UK. © 2015. Follow Business Insider UK on Twitter.
Register for free to continue reading
Registration is a free and easy way to support our truly independent journalism
By registering, you will also enjoy limited access to Premium articles, exclusive newsletters, commenting, and virtual events with our leading journalists
Already have an account? sign in
Join our new commenting forum
Join thought-provoking conversations, follow other Independent readers and see their replies