A Red or Dead letter day

Show all 8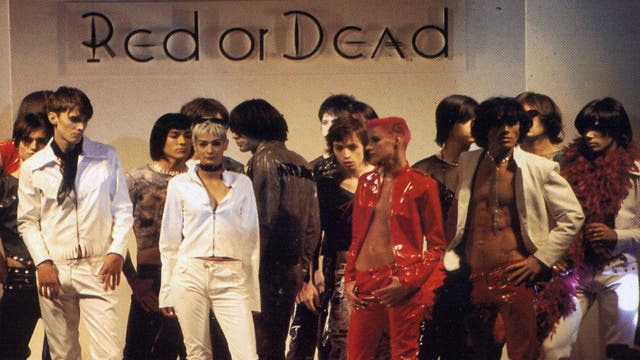 A Red or Dead letter day
A new exhibition opening tomorrow celebrates three decades of the Camden-born brand, says Rebecca Gonsalves
Rebecca Gonsalves
Thursday 08 November 2012 16:44 Comments
Those who remember London's Camden Market when it was full of goths and punks or Saturdays spent in shoe emporium Shellys looking for the perfect pair of platform plimsolls, will no doubt be familiar with the brand Red or Dead.
Born at a time when fashion designers used their collections to make political statements, the DIY ethos and post-punk aesthetic of Red or Dead hit a chord. Launched from a stall in the market in 1982 by husband and wife Wayne and Gerardine Hemingway, the first collections were made up of reworked clothing and Dr Martens sourced at first from the founders' wardrobes, and later from second-hand shops all over the world. By the end of the first year of trading, the Hemingways were presiding over 16 stalls. "We both came from working-class families in north-east Lancashire," the Hemingways say. "It was a world away from London. We realised that we could be designers and have a fashion label and had to stay true to what we knew: and what we knew was low cost, affordability, thrift, DIY."
Now celebrating 30 years of business, the brand has evolved to include a successful optical range with Specsavers, bags, hosiery, a fragrance, and even a collaboration with the British bike stalwart Raleigh.
To mark the milestone, the House of Red or Dead is taking a trip down memory lane via its archives in a new exhibition which opens tomorrow in east London. With a "hot-off-the-press" theme, the story of the brand is charted through its relationship with newsprint and the column inches garnered by its controversial catwalk shows and eclectic stores.
Hot off the Press, 9-11 November, the Dray Walk Gallery, the Old Truman Brewery, DrayWalk, London E1
Register for free to continue reading
Registration is a free and easy way to support our truly independent journalism
By registering, you will also enjoy limited access to Premium articles, exclusive newsletters, commenting, and virtual events with our leading journalists
Already have an account? sign in
Join our new commenting forum
Join thought-provoking conversations, follow other Independent readers and see their replies