Accessories in extremis: Frothy femininity to strident and strong - this season's fashion extras prove that opposites are attractive

Show all 10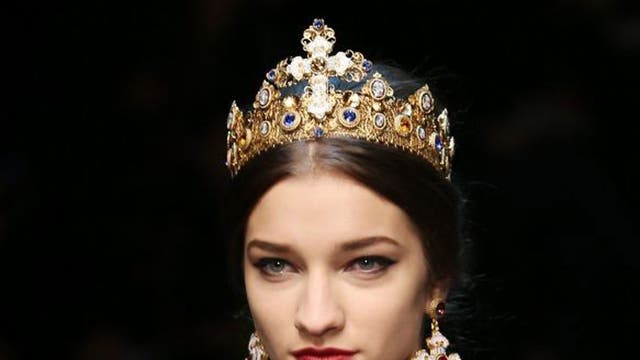 Accessories in extremis: Frothy femininity to strident and strong - this season's fashion extras prove that opposites are attractive
Whether you go for micro minaudières or jumbo backpacks, featherlight heels or sturdy caterpillar soles, it's all about polar opposites for the season's  extras. Rebecca Gonsalves compares and contrasts
As you'll know by now, this season overriding themes there are a-plenty.
Not least of which is a sense of disparity, as ideals are taken to extremes in the hands of designers depicting two sides of the same coin. In one corner a sense of frothy femininity – all rosy tones, dainty, nipped-in waists and voluminous skirts – faces off against a far more virulent version of feminism – strident and strong. Notably, this discourse plays out through the accessories which are used by designers as a way of underlining their point in the great debate. Frothing over with ruffles and pearls like a pan of boiling milk, Sarah Burton's ecclesiastical, couture-like catwalk collection for Alexander McQueen may have provided little in the way of actual clothes for its eager customers, but this is a house that knows how to accessorise. As such, in addition to the highly anticipated Damien Hirst-designed skull scarves which celebrate a decade of that best-selling accessory, pearl-strewn, gilded opulence unites box clutches, footwear and the mitre-pointed belts that created the signature cinched-in silhouette.
Gold is good elsewhere, too. Nameplate necklaces have taken so many turns through the cool/naff continuum that it seemed they were doomed to be ditched forever. But leave it to Lanvin's Alber Elbaz to give them just the makeover they needed, his oversize "cool", "happy" and "love" chains are not so much statement jewellery as a statement of intent from an eternal optimist. While at Dolce & Gabbana a highly decorative collection was crowned – literally – by gem-strewn Baroque creations lent further weight by Byzantine cross earrings.
At Christian Dior, Raf Simons' continued his exploration of the couture house's archive with a modern – though no less architecturally complex, or indeed covetable – interpretation of the classic comma heel as first designed by Roger Vivier. Continuing that romanticism of rounded hips and hand-span waists, was Rochas where Marco Zanini's now-signature retro-modern blend was sprinkled with subversive highlights, such as elegant oxblood leather and ribbed-knit opera-length gloves. In the hands of Miuccia Prada, that belted aesthetic told a different story, embracing – as she did at Miu Miu – parkas and bomber jackets, chunky textures and oversized trimmings all tied up in a jauntily polka-dotted bow, a neck scarf that was innately Parisian – no mean feat from that most Italian of designers. At Miu Miu, models on a mission stomped down the catwalk on monster truck tyre tread soles which were to be found at Stella McCartney and Carven too, but it was at Prada proper that the best incarnations appeared.
Sandals of gold, silver and bronze leather as well as black and brown may be for walking, but are anything but pedestrian. Flat-shoe lovers should rejoice, too, as boots and shoes were kept low to the ground – notably at Christopher Kane, where Chelsea boots were given a feathery fringe and Saint Laurent where Hedi Slimane's garage-band girl dragged her heels in biker boots embellished with a veritable haberdashery of beads and buttons. Thigh-high boots are something of a surprise re-emergence, tawdry memories of Julia Roberts' Pretty Woman all but erased by Phoebe Philo's skin-tight, supple-leather versions at Céline, in sophisticated shades of putty and black. At Chanel they appeared, too, in a somewhat more bovver-some iteration: vinyl, shiny and adorned with buckles and chains. Here, Karl Lagerfeld's models had the whole world in their hands – most literally as tiny globe-like purses swung from the house's signature chain links. Less use than ornament, tiny bags abound again this season, mere playthings for women who know how to pack light. Luckily for those with hoarder-like tendencies, oversize doesn't begin to describe the large-scale offerings of the season such as Marni's leather panniers.
Texture is another key trend for bag ladies to notice, as the furs and less cruel fuzzes of the season extended to accessories too.
The numbers to be found at Marni and Fendi are certainly not for everyone, but ponyskin or teddy-bear wool are more palatable versions.
Register for free to continue reading
Registration is a free and easy way to support our truly independent journalism
By registering, you will also enjoy limited access to Premium articles, exclusive newsletters, commenting, and virtual events with our leading journalists
Already have an account? sign in
Register for free to continue reading
Registration is a free and easy way to support our truly independent journalism
By registering, you will also enjoy limited access to Premium articles, exclusive newsletters, commenting, and virtual events with our leading journalists
Already have an account? sign in
Join our new commenting forum
Join thought-provoking conversations, follow other Independent readers and see their replies