Agenda: Mother of Pearl; Olivia Vinall; @CrimerShow; Elysium; Merrily We Roll Along

Show all 3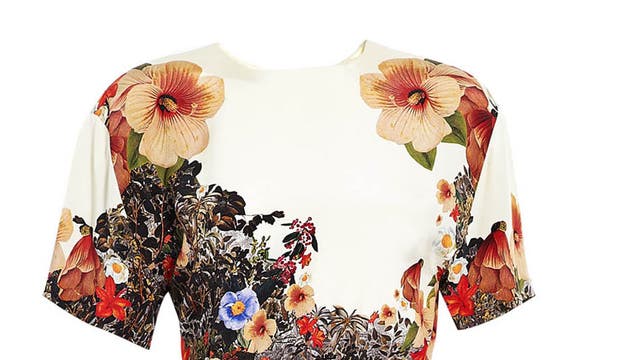 Agenda: Mother of Pearl; Olivia Vinall; @CrimerShow; Elysium; Merrily We Roll Along
Fashion: Lush prints
The first flushes of spring are finally here, and what better way to celebrate than with the blossoming new range from Mother of Pearl – a collaboration with multimedia artist Francesco Simeti, translating his floral wallpaper prints on to separates and dresses. And they come no more verdant than the gathered-waist midi dress below. £581, my-wardrobe.com
Face to watch: Olivia Vinall
With but a few stage and medical soap credits to her name, this young actress will be proving herself a most exquisite lady with her role as Desdemona opposite Rory Kinnear and Adrian Lester in the National Theatre's new Othello
Social networking: Match the tweet to the star
Alan Carr, Bill Bailey, Lee Ryan, Dermot O'Leary
1. Lol I just messaged myself
2. U realise your angelic goddaughters are growing up so quickly when they take a photo of your bald spot and put it as your iPhone wallpaper
3. Thank you St Tomas of Rosicky.
4. Sitting outside in a cafe, had this weird sensation in my back – turned out it was 'warmth' from the 'sun'
Answers at the bottom of the page
Lexpionage: Bieberrage, n.
The anger caused by the inability of a teenager – usually of the celebrity persuasion – to understand that the world does not always revolve around them. See also: Lohannimosity, Spearstorm
App watch: Londonion
APPS don't get more high-falutin than this "generative sound" app-cum-immersive verse experience, which mixes comic Stewart Lee's recital of Kurt Schwitters' poem "London Onion", with sounds taken in real time from your handset and archival sounds to create a "mega-mix of the original poem". Free from iTunes store
On the radar: Because some things are still worth getting excited about…
Internet: @CrimerShow
Hard-boiled crime drama gets over-boiled in this fabulously silly Twitter spoof account, taking the mickey out of hoary old police procedurals. (It's written by Irish comedy writer @astonishingsod, should you wish to tweet your appreciation)
Film: Elysium
Shooting for the title of thinking man's blockbuster is this high-octane sci-fi about social inequality starring Matt Damon and directed by District 9's Neill Blomkamp. It's out in September; see the trailer here: bit.ly/10KzSrq
Theatre: Merrily We Roll Along
After missing out on tickets for its original Menier Chocolate Factory run, we can't wait to catch up with this Sondheim musical as it transfers to the West End. From 23 Apr, Harold Pinter Theatre, London SW1
Match the tweet: 1. Lee Ryan; 2. Alan Carr; 3. Dermot O'Leary; 4. Bill Bailey.
Register for free to continue reading
Registration is a free and easy way to support our truly independent journalism
By registering, you will also enjoy limited access to Premium articles, exclusive newsletters, commenting, and virtual events with our leading journalists
Already have an account? sign in
Register for free to continue reading
Registration is a free and easy way to support our truly independent journalism
By registering, you will also enjoy limited access to Premium articles, exclusive newsletters, commenting, and virtual events with our leading journalists
Already have an account? sign in
Join our new commenting forum
Join thought-provoking conversations, follow other Independent readers and see their replies