All good things come to an end

Show all 15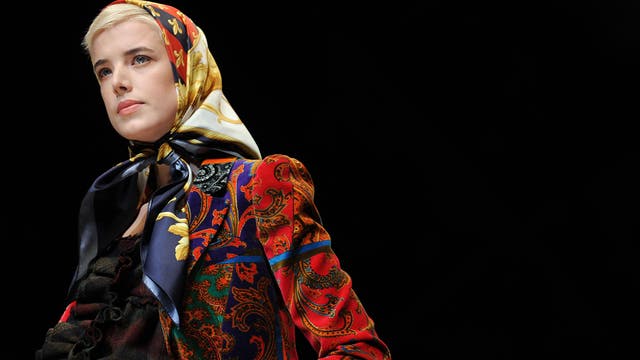 All good things come to an end
As the final D&G collection hits the shops, Harriet Walker salutes a label that brightened the catwalks with its bold and brash energy
Harriet Walker
Monday 30 January 2012 01:00 Comments
As an audience in Milan was applauding the finale of their D&G line show last September, designer duo Domenico Dolce and Stefano Gabbana were putting the final touches to a press release that would announce its closure after 17 years.
"We have a lot of new projects to start in the same way as many years ago, when D&G was born," they said in the statement released immediately after the event, much to the surprise of an industry that had come to love the pair's more blinged-up, youthful line. "D&G will become part of Dolce & Gabbana [their mainline range], giving even more strength and energy to our collections."
But as the pieces from that final spring/summer 2012 collection arrive in stores this month, there will be plenty of shoppers disappointed by the news that the label is no more.
Dolce & Gabbana's D&G range encapsulated all the wit and hyperbole of the pair's main label, but at a fraction of the price, and bore all the brash bravura and glamorous gusto that the stereotypically loud and proud Italian fashion industry is known for. From logo-tastic denim for the conspicuous consumer to short and skimpy cocktail dresses and sex-kitten winter knits, D&G was clever and cartoonish, eye-catching and immediate.
"D&G was something of a fashion journalist's dream," says Alex Fury, fashion director of SHOWstudio.com. "A single theme, served straight-up with no muss or fuss. Colour, glitz, lots of bling, plenty of logos, too much shredded denim. That kind of energy and exuberance really feels as if that's what the best of Italian fashion is all about."
Stefano Gabbana says of his main label: "For us, Dolce & Gabbana is the dream. Our roots. Dolce & Gabbana is the Mediterranean, Sicily..."
"While D&G represents what we live now," finishes Domenico Dolce. "Very much influenced by music and by the street. The collections did share some elements, although they were two separate worlds which started to become closer."
What the lines have in common is a similarly irreverent treatment of icons and the popular myths around femininity: while the mainline has reflected everyone from glamorous widows to wide-eyed ingénues, the D&G line once took Queen Elizabeth II as its inspiration, with models in silk headscarves and long tartan skirts. It was quite a departure from the usual clubbers' vibe but somehow entirely fitting according to the designers' flamboyant minds.
"D&G changed a lot throughout the seasons," continues Gabbana. "When we launched it in 1994, fashion, the economy, everything was quite different from today. People wanted fun things, a kind of fashion that would be a crossover of styles and inspirations, with no age restrictions. D&G allowed us to free our creativity in a completely different way compared to Dolce & Gabbana."
Design signatures such as ocelot prints, graffiti tags, gold chains and hyper embellishment were not so much a by-word for extreme glamour as a billboard advertisement for it, and the final collection stands a joyous synecdoche for a label at which too much was just enough. For its swansong, models dressed in garments made from the twisting, pinning, knotting and ruching of classic foulard scarves, printed with everything from psychedelic paisley to porcelain and nautical emblems, strutted along the catwalk to a remixed soundtrack of Prince's "Kiss" and James Brown's "Sex Machine". High camp indeed.
"Corsetry dresses, lace, ocelot and, of course, scarf prints are incredibly iconic to the brand," says die-hard D&G fan Lauren Stevenson, who is head of communications at My-wardrobe.com – where an exclusive capsule of D&G pieces has just launched, in celebration of its final collection. "Every season, they feature these elements within the collection, which give you a chance to buy into classic D&G pieces with a twist of the trends of the season... The panic is starting to set in."
The designers plan to assume the D&G spirit into their mainline label, meaning that prices are higher and pieces perhaps less overstated, but they are keen to promote the closure of their second line as a beginning rather than an end.
"What we have been trying to do is to introduce the young generation to the sartorial soul of Dolce & Gabbana," explains Stefano Gabbana. "Next to the classic signature jackets and trousers you now find new shapes which are close to the D&G spirit, yet speaking the Dolce & Gabbana language."
"The D&G logo will not disappear," Domenico Dolce assures the insignia's fans. "We did show on the Dolce & Gabbana men's runway belts and T-shirts bearing the D&G logo. This is just the first season – in the future this merging will be more clear."
And the message too is clear: D&G has grown up. And a generation of shoppers will proudly watch as it takes its first steps as a new concept at the Milan womenswear shows next month.
Register for free to continue reading
Registration is a free and easy way to support our truly independent journalism
By registering, you will also enjoy limited access to Premium articles, exclusive newsletters, commenting, and virtual events with our leading journalists
Already have an account? sign in
Join our new commenting forum
Join thought-provoking conversations, follow other Independent readers and see their replies