The Independent's journalism is supported by our readers. When you purchase through links on our site, we may earn commission.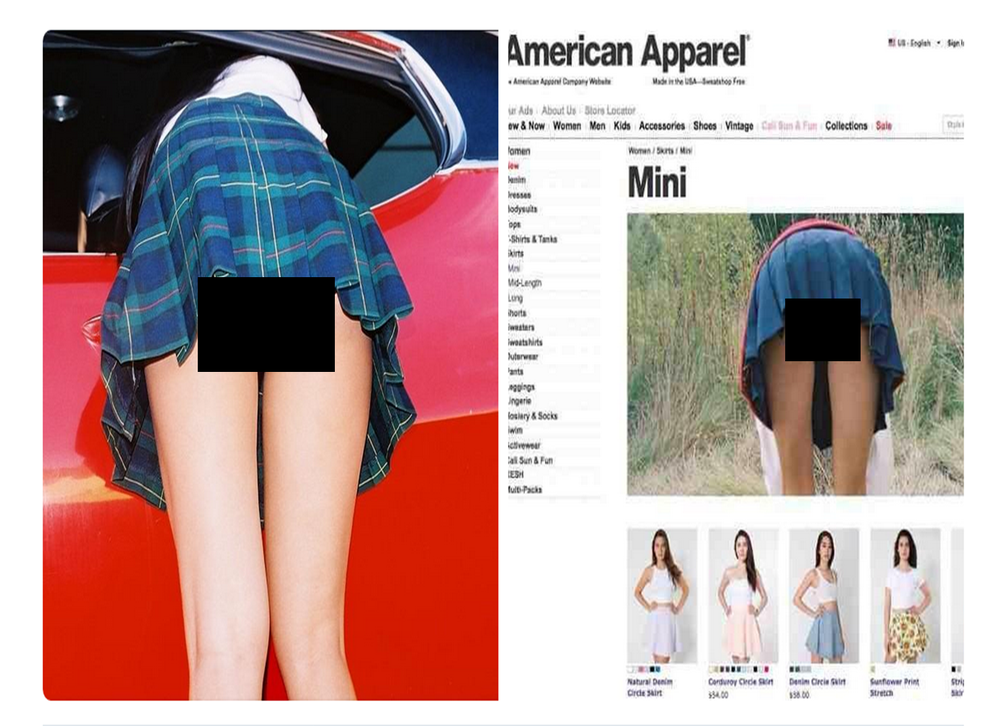 Revealed: American Apparel's most controversial moments following ban on Back To School ad
The clothing label has sparked controversy over numerous advertisings
Following the news that American Apparel's latest ad campaign was officially banned by watchdogs, we take a look at the ongoing controversy surrounding the brand.
Founded in 1989 by Canadian businessman Dov Charney, American Apparel has been a continual source of criticism and debate. The founder himself has been sued for sexual harassment and subsequently fired by his own company. However, in July this year the former CEO was back, but in the lesser role of consultant - at least until the investigation into allegations of misconduct against him are completed.
Besides Charney's controversies, numerous campaigns over the last couple of years have made the headlines.
The most recent clothing campaign, Back To School, was labelled as "pornographic" for showing a school girl in a mini skirt leaning over to show her crotch and underwear – it was quickly banned by The Advertising Standards Authority for "sexualising schoolgirls".
Earlier this year the brand caused a stir when an advertisement featured a topless model with the words "Made in Bangladesh" across her pixelated bare chest. They weren't referring to the jeans she was wearing, but instead to the Bangladeshi merchandiser in order to highlight the company's fair labour practices.
Last year the clothing label was also blasted for its "sexy" advertisements. Some of the most controversial included a photo of a store consultant posing in bed without pants and an ad featuring photos of women in sexual positions, described by the UK ASA as "vulnerable", "gratuitous" and "voyeuristic".
In 2012 American Apparel had an ad banned for "sexualising minors" – it featured a teen girl wearing nothing but white tights.
In pictures: American Apparel

Show all 22
But not all their controversial ads have involved apparently sexual imagery. They include the brand's lingerie campaign featuring a 63-year-old model in underwear and an ad introducing a Hasidic male model to coincide with Rosh Hashanah.
Nevertheless, besides all these controversies, the brand's website reads: "The advertising campaign has become as synonymous with our brand name as the signature Made in the USA basics that first put us on the map."
It has to be said that it's not just American Apparel that has been subject to criticism over its advertising. After it was founded in the sixties, United Colors of Benetton became known for its provocative campaigns and shocking imagery. More recently, the fashion brand unveiled posters for their "Unhate" ads which featured Photoshopped images of world leaders locking lips, including Barack Obama with the late Venezuelan president Hugo Chavez.
Benetton's sister brand, Sisley, had an even more shocking image featuring two women snorting clothing off of a surface, with the caption "Fashion Junkie".
Marc Jacobs' ad for its Oh, Lola perfume was banned in the UK. It featured teen actress Dakota Fanning holding a large bottle of the fragrance in her lap.
And the appropriately-named British erotic lingerie label Agent Provocateur has launched many controversial adverts that have been banned, including a video commercial featuring Kylie Minogue riding a bucking bronco in daring lingerie and most recently a sexy video directed by Penelope Cruz that was taken down by YouTube.
Register for free to continue reading
Registration is a free and easy way to support our truly independent journalism
By registering, you will also enjoy limited access to Premium articles, exclusive newsletters, commenting, and virtual events with our leading journalists
Already have an account? sign in
Register for free to continue reading
Registration is a free and easy way to support our truly independent journalism
By registering, you will also enjoy limited access to Premium articles, exclusive newsletters, commenting, and virtual events with our leading journalists
Already have an account? sign in
Join our new commenting forum
Join thought-provoking conversations, follow other Independent readers and see their replies