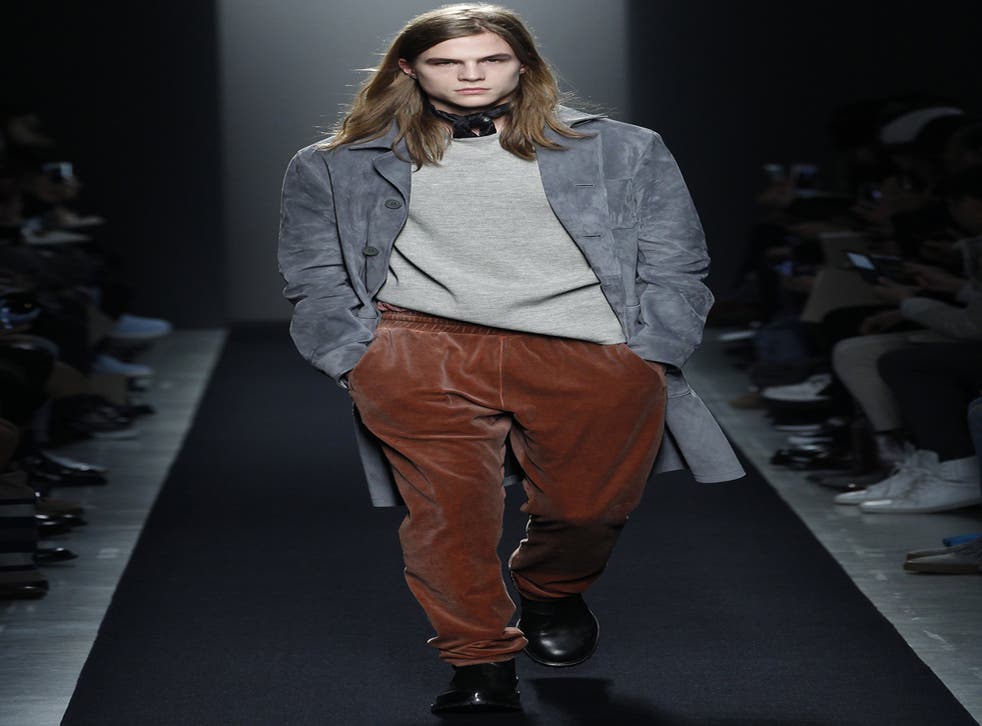 Autumn/winter menswear 2015: The most popular looks from Action Man to Oscar Wilde
From Action Man to Oscar Wilde – via Del Boy – the autumn/winter menswear catwalks took inspiration from a slew of familiar characters and the clothes that made those men. Here's our pick of the bunch – just be sure to wear them one trend at a time
Wilde at heart
Sure, Oscar Wilde once quipped about fashion's ever-changing ugliness, but it seems the pendulum has swung to his own sartorial style for winter, with loosely knotted silky pussycat bows, velvet suits and volumes of overcoats. There have even been a few capes. Wilde's wears were actually about standing outside of fashion – artistic dress, they called it. That chimes with Tomas Maier's Bottega Veneta vision of creatives' clothing, all mixed-up, muddled and mismatched fabrics – melange knits, with salmon corduroy, against soft chamois leather and chiffon, generally with a trailing scarf and something blousy underneath. A similar feel emerged from Alessandro Michele's first Gucci men's show. We can also do fashion's favourite connect-the-dots between those and the slinky tunics and elephant-ear collar-points of J W Anderson, or the Persian-carpet patterns on suits and coats at Givenchy. It's an urge to experiment with fragile fabrics such as lace, with layering, with silky, billowy trousers, with stuff that looks easier than menswear's tailoring tradition. In the words of Madonna: express yourself, don't repress yourself. Alexander Fury
Two for one
Practical concerns seldom invade fashion's consciousness. Chiffon for winter? Fur for spring? All par for the course. Maybe it was the bitter cold of this year's first quarter – when designers showed the stuff they'd designed for the last – that influenced the double-breasted, double-stuffed double-coating cropping up across the autumn/winter catwalks. For winter, like the animals of Noah's Ark, coats and jackets seem to come two by two. Some designers coupled them – Stefano Pilati cross-bred down-stuffed coats with tweedy outerwear. They sound like mongrels, but his zippered-up half-and-half hybrids prepared his Ermenegildo Zegna Couture client for the bitterest of winters.
By contrast, Salvatore Ferragamo and Lanvin were happy to bulk him up by putting two (or, sometimes, even three) pieces of outerwear haphazardly on top of one another. That's an interesting by-product of the bi-coat trend: it machos you out to Michelin Man proportions. Riccardo Tisci, at Givenchy, sent his already beefy models swaggering out in pile-ups of covetable outerwear. The effect, overall, was to widen shoulders, buff out chests and generally make you look a bit too big for your boots. AF
The fluffers
Giant fluffball coats have been making female fashion followers look like Muppets (interpret that how you will) for years now; this season it's the turn of their male equivalents. Fur for men is still a tough sell – morally if it's real, and aesthetically either way. The release of Behind the Candelabra, the film about Liberace, illustrated two things: exactly when too much plastic surgery is too much plastic surgery and, more appropriately for these pages, the perils of a grown man wearing a full-length fur.
Designers aren't proposing that, by and large. This season, the fluffy feel is expressed through shearling – sliced into slim overcoats with a hint of volume in the material, or short, puffy bomber jackets that cuddle the body like a teddy bear. J W Anderson's ivory and tan turns veered, occasionally, into Del Boy territory – he and Minder's Arthur Daley are the comparisons most likely to bubble up if you're wearing this look wrong. There's no danger of that when sporting Valentino, whose designers Maria Grazia Chiuri and Pierpaolo Piccioli offer some of fashion's most luxurious takes on looking sheepish. AF
It's not easy being green
A lot of menswear designers – and the men who wear their designs – have interests verging on obsessional with the sort of lifestyles, activities and clubs that need a fair bit of kit. This explains why uniformity in its many guises, from sportswear to subcultures, is a recurring theme in menswear. Paramount among these is, of course, the army, and although the majority of creatives and their customers were born and raised on Civvy Street there's something inescapable about the appeal of a militaristic mood. It's a romantic ideal, of course, far removed from the realities of life in the service, but it explains why khaki, olive drab and bottle green are never far from the catwalk colour palette.
Be it fancy frogging and regalia-laden dress uniforms or streetwear-inspired fatigues for urban ops, the military and its uniform inform much of modern menswear. And this season is no different – smart and severe takes, such as Sarah Burton's parade of heavyweight woollens at Alexander McQueen, certainly pass muster. A more utilitarian take on the trend could be seen at Michael Kors, Y-3 and Off White, thanks to a proliferation of handy pockets, while at Coach, Stuart Vevers gave camouflage print a gritty, graffiti-style update. Rebecca Gonsalves
Quilting circle
The new-season take on quilting saw padded parkas, vests and more given a svelte make-over. Whether it's the result of the prolific crossover between sportswear and fashion or the increasingly image-conscious male fashion customer's concerns over bulking up in all the wrong places is up to you. But this incarnation won't see you mistaken for a bouncer, barrow boy or Mitchell bruvva. London wunderkind Craig Green's meditation on martial-arts clobber was perhaps the most powerful, infused as his collection was with his usual sense of serenity and force.
At Moncler, Thom Browne has been making merry with the house's staple quilted sportswear for some time. Taking an archive jacket as inspiration for a collection that resembled the runners and riders line-up for the Grand National in a dystopian parallel universe, Browne created the merest suggestion of quilting alongside patchworks and patterns. The exception that proved the streamlined rule came from Christopher Raeburn, whose outdoor pursuits and army surplus aesthetic was dialled up with inflatable outerwear that would come in handy for any Action Man's IRL adventures. RG
Drop it like it's hot
The country is currently awash with the tears of teenage One Directioners mourning the demise of their favourite pre-packaged boy band. But, whatever umbrage you might take with the musical output of Simon Cowell's band of merry men, their service in the line of increasing awareness of drop-crotch trousers has been unwavering. It's a trend that was shadowed on the catwalks, too – albeit with a bit more maturity. Rick Owens has long been a proponent of playing with the proportions in this regard, and dropped crotches appeared on his catwalk again for autumn/winter. Not that you probably noticed, as it was, in fact, the absence of crotches of any kind in his peephole designs that was the real scene-stealer this season.
If Owens' aesthetic is too extreme for you, fellow follower of the beat of his own drum Haider Ackermann continued his experiments with proportions and pyjama dressing. For an even more accessible version, look to Giorgio Armani, where the crotch of everything from tailoring to mountaineering gear was shifted down from its usual spot. Fair warning though, fellas – this isn't the easiest trend to try at home, not least because of the impact it has on your usual gait. RG
Register for free to continue reading
Registration is a free and easy way to support our truly independent journalism
By registering, you will also enjoy limited access to Premium articles, exclusive newsletters, commenting, and virtual events with our leading journalists
Already have an account? sign in
Register for free to continue reading
Registration is a free and easy way to support our truly independent journalism
By registering, you will also enjoy limited access to Premium articles, exclusive newsletters, commenting, and virtual events with our leading journalists
Already have an account? sign in
Join our new commenting forum
Join thought-provoking conversations, follow other Independent readers and see their replies