The Independent's journalism is supported by our readers. When you purchase through links on our site, we may earn commission.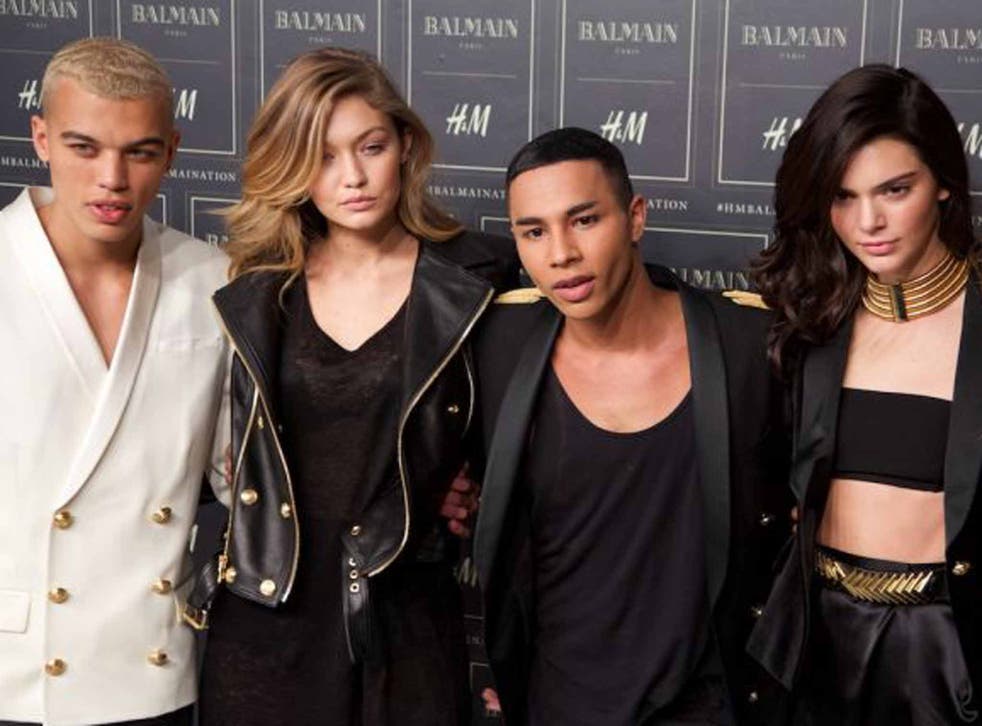 Balmain's collection for H&M: Old ground or new territory for Olivier Rousteing?
​This Thursday, French fashion house Balmain and Swedish retailer H&M unveil their collaboration collection
Alexander Fury
Monday 02 November 2015 18:06 Comments
Fashion is in a strange place right now. On the one hand, long (and not-so-long) tenures are screeching to a halt, with creatives openly citing the punishing schedule of the current multi-collection, multi-season fashion year and an insatiable demand for newness as detrimental to their work. On the other … well, on the other, Olivier Rousteing's Balmain H&M collection appears in stores this Thursday, the latest of the fast-fashion retailer's flash-in-the-pan designer drops to push up its rails and sales figures before the end of the year, and something extra on the perennially unruffled Rousteing's overflowing plate.
So what's the difference between the barely 30-year-old Rousteing, Balmain's baby-faced, ridiculously good-looking creative director, and most other designers? The prefix may hold the answer: ask Rousteing anything about fashion and he talks about "my generation". Well he might, because he's that little bit younger than his fortysomething contemporaries, and plugs into a vein of cultural references that resonate louder for a twentysomething (or younger) audience than for their parents. Look at his Balmain H&M launch party last month in New York, where the Nineties boy band Backstreet Boys played for an audience who were pre-teens during the group's heyday and reacted with according fervour.
There's something more fundamental there. Rousteing works in a different way: talk to him about the high street and he opines that "it forces ourselves – designers like us – to be stronger, and more creative, and go faster". He means that as a positive. I can't think of any other designer who would – bar Karl Lagerfeld, who at 82 may be almost three times his age but is more than a match for Rousteing in terms of vigour.
Lagerfeld was, incidentally, H&M's first masstige designer back in 2004. Ever ahead of the times, he was the first to see the value in these H&M collections: namely, as publicity vehicles to shout a designer's name and aesthetic far and wide to the maddening crowds, as well as garnering a fat fee (Lagerfeld's was reported to be $1m).
Balmain no doubt received the latter for its 109-piece collection; but who is really benefiting from the publicity? Balmain hardly needs it: Rousteing is a celebrity in his own right, cheeks permanently chomped as he poses alongside his high-profile friends such as Jourdan Dunn (a model), Gigi Hadid (a socialite and a model) and Kendall Jenner (a Jenner, and a model).
They've all appeared in his shows and in his advertising campaigns, and have done the same for Balmain's H&M turn, garnering this range a frenzy of publicity like no other. I loathe talking about social media footprint, but those models – in particular Hadid and Jenner – have been cited as portents of a new age of modelling where "followers" and "likes" are an important bargaining tool in contract negotiations. Rousteing has 1.6 million of the former. He's a social media mogul in his own right. And, of course, he's been posting images of his friends (Gigi, Kendall) in his clothes for H&M.
So you hardly need me to tell you what the clothes are, physically. But here's what they are ideologically – not heavy-duty philosophical cant, but what they represent. Rather than creating a range of "in the vein of" greatest hits – like H&M's past collaborators Comme des Garçons, Lanvin and Versace – or the specifically designer capsule ranges cooked up by Viktor and Rolf (based around hearts and marriage), and Lagerfeld (based around his own starched-collar sartorial style), Rousteing is reviving himself. He's created a range that knocks off his Balmain output to date, sticking pretty close to the original templates because that's exactly what Rousteing recalls he wanted to wear when he was young(er).
You can pin almost everything down to an original catwalk outing, such as the roped tops, the short, bulky swagged skirts and heavy jewel embroideries, or the tailored jackets with brassy gold buttons, for her, and him. One of the models for Balmain's H&M lookbook bears a remarkable resemblance to Rousteing; he obviously wears a lot of his house's flashy menswear, embellished with glitzy gold faux military embroideries. So do other men: it makes up 40 per cent of Balmain's turnover, and is healthily represented in the collaboration.
Rousteing has no qualms whatsoever about ripping off his own output. He's also one of the few designers who doesn't champ at the bit with rage when he sees high street retailers doing the same. "I think it is modern when you go to H&M or Zara," he told me.
He told me that last year, well before the H&M collaboration had been announced, but the conversation makes for interesting reading in hindsight. "I love looking at the Zara windows. You have the Balmain big belt with a Proenza [Schouler] needle-punch skirt; after you have the Balmain earrings and a big Céline coat... It's genius what they do today. They go fast, and they have a brilliant sense of styling and know exactly how to pick up what they have to pick up from any designer. But I'm really happy – because Balmain is really copied!"
Big shoulder pads at bargain prices? It could all end up a bit Alexis-Carrington-goes-to-Aldi. At times, honestly, Balmain's H&M collaboration does. It's pointless to point out that corners are cut when it comes to quality – but that invariably affects, say, the hang of a pearl-beaded velvet jacket (a bit saggy) or the cling of a silky draped dress (a bit unforgiving). Rousteing is enthusiastic about everything bar editing his vision, which often results in overly ambitious clothes that are heavy – with referencing, with embroidery, sometimes just at the hips.
Apparently, the glitzier, more expensive dresses will be few and far between – the range itself is on sale in just nine H&M shops across the UK, five of those in London. It'll also doubtless sell out on the H&M website.
But the clothes don't really matter in Balmainia – a country unto itself, it appears, with a national costume equal parts skimpy and sequinned and its own #army. More interesting than the Eighties redux redesigns is what Balmain and Rousteing represent in fashion today, as epitomised by this collaboration.
Designer as superstar, but approachable, relatable, if not touchable – bar a tap, on a smartphone screen, indicating approval. Rousteing's clothes register (and retail) so easily online, as does his personal image. It feels very of-the-moment – and gives a slightly more optimistic outlook than the death of fashion or crash of creativity many critics have foretold. Perhaps the resilient, resolute Rousteing, with his army of high-profile model-mates and endless appetite for endless collections, is indicative of a new breed of fashion designer geared up to meet the rabid commercial, critical and computer-literate demands of today?
Or maybe Rousteing is a one-off – his generation's Karl Lagerfeld? Buy while the frock stock lasts.
Balmain X H&M is released on Thursday 5 November at select stores and online at hm.com
Register for free to continue reading
Registration is a free and easy way to support our truly independent journalism
By registering, you will also enjoy limited access to Premium articles, exclusive newsletters, commenting, and virtual events with our leading journalists
Already have an account? sign in
Join our new commenting forum
Join thought-provoking conversations, follow other Independent readers and see their replies