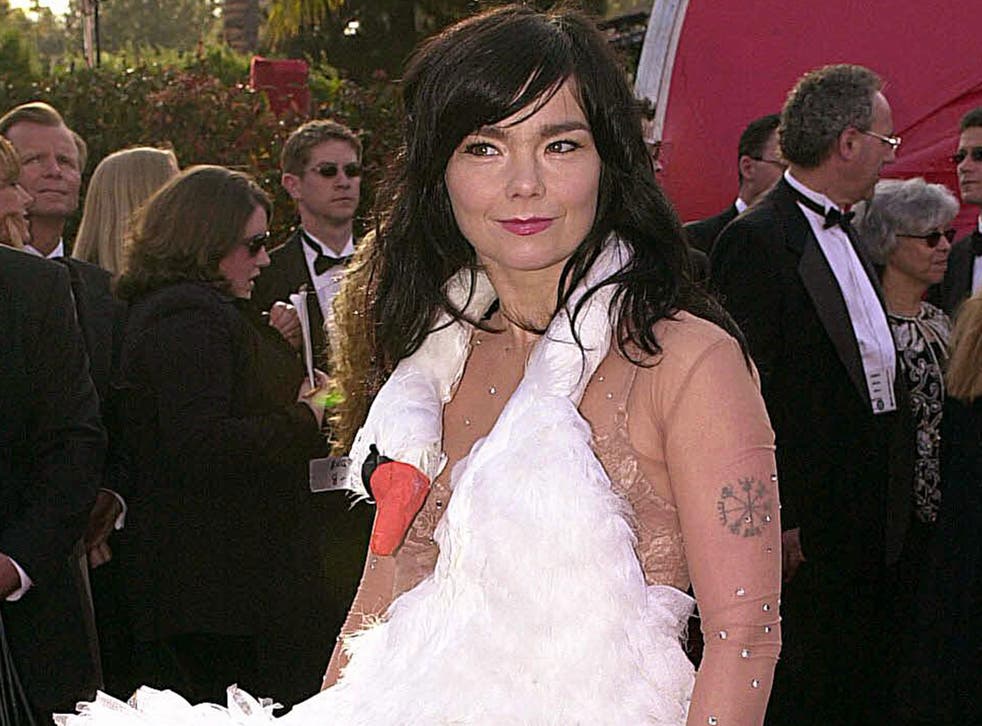 Bjork's infamous swan dress now honoured at Moma museum – almost 15 years later
The exhibition of the dress proves that despite so many critics, it made history
Linda Sharkey
Monday 16 March 2015 13:45 Comments
When Bjork appeared on the red carpet of the 2001 Oscars wearing a dress that looked as if a swan was draped around her neck, she became the star of many worst-dressed lists across the globe.
However, more than a decade later the world still remembers the emblematic design, which might not be loved, but respected, so much that Moma museum decided to showcase the feathered frock alongside a retrospective of the Icelandic singer.
The dress launched a thousand parodies and received comments such as: "This girl should be put into an asylum" by Joan Rivers (Fashion Police), "Björk's wraparound swan frock…made her look like a refugee from the more dog-eared precincts of provincial ballet" by Jay Carr (the Boston Globe), "Probably one of the dumbest things I've ever seen" by Steven Cojocaru (TV fashion critic).
But despite these critics, the designer behind the creation, Marjan Pejoski, seems quite pleased. His dress made Oscar history after all.
"It's great that we can celebrate it and talk about it still, after 15 years," said the Macedonian designer -who's now designing for the urban London line KTZ.
"That [the dress] made it into Moma…it's just a spectacular and amazing thing that it came back full circle."
The celebratory exhibition opened this month at the Museum of Modern Art in New York, so here are five things you probably didn't know about 'that' dress.
Inspiration
The sawn dress was actually debuted on designer Pejoski's autumn/winter 2001 catwalk. The collection was inspired by the "motion of a merry-go-round, with all these different animals".
Only two of a kind sculptures
The dress was made by many different fabrics including suede leather, woollen felt, goose and swan feathers. As Pejoski said, "the whole dress was like a sculpture, done three-dimensionally".
So, because the dress could not be dry-cleaned, of course, an exact copy was made.
Laying real eggs
The Icelandic singer brought six ostrich eggs with her to the Oscars and scattered them on the red carpet. Only Bjork could get away with that.
Iconic
Bjork also wore the frock for the cover of her 2001 album Vespertine.
Lives on
The swan dress inspired Valentino designers Pierpaolo Piccioli and Maria Grazia Chiuri to make a similar interpretation of the frock for the spring 2014 collection.
Register for free to continue reading
Registration is a free and easy way to support our truly independent journalism
By registering, you will also enjoy limited access to Premium articles, exclusive newsletters, commenting, and virtual events with our leading journalists
Already have an account? sign in
Join our new commenting forum
Join thought-provoking conversations, follow other Independent readers and see their replies