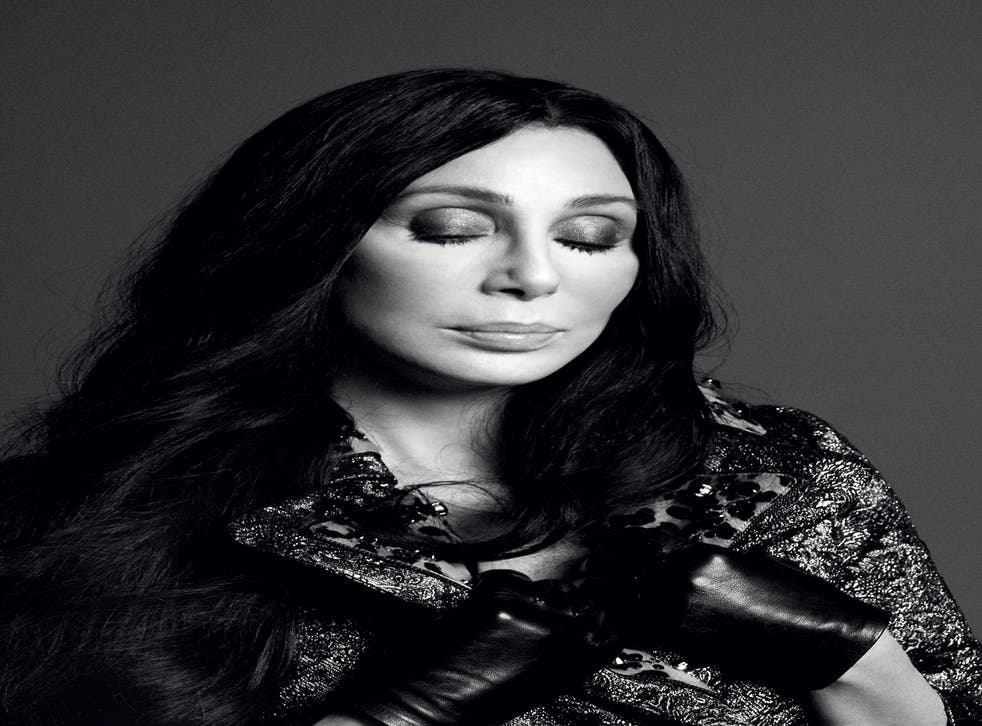 Cher on the cover of Love magazine: Queen of chiffon and sequins is the ultimate fashion icon
Celebrities copy her, the designer Marc Jacobs is inspired by her – and next week, she'll be on the cover of the achingly hip 'Love' magazine. Fashion editor Alexander Fury salutes the camp, timeless style of Cherilyn Sarkisian
Alexander Fury
Friday 24 July 2015 01:23 Comments
We've always seen plenty of Cher through fashion. Only now it is figuratively, not literally. In the past, we've seen Cher through sheer panels of Bob Mackie chiffon and fishnet; through nude illusion that was, frequently, no illusion; through the body-stocking she wore in the video for her 1989 single "If I Could Turn Back Time", the one that resembled two strategic strips of duct tape and a pair of tights hoicked up too high.
And now? Well, in the past three months, we've seen Cher at the Metropolitan Museum of Art's Costume Gala, in Marc Jacobs, with Marc Jacobs. And we actually saw her in Jacobs again, when she fronted his autumn/winter 2015 advertising campaign.
Granted, Cher is just one of a litany of Jacobs' stars, including the director Sofia Coppola, the actress Winona Ryder and Willow "Daughter of Will" Smith. But she attracted all the attention. The latest example of the fashion industry's current embracing of Cher to its bosom is her place on the cover of the autumn/winter issue of Love magazine, a biannual bible of cool whose editor-in-chief, Katie Grand, is accepted as high fashion's premier harbinger of hip. (Full disclosure: I edited Love, under Grand, for a year. It was as cool then as it is now – down to her, definitely not me.)
"We've tried for her before," says Grand – meaning Cher – but apparently, in the past schedules conflicted and the star couldn't make it. However, this time around, "Cher happened within about three days. It was one of the easiest things I've ever commissioned."
For example, although neither the stylist Joe McKenna (who works with designers from Azzedine Alaïa to Victoria Beckham) nor the author and journalist Derek Blasberg (who interviewed her) were due to be in New York around the time of the shoot, they both instantly agreed and rearranged.
"Everyone I spoke with was obsessed with her," says Grand, by way of explaining why she put Cher on her cover. But Grand didn't count herself among them, to be honest – at least not at the beginning. "You know, when someone around you is obsessed, it begins to rub off," she says, laughing. "Marc is, and so many people I know… and we'd already looked at her as inspiration for a number of collections."
Grand is referring to the designer Marc Jacobs, with whom she works as a stylist – at Louis Vuitton until 2013, and ongoing at his eponymous label. She recalls how she and the then head-of-studio Peter Copping (now creative director of Oscar de la Renta) once hid Jacobs' copy of Cher's The Greatest Hits at Vuitton, after incessant late-night looping of the tracks. "Then the cleaner found it… so it was obvious that someone had hidden it…"
It's strange to read names like these going quite so gaga over Cher. "Working with her was a dream come true," gushes Marc Jacobs to me, from Paris. "She's been an inspiration to me since age nine, when I started watching her weekly on The Sonny and Cher Show."
That's a long-standing fixation – and Cher's influence can be traced back through Jacobs' fashion designs: not just the obvious, like the beaded peekaboo gowns and feather head-dresses of his final Vuitton collection for autumn/winter 2014 (a fairly direct facsimile of Cher's spotlight-stealing 1986 Oscars outfit); but also subtler stuff. Jacobs' signature low-riding kick-hem trousers of the Nineties, for instance. They had a Seventies flair, those flares, and remind you that Cher was the first woman to expose her navel on network TV.
"If you want to talk about firsts and belly buttons, you can look at Claudette Colbert or Cleopatra," says Cher in the interview accompanying her Love cover, shot by David Sims. "The generation that came before mine were people I could not relate to at all. Doris Day? Sandra Dee? I had no idea where they were coming from and I thought they all dressed terribly. I was appalled at all that crap: cookie-cutter suits and little pillbox hats."
Maybe that's the source of Cher's appeal right now: we ourselves are coming out of a period of relative fashion conservatism, itself a reaction to the crass excesses of the early Noughties. A little glitz, a bit of glamour, a sliver (or several) of naked flesh are no longer looked on as bad taste. But is Cher's style looked on as bad taste? Probably – even when it's being lauded. (In 1999, for instance, the Council of Fashion Designers of America recognised Cher for her influence in fashion.) "I think she's been a fashion victim and I think she's learned a lot from that," says the then-CFDA president Stan Herman. "That almost gave her her sense of style." But I don't think Cher is a fashion victim. She's always known exactly what she wanted to achieve. She's never worn something to be fashionable, regardless of whether is suited her or not – indeed, she's been happier to be out of fashion. Example? Bob Mackie, the fashion designer most associated with her look, and with whom she is most associated. She still sports his clothes today.
Who was wearing sheer-spangled banners – screaming, "Look at me!" – back in the Eighties? Who, indeed, was wearing Mackie on the red carpet? No one, bar Cher. She was lambasted for it back then. But now, they're the looks that are lauded. And if they're not lauded, they're at least remembered. Everyone knows what Cher wore to present the Best Supporting Actor Oscar in 1986 – but who remembers what the winner wore? Or even who he was? Does that sound like a victim, or a victor?
Anyway. Bad taste leads us, inevitably, to the notion of camp. We can really have some fun here. Because Cher is camp, undoubtedly. She's practically its personification. And while the ultimate camp statement – it's good because it's awful – doesn't apply to her, it is germane to much of what she has worn. Susan Sontag said that camp "is a woman walking around in a dress made of three million feathers". Cher probably has a dozen of those, and has done that a hundred times. Diana Vreeland, American Vogue's arch editor-in-chief during the 1960s, hit the nail on the head when she declared: "A little bad taste is like a nice splash of paprika. We all need a splash of bad taste… No taste is what I'm against."
(Incidentally, Vreeland first met Cher at a party for Jackie Kennedy in the 1960s. She had her photographed by Richard Avedon for her magazine; Vreeland was also the inspiration for Marc Jacobs' autumn/winter 2015 collection. You fill in the blanks.)
Camp taste, Sontag said, has a peculiar affinity and overlap with homosexual taste. There's an entire, and exhaustive, Wikpedia page devoted to Cher as a gay icon; there was also an entire episode of the American LGBTQ-ish sitcom Will & Grace devoted to a Cher doll. "You'll always have those women that designers… of a certain sexual orientation… are obsessed with," Katie Grand says, in a measured fashion. But I remember, in February 2013, when Cher made surprise appearances at a number of the autumn/winter Paris fashion-week shows – Balmain, Gareth Pugh, Rick Owens – and caused a veritable furore at each. The reason? Let's be frank: Cher does appeal to gay men, and their percentage in the fashion ranks is especially high.
Still, it isn't just gay male fashion professionals who are fixated on Cher. This year, we saw her not once on the Met gala's red carpet, but multiple times, in a slew of homages (fashion's favourite synonym for rip-offs) to the outfit Cher wore to the first Met gala in 1974. Beyoncé's transparent Givenchy gown with globules of embroidery crusting her pubis and nipples; Jennifer Lopez's barely-there Versace number licked with smears of scarlet beading; the blanket-coverage of a barely covered Kim Kardashian in designer Peter Dundas' first creation for Roberto Cavalli. They all graduated from the Cher school of never sharing the stage, with anyone, or anything. Her own Jacobs number, although both sequined and low-cut, seemed demure in comparison to her contemporaries and her own past.
Kardashian was the only one to openly acknowledge the influence of Cher – possibly after multiple call-outs on social media – in a press release rushed out by Cavalli. Nevertheless, the red carpet has been pulling Chers, and Cher-alikes, for years: Halle Berry's transparent torso-ed Elie Saab back in 2002, anyone?
"I had actually worn that dress before," comments Cher, herself. She isn't talking about Ms Berry, nor her Met-dress doppelgängers, but the original, a Bob Mackie (who else?) back in 1974. "I had done a shoot for Vogue that was about fashion from the 1920s to the 1970s, and that was the dress he created to represent the 1970s. When we were getting ready [for the ball, Mackie] said, 'Well you've never worn that dress out, do that one.' So I did. It was easy." The most surprising part of that quote, for many, is the idea of Cher in Vogue. In fact, being on the front of a fashion magazine is nothing new for her – she was cover-star of that title five times between 1972 and 1975. Why? Because "her dream is to be in high fashion," commented Vreeland. (She said so on record, and on paper, in one of the famous memoranda she issued during her Vogue tenure, since collected into a number of books and hence slip-streamed into popular folklore.) But she followed it up with "and she looks beautiful in it".
Fashion's infatuation with Cher – born Cherilyn Sarkisian in May 1946 – isn't one-way. "She has an obsession with fashion," says Grand – and when I press her on that, she reasons, simply: "Imagine how long the fittings for those Bob Mackie costumes took!" You get her point. Plus, you don't accidentally end up in – or on – magazines like Love, nor Vogue.
Effort is one of the things that is most appealing about Cher. She's of a different age – not literally (although she did tell Love if she could change anything, "I'd like to be 44… 40 to about 44 were really the best"). Cher dresses for an event – and you get the feeling she probably dresses for everything. There is, I suspect, never an off moment. She has, she confesses, "about a hundred and something" wigs . The only image of Cher that Cher is willing to share is absolute perfection. Camp has nothing to do with nature – nothing from nature is camp. There's nothing natural about Cher. That's a compliment. Albeit, a camp one.
So Cher's an effort. But she's worth it. Because she's a potent antidote to the anodyne celebrities that people today's fashion events. Perhaps that's why others – Kardashian, Knowles – are aping her style, with varying degrees of success. They're trying to share the spotlight, to have Cher's success. "It's good for the girls who are getting paid," comments Grand warily, of the homogeny of the red carpet, Hollywood and otherwise. But: "It's not very inspiring."
"When I started out there were no people to soften your edges," Cher shares. "There were no stylists, there wasn't a make-up person or a hair person. There was just Sonny and Cher. We didn't have people like that until much later, when I had already been famous for a gazillion years." A gazillion years, a gazillion gowns, a hundred gazillion rhinestones and feathers. Cher's style was already cemented in the public consciousness by then.
That's also one of the roots of Cher's appeal: an everlasting quality. Think of someone like Kardashian, whose supposed 15 minutes of fame have frequently had time called on them. Wouldn't she, by contrast, want to evoke the aesthetic essence of the only artist to have a Number One single on a Billboard chart in each of those past six decades? I know Kardashian doesn't sing – yet. But Cher still represents a seemingly immortal, omnipotent, uni-monikered level of fame.
So Cher should be pleased: the fact that she, and those nudie Mackie dresses, are a constant inspiration mean she's kind of ageless, and certainly eternal. The American comedian Jimmy James once cracked a joke that still does the rounds, saying that all that will be left after a nuclear holocaust will be cockroaches – and Cher. But I wonder if he was thinking about fashion when he said that?
Read the full interview with Cher in 'Love 14, The Talents', autumn/winter 2015, on sale on Monday 27 July
Register for free to continue reading
Registration is a free and easy way to support our truly independent journalism
By registering, you will also enjoy limited access to Premium articles, exclusive newsletters, commenting, and virtual events with our leading journalists
Already have an account? sign in
Join our new commenting forum
Join thought-provoking conversations, follow other Independent readers and see their replies