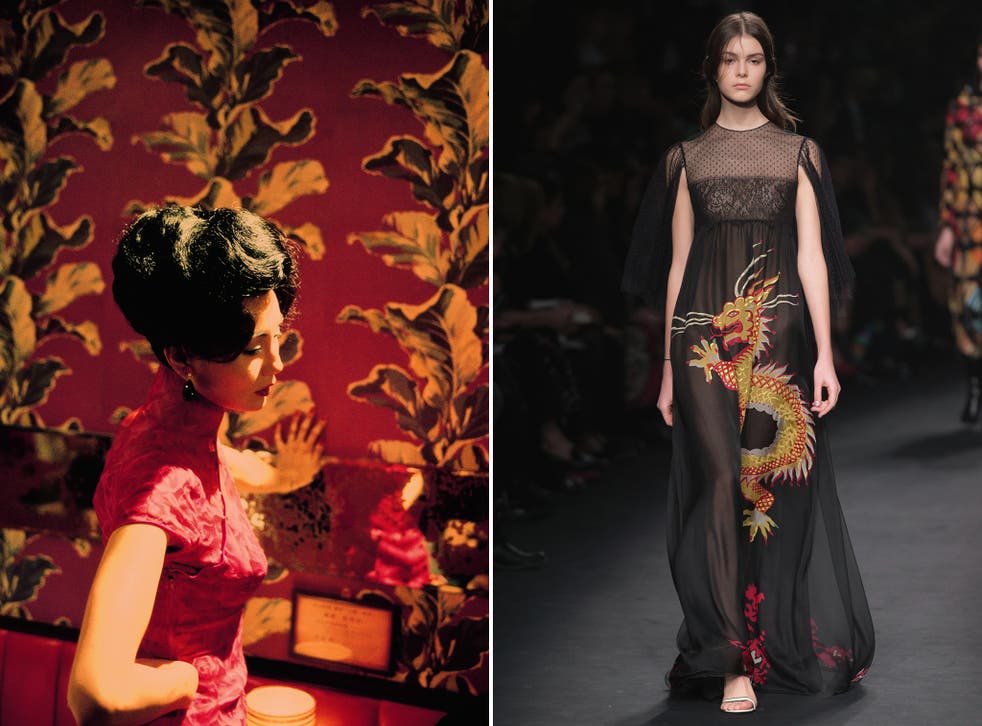 China's influence on fashion: At the top of the game both creatively and commercially
A major New York exhibition is dedicated to the impact the nation has made
This evening, the Metropolitan Museum's annual Costume Institute exhibition launches with its traditional gala. The theme? China: Through the Looking Glass, a celebration of half a millennium of Chinese influence on European luxury goods.
It's also the culmination of China's decade-long ascent to the very top of the fashion game. Despite Chinese president Xi Jinping's policies to combat corruption and discourage extravagance – which has resulted in the Chinese market wavering over the past 18 months – it is still the main focus of Western luxury brand expansion.
Not the sole focus, mind. Across the sea, Chanel is staging their latest cruise show in Seoul – because South Korea is a new focus of luxury brand attention, the third largest in Asia after China and Japan and worth about £5.9bn. Chanel has previously staged the pre-autumn collection, which they dub Metier d'Arts, in Shanghai.
In December, Dior further cemented their relationship with Japan by staging their pre-fall 2015 show and a retrospective exhibition in the country. Now it seems to be the turn of South Korea.
Put the Metropolitan Museum's exhibition into that context and take into account that, alongside Yahoo and Condé Nast, the exhibition is made possible by several generous Chinese donors – and the dual impetus for its staging is clear.
The exhibition is a celebration of creative and cultural exchange: the Costume Institute has partnered with the Department of Asian Art to haul out a mountain of treasures, contrasting original costumes, paintings, porcelains, and art, with fashion's reflections (hence the looking-glass metaphor).
Some of the juxtapositions it makes are obvious – a 15th century Ming vase next to an evening gown patterned with the same blue-and-white motifs, designed by Roberto Cavalli 10 years ago. Others are more complex, such as the Zen allusions of London menswear designer Craig Green, or the origami folds of John Galliano's Dior couture.
Whatever, it's also about an exchange of cold, hard cash – and about celebrating that, as well as encouraging plenty more of the same. Not just in mainland China, either: According to a 2014 report by the consulting firm Bain & Co, 55 per cent of Chinese luxury purchases were made overseas; a further 15 per cent by "daigou", a kind of proxy overseas purchase to avoid import tariff and counterfeiting.
The financial lure of not only China but the East in general is relatively new: until the latter half of the 20th century, the exports went the other way, with luxury goods and ideas flooding from Asia to inspire the Occident. Chinoiserie and Japonisme were the Frenchified terms for the influence of oriental aesthetics on Western creativity – and fashion was always at the forefront.
The Louis Vuitton monogram – interlocked LV initials, surrounded by quatrefoils and stylised depictions of blossom – is an 1896 example that still endures. Interestingly, the company now exports its Japanese-influenced designs back to that country with great success. It's been estimated that today 44 per cent of Japanese women own a Vuitton product.
Other examples abound: Paul Poiret's 1911 hobble skirts, lampshade tunics and feathered turbans mashed together East Asian and Middle Eastern styles into an intoxicating – if inaccurate – bricolage of exoticism. That has generally been the mood of Western appropriation of Asiatic styles.
Just as some cuisine may fuse tastes from Japan, China, Vietnam and Thailand into a single dish, so a fashion collection or even single outfit will mish-mash together different styles. Curator Andrew Bolton characterises that approach as "a fantastic pastiche of Chinese aesthetic and cultural traditions [viewed] through the looking glass of fashion".
The Met chooses to juxtapose its fashion effects not only with oriental originals (the Cavalli and the Ming), but with Hollywood reflections – or rather refractions. You can trace the aesthetic genealogy of the Asian-influenced clothes of Karl Lagerfeld at Chanel or Jean Paul Gaultier not to China, but the exaggerated styles sported in epics such as Shanghai Express. Wong Kar Wai, the director of In The Mood For Love (2000), is the exhibition's artistic director; while the organisers have called on milliner Stephen Jones to craft more than a 100 eastern-inspired headpieces for mannequins.
The Metropolitan Museum's theme has impacted on contemporary fashion, too. It does so every year, in a way that no other exhibition can possibly compete with. The Met's gala opening fund-raising ball, helmed each year by American Vogue editor-in-chief Anna Wintour, has been dubbed the East Coast's Oscars.
It frequently encourages attendees to dress to a theme – so expect someone to be sporting one of the chinoiserie-embroidered dresses Gucci showed for spring, a kimono-inspired Alexander McQueen design by Sarah Burton, or a chiffon evening-gown emblazoned with a Chinese dragon from Valentino's winter show. Indeed, since the Met gala's theme was announced last September, there has been a discernible Chinese whisper running through designers' collections.
Perhaps that's also a reflection of what Asian consumers now wish to purchase. Instead of hankering after overtly Westernised styles, increasingly, Eastern consumers – especially the Chinese – are demanding products that reflect their own rich cultural heritage. But that doesn't necessarily mean embroidered dragons: in 2008, the French luxury house Hermés launched a label called Shang Xia, which utilises ancestral Chinese crafts in contemporary objects that retail for slightly less than Hermés' own (a silver necklace for around £900, a bamboo-leather handbag touching £3,000).
That takes plenty of investment, though; with only three stores worldwide – in Beijing, Shanghai and Paris – Hermés doesn't expect to turn a profit from Shang Xia until 2016 at the earliest.
Other labels are also muscling in and trying to offer something (sort of) unique to Chinese consumers. Fendi is one of several that created capsule collections tailored to the 2015 Chinese New Year celebrations in traditional shades of red and gold. Others included Ralph Lauren, Loewe, Lalique and Diane Von Furstenberg – and fittingly, 19 February marked the start of the Chinese Year of the Sheep.
There's certainly something sheep-like about fashion's flocking to the East, the promised land of profit which, even as that begins to wane, luxury labels seem unable or unwilling to quit. So will this Met exhibition mark the start of a new designer dynasty (according to Bain & Co, 44 per cent of Chinese consumers are eager to buy new luxury); or the end of an era (2014's one per cent luxury market contraction was preceded by growth slowing in 2011-13, first to seven per cent, then two per cent)? That remains to be seen.
Register for free to continue reading
Registration is a free and easy way to support our truly independent journalism
By registering, you will also enjoy limited access to Premium articles, exclusive newsletters, commenting, and virtual events with our leading journalists
Already have an account? sign in
Register for free to continue reading
Registration is a free and easy way to support our truly independent journalism
By registering, you will also enjoy limited access to Premium articles, exclusive newsletters, commenting, and virtual events with our leading journalists
Already have an account? sign in
Join our new commenting forum
Join thought-provoking conversations, follow other Independent readers and see their replies