Chloë Sevigny: A suitable girl for Miu Miu

Show all 5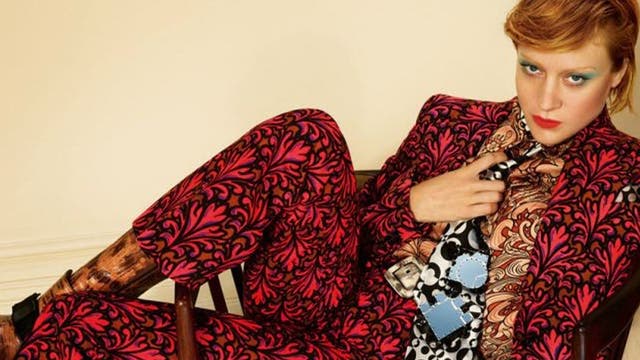 Chloë Sevigny: A suitable girl for Miu Miu
Chloë Sevigny has always followed an alternative path, making her the perfect new face of Miu Miu, says Gemma Hayward
Chloë Sevigny is no stranger to style-icon status. Sensibly starting her acting career in the underground skateboarding flick Kids, she was instantly established as the coolest thing to come out of Hollywood for years.
Kids set the precedent for Sevigny choosing film projects with colourful plotlines, including Boys Don't Cry and American Psycho, and the American television show Big Love. More recently, she played the lead in Sky1's Hit & Miss, the somewhat improbable drama that was most notable for Sevigny's performance as probably the best-dressed transsexual in history.
Her talent for making the right decisions has been more than a little beneficial to her sideline career as a fashion maven, too. In 2001, she was the face of Tara Subkoff's underground label, Imitation of Christ. For the past four years, meanwhile, Sevigny has enjoyed a successful collaboration with New York boutique and label Opening Ceremony, giving fashion followers the world over the opportunity to buy and wear clothing that the actress has even gone so far as to design herself.
It should come as no surprise with all this in mind that Italy's first lady of fashion, Miuccia Prada, has been an admirer for some time. Sevigny was the star of Miu Miu's spring/summer 1996 campaign. More than 15 years on, and Sevigny is the face of Miu Miu once more. Shot by the famous photography duo Mert Alas and Marcus Piggott, this features Sevigny in a gallery of playfully provocative portraits wearing the season's sharply cut masculine trouser suits covered with psychedelic repeat prints; it's not for the shy.
A hint of the Seventies can be seen here, too, in the clothes but also in the setting – think thick carpeting that might almost be described as shag pile and more than a little beige. Prada is a woman who understands this decade well and has constantly reinvented it, all while twisting its codes to very witty and pretty effect.
It almost goes without saying that investing in total-look Miu Miu is the stuff that dreams are made of and that budgets may not always allow. Fear not. In store at the moment are Mary Janes – with their mischievous-schoolgirl connotations, a classic Miu Miu accessory. They come in patent leather in the sweetest colours imaginable – lipstick pink, bright turquoise and pale flesh tones – as well as in black and silver covered with sparkle. Even on the soles! You read it here first: come fashion show-time in September, this is the footwear that will be gracing the style pages, not to mention the feet of any fashion editor worth her credentials. For those who would rather carry their status on their sleeve, doctors' bags in all the sludgy shades of the Seventies are Miu Miu's latest stars.
miumiu.com
Register for free to continue reading
Registration is a free and easy way to support our truly independent journalism
By registering, you will also enjoy limited access to Premium articles, exclusive newsletters, commenting, and virtual events with our leading journalists
Already have an account? sign in
Register for free to continue reading
Registration is a free and easy way to support our truly independent journalism
By registering, you will also enjoy limited access to Premium articles, exclusive newsletters, commenting, and virtual events with our leading journalists
Already have an account? sign in
Join our new commenting forum
Join thought-provoking conversations, follow other Independent readers and see their replies