Christian Louboutin's Greatest Heights

Show all 10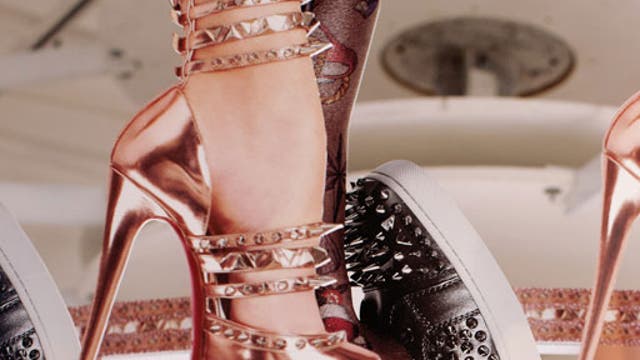 Christian Louboutin's Greatest Heights
Christian Louboutin's red soles have become a cultural phenomenon. Harriet Walker celebrates the 20th anniversary of his label
When Christian Louboutin opened his first boutique 20 years ago, little did he imagine that he would teach a generation to appraise shoes in an entirely new way – by their soles.
"When I launched the company, I knew nothing about business," he admits, "only that I wanted to make shoes. I never thought about the future. It's a really lucky star that has brought me to this point, more than ambition, dreams or imagination."
The Parisian designer's take on footwear has always been flamboyant, eccentric, exquisite in its unashamed luxury and couture-style finishes. But it wasn't until two years into trading that Louboutin hit on the red lacquered underside that has made his name and brand a global phenomenon.
Inspecting prototypes for a collection in 1993, Louboutin was dissatisfied with the contrast between the vibrant upper and the stolid black sole of the now-cult 'Pensée' style. The designer grabbed an assistant's pot of red nail varnish, so the legend goes, and began painting. Since then, those glimpses of scarlet (supposedly Pantone 18, Chinese Red) on red carpets, front rows and pavements alike have become a byword for quality and fashionable status. They are also the subject of a court stand-off between Louboutin and the French house Yves Saint Laurent, who last April stood accused of having copied the idea; the case rumbles on in New York.
"Louboutin shoes are timeless and classic," says Lorraine Candy, editor of Elle. "There's a sense you are wearing luxury and you're a woman of status. A flash of the red says 'this is the woman I am. Sexy, stylish and spirited'."
To celebrate 20 years of the label, Louboutin is releasing a capsule of classic footwear styles today (one for each year) as well as a selection of one-of-a-kind bags – one including a 3D rendering of the Parisian skyline on its shoulder strap, which are available in all his boutiques but also at a temporary concept store in Selfridges. Last year saw the publication of an exclusive monograph of sketches and biography, and later this spring, London's Design Museum will host a retrospective exhibition in honour of the brand's milestone.
"We wanted to celebrate his career," explains curator Donna Loveday. "He has built one of the most successful shoe brands in the world and we want to explain why. These shoes are beautiful things, even divorced from the wearer, you just want to put them in a case and gaze at them."
Louboutin, 49, was born in the 12th arrondissement to a cabinetmaker and a housewife. He had an unorthodox childhood, skipping school whenever he could and moving out to live with a friend at the age of 12. His first job was as an intern at the infamous Folies Bergère, where he would help the entertainers backstage. This led to a lifelong fascination with cabaret and nightlife, which shines through in his shoes, with Burlesque references and dramatic designs which try to capture some of that on-stage glamour. (For the anniversary, Louboutin has also collaborated with avant-garde cabaret troupe Crazy Horse, on a production that opens tonight in Paris.) Included in the capsule is a boot, the "Highness-Tina", designed in homage to Tina Turner and decorated with spiralling tiers of suede fringing.
His shoes caught the fashionable imagination, with his pioneering innovation of the "hidden" platform at the ball of the feet, allowing ever more vertiginous stilettos. These are at play in his iconic "Very Privé" and "Madame Grès" styles , which changed the silhouette of footwear during the Nineties. Louboutin shoes are instantly recognisable, even before you contemplate their undersides, for their elegant mix of the sinuous and the architectural.
And of course, the wit; Louboutin's collection last season included a pair of yellow furry stiletto boots moulded into the paw-shape of a lion. "I have always thought of women as exotic birds of paradise," he says. "I hope that when wearing my shoes, they feel as special as these precious creatures."
"The rich, imaginative world of Louboutin is completely compelling," explains Harriet Quick, fashion features director of Vogue. "This is a designer who understands how to make heels 'speak' in an erotic, joyful and flirtatious language – a wonderful sense of 'folies' encapsulated in 3D designs that make one happy, and do great things for your posture and legs."
These are not necessarily shoes to go shopping in, nor is the wearer expected to be getting in her own groceries anyway. Louboutin does offer some flat shoes (although notoriously, the lowest heel in his spring 2008 collection was five and a half inches), but the focus is all on sexy, spindly height.
Nevertheless, Louboutin does not rely on shock tactics. He has a wealth of training behind him, having worked in his early years for the likes of Charles Jourdan, one of the first footwear licensees for Dior in the Fifties, and Roger Vivier, who made the Queen's shoes for her coronation. Both were titans in the (quite extensive) world of shoe slaves, and Louboutin has grown up, over the past 20 years, to be quite their equal.
The Christian Louboutin Anniversary Capsule is available now from Selfridges, selfridges.com
Christian Louboutin, 1 May - 9 July, Design Museum, London
Join our new commenting forum
Join thought-provoking conversations, follow other Independent readers and see their replies