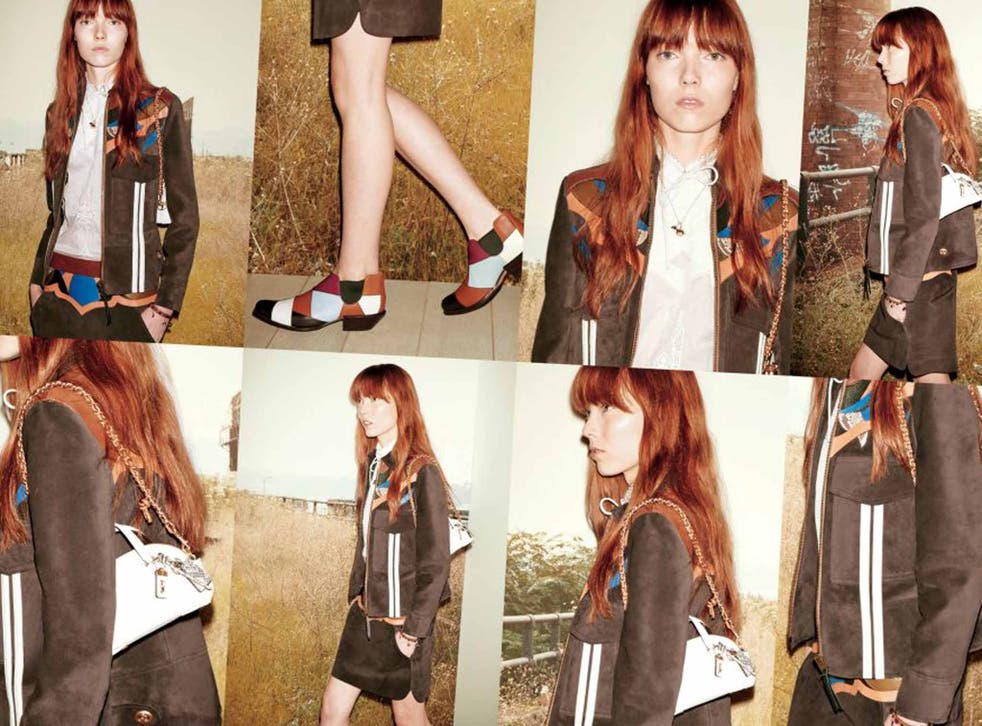 Coach at 75: Why have so few Brits heard of 'America's Hermès'?
​A third of American handbags carry its label, its notion of 'accessible luxury' seismically shifted the fashion industry, and it turns 75 this year
Like a well-preserved high-fashion customer, it's tricky to guess the age of Coach, the grande dame of American luxury brands. It beats out perhaps more familiar names such as Calvin Klein and Ralph Lauren by decades. Fifty? Sixty? Try seventy five – this year, in fact.
You'd never know to look at Coach clothes – maybe because they're only five seasons old (three for the menswear). Born when the 42-year-old Brit Stuart Vevers joined the label as creative director in 2014, Coach's fashion identity has been crafted with striking speed and – as the business-minded would say – as an admirable exercise in brand repositioning
Coach's latest profits show an annual revenue growth of 4 per cent; which sent the company's stock up 8 per cent when announced in January. The brand is valued by Forbes at some £8bn – placing Coach just below Cartier, but above Rolex, in Forbes' rankings of the world's 100 most valuable brands.
The big draw? Accessible luxury. Coach was the first to dub itself thus, and the first brand to price leather goods at non-luxury prices. Even today, a Coach bag sets you back a few hundred – rather than a few thousand – pounds. That's what's made the billions, while Coach paved the way for accessible competitors including Kate Spade and Michael Kors (whose 2015 turnover just about beat Coach's).
But to speak fashion rather than fiscal, the clothes (and all-important bags) that Vevers and his team have designed stand out in the always-overcrowded and sometimes drab landscape of New York fashion. They stand for something. Spring 2016, the label's first formal catwalk show, was prairie-tinged, with a pampas grass backdrop. The bags were updated versions of archive 1970s Coach styles, named Stewardess (because they were used by them) and Dinky (because the chain-strapped pochette style is, rather). They've been given new licks of colour and details – while a restored bunch of the originals went on sale at the trendsetting Parisian boutique Colette on 1 February.
Those bags are doing swift business – as are, oddly enough, the floppy silk Coach dresses, Vevers told me, as he rifled through racks of new versions comprising part of the autumn/winter 2016 collection he'll show today. "This is a bit Thelma from Scooby-Doo," he laughed, ticking off references to a varsity-jacketed Rob Lowe in Young Blood and the wild shaggy sheepskins of The Revenant. Vevers loves a film – the cinema panorama is his window into Coach's American heritage. Instead of prairie grass, his winter show will take place in a recreated school gymnasium. "It's very Carrie," he says, swiftly followed with, "I want this all to look… American."
That's what Coach is, inextricably. Founded in a Manhattan loft in 1941, Coach began at the very birth of American fashion. Cut off from Europe due to the war, US designers began to innovate and experiment, with notions of practicality, ease and the everyday at the forefront of their clothing, rather than the bombast-stuffed shapes of their European counterparts. (Even the Anglo-American designer Charles James, famed for his expansive satin ball gowns that, literally, took years to craft, had a pragmatic streak. He created a spiral-zipped dress called the "Taxi" – a name racily attributed to a pair of apocryphal stories alleging that it was as easy to get in and out of as a Manhattan yellow cab; or that you could actually change into it in said vehicle.)
Coach was something different, though – an American accessories brand, the American Hermès or Louis Vuitton. That is perhaps a problem. For years, Coach languished in relative obscurity – or maybe that should be splendid isolation. It was always big in the United States; huge even. Founded on New York City's 34th Street, it originally made men's accessories – portfolios and billfold wallets. In the mid-1940s, husband and wife team Miles and Lillian Cahn joined Coach: the pair were handbag experts, and decided to use leather traditionally utilised to manufacture baseballs to make not only men's accessories, but women's. After buying out their partners in 1961, the Cahn's employed Bonnie Cashin, a groundbreaking American sportswear designer, to creatively helm Coach. Cashin added turn-key locks, kiss-latches, contrast colours and made Coach's name stateside as a provider of accessories that were practical but tinged with the fashionable. She departed in 1974, and the fashion took a back seat to sturdy leather bags that people needed, rather than wanted.
It's fascinating to see how the fuddy-duddy old lady of American fashion has been face-lifted not once, but twice, in her long history. Vevers is leading the latest incarnation, but the initial reboot came courtesy of the designer Reed Krakoff – an alumnus of Tommy Hilfiger and Ralph Lauren – giving Coach a place in the wardrobe of a multitude of Americans. By the mid-1990s, when Krakoff was appointed, Coach's turnover hovered around an impressive $500m; today, it stands at $4.49bn, approximately £3bn. According to Coach's 2015 figures, 58.9 per cent of turnover is generated by the United States, home to 462 Coach stores (there's only another 511 across the rest of the world). In 2011, a New Yorker profile of Krakoff estimated that 36 per cent of all premium handbags sold in the US were Coach.
But maybe that's why Coach has reached 75 without many people even realising – because in many eyes Coach only emerged in the 1990s, when its C-logo-stamped canvas bags became an entry-level product of choice for legions of US college girls. It also made gains abroad with the same product, noticeably in Asia (of the 511 non-US stores, 196 are in Japan, and 171 in Greater China).
In the refrigerated Coach archives on 33rd street (the back entrance to Coach HQ, under the High Line park), there's a great raft of those best-selling logo bags. But Vevers is offering something different now – something stamped all over with Coach, but slightly more subtly so. The brand's clothing line is dubbed "Coach 1941" to honour the brand's anniversary, and there are celebrations afoot this year. The most immediate: the fact that after today's show a Coach handbag style will be available immediately to purchase. "Only that," Vevers stated, staying away (for now) from the bandwagon of see-now buy-now catwalk show that has gripped labels as diverse as Burberry and Proenza Schouler. Vevers has already introduced a couple of new handbag styles, which have been doing swift trade at Coach. They're called the Ace and the Swagger, both names derived from girl gangs, which Vevers feels are quite cool.
"I love the idea of cool, even though people may think it's a bit naff," Vevers once said to me. "The French and Italians invented chic, but Americans invented cool. And that's how I always want my Coach pieces to look: cool."
Register for free to continue reading
Registration is a free and easy way to support our truly independent journalism
By registering, you will also enjoy limited access to Premium articles, exclusive newsletters, commenting, and virtual events with our leading journalists
Already have an account? sign in
Register for free to continue reading
Registration is a free and easy way to support our truly independent journalism
By registering, you will also enjoy limited access to Premium articles, exclusive newsletters, commenting, and virtual events with our leading journalists
Already have an account? sign in
Join our new commenting forum
Join thought-provoking conversations, follow other Independent readers and see their replies