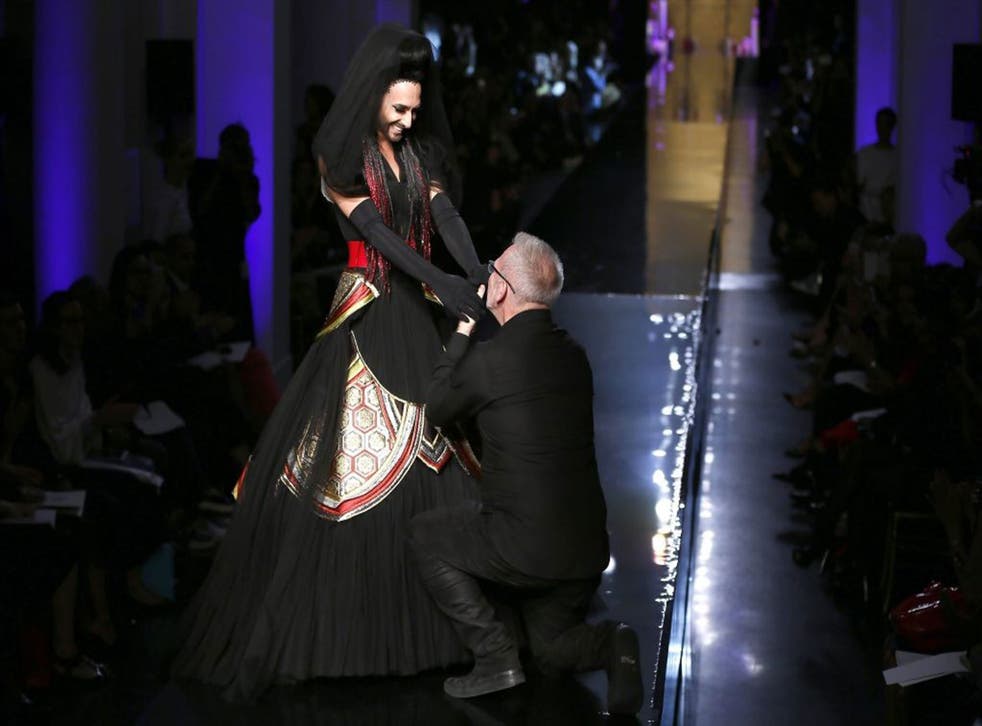 Conchita Wurst becomes a 'bride' on the Paris catwalk - and proves there is life after Eurovision
Alexander Fury salutes the Eurovision Song Contest winner's latest triumph
For many contestants, the Eurovision Song Contest is, sadly, the highlight of their fame. You can tick off, perhaps, a handful of names with resonance outside the competition's camp confines: Abba and Celine Dion, of course; possibly Buck's Fizz. But few have managed to keep themselves as constantly, consistently newsworthy in the 59-year history of the contest as this year's victor, Conchita Wurst.
Indeed, Wurst has risen, like the phoenix of her winning entry, from Eurovision. Her latest step? Closing Jean Paul Gaultier's autumn/winter 2014 haute couture show in Paris this week, a spot traditionally reserved for the collection's wedding dress, and seen as a badge of honour for any model. Conchita's dress was black, and while her hair was rouged and eyes kohled, she was still resolutely bearded. Monsieur Gaultier bowed at her feet when he took his curtain call.
Despite use of the female pronouns, Conchita isn't, technically, a woman. She's a drag persona created by 25-year-old Austrian singer Thomas "Tom" Neuwirth, a gay man who refers to his Conchita character as "she" but himself as resolutely male. "I would go to kindergarten in a skirt, and also to school," said Neuwirth in a recent interview with Gay Times. "I realised there was something different at about 11… and of course I thought there was something wrong."
Conchita Wurst: From Austria's X Factor to Eurovision glory

Show all 10
However, Neuwirth's Eurovision victory as Conchita has been seen as a triumph against transphobia, leading to a headlining gig at London's Pride celebrations, with further engagements to do the same in Madrid and Stockholm. She attended Vienna's Life Ball – both dressed and accompanied by Gaultier, as it would happen – as well as the Cannes Film Festival.
All in all, Conchita is not exactly conventional fashion-week fare. At least, you would assume. In actual fact, her appearance at Gaultier's show has roots in the grandest tradition of hand-crafted, extortionately expensive clothing. Yves Saint Laurent, couture's grand maître in later years but an enfant terrible when he began in the 1960s, made a habit of inverting the pomp of couture with a "joke" bride to close his shows. One was cocooned in Aran knit to resemble a Matryoshka doll; another sported a bridal coat embroidered with the pithy statement "Love me forever, or never."
Gaultier himself has certainly kept Saint Laurent's youthful flame of dissent for fashion's conventions burning. He has closed his shows with male and female "brides" in matching knits, swathed in tulle veils, and in 2011 chose Andrej Pejić, a then-male model noted for strikingly androgynous features, as the bride for his spring show (more recently, Pejić has described herself as living "in between genders" and has stated a preference for female pronouns).
Gaultier also harbours an unapologetic, almost inexplicable love of Eurovision. He has previously compered the French television broadcast of the contest, and attends the shows himself. He famously dressed Dana International, the transgender Israeli star who won the contest in 1998.
Less well-known is the fact he wanted Dana to appear in his haute couture show that July – however, the show's date coincided with a ceremony to mark the anniversary of the expulsion of French Jews by the Nazis in 1942, prompting the singer to refuse. Her relationship with Gaultier remains intact – in 2011, he dressed her again in haute couture, for another Eurovision appearance.
You may recall Gaultier's appearances on British television – alongside the papier-mâché giraffes Pepe and Popo on Eurotrash – which cement his undeniable love of camp. But his championing of Conchita and Dana, on the catwalk and off, is something more fundamental, and more serious. Earlier this year, Gaultier told me: "I can't talk for others and I never did something just to provoke, but I wanted to show different beauties and personalities on the runway when I started. And I still do."
Join our new commenting forum
Join thought-provoking conversations, follow other Independent readers and see their replies