Design for life: Paul Smith talks classics with a twist, Japanese fans, Britishness - and why he prides himself on still being childlike

Show all 3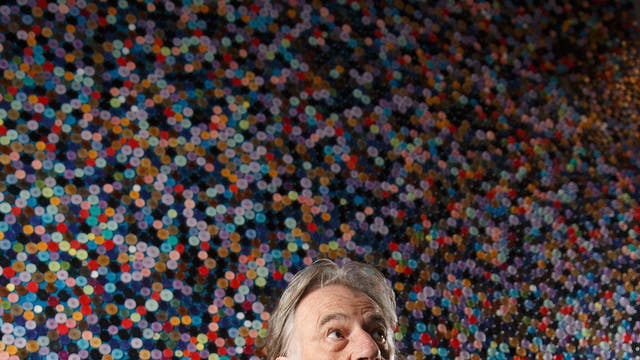 Design for life: Paul Smith talks classics with a twist, Japanese fans, Britishness - and why he prides himself on still being childlike
Passion is what life is all about for Paul Smith – for fashion, sure, but also for bikes and business, photography and play. Alexander Fury meets him on the eve of his second exhibition at the Design Museum in London
The odd thing about speaking with the fashion designer Paul Smith is how little you speak about the fashion designer Paul Smith. He speaks about his passion for cycling – a passion he hoped would become a career until it ended with a crash, literally, in his teens.
We speak about his company, of course – his influences, his inspirations, even a little about how his company's run (with Paul very much at the helm, and heavily involved in every aspect). And we speak about the latest exhibition of his work at London's Design Museum – Hello, My Name is Paul Smith. He's the first fashion designer to have two exhibitions there – the last was in 1995, although Smith is anxious to point out neither should be seen as a retrospective. His initial comment about this one? "Clothes feature... a bit more."
In the fashion world, Smith's plain-talking stands out. It's not just the flattened vowels of his native Nottingham – if he decided to go off on a pretentious flight of fancy, they would make it sound down-to-earth. But pretension has never been Smith's thing. He founded his eponymous company in 1970, building it around resolutely realistic clothing. "Classic with a twist," is the way he invariably describes it, and has done so for 30 years.
"That's a big contributing factor of why I've done well. My experience of working in a shop [he manned a friend's clothing shop, aged 18, before setting up in business by himself], and understanding that most people don't want a jacket with three arms or a spaceship coat! They're very happy to have... it's an overused expression but my expression of classic with a twist is hard to beat," Smith states emphatically, in one of the few instances I get him to talk seams and selvedges.
The twist could be a colourful lining, an unusual pattern – such as the photo-realistic prints born from Smith's personal passion for photography (he photographed his latest autumn/winter advertising campaign) – or something as simple as replacing the colour in an ultra-traditional tweed. Smith offered a Prince of Wales check with > limoncello-yellow instead of the conventional burgundy or blue. "Basically, all very wearable," he says. Smith's approach across the decades has always been a gentle dig in the ribs at the everyman to brighten up his act.
Smith's classic with a twist has now become a classic in itself – so much so, that perhaps it's difficult to appreciate how arresting his quirkiness was when he first began. Arguably, that came from the fact that Smith wasn't formally design-trained; following a crash and a period in hospital that ended his burgeoning cycling career, aged 17, he fell in with a group of art students, naturally interested in a world that was alien to him. "My bad point or my weak spot is that I have too many ideas, I'm too curious. I'm not posh enough," he says.
All of which were what ignited that initial interest in fashion, fostered by art-school chat in a pub in the late Sixties. Of course, Smith tells it like a comedy skit, cracking that he thought the Bauhaus was a housing estate. He credits his then-girlfriend and now wife Pauline, a Royal College of Art alumna, with teaching him the ins and outs of the fashion business. Touchingly, there is also an area of the Design Museum show dedicated to her. "It's very much down to her," he states. "And, as they say, the rest is history."
Smith tries to retain the same approach. "I'm still curious today. I always pride myself on being childlike – not childish, but childlike." He grins, another joke. "What I mean by that is being curious, asking questions, having a very open mind, a very free mind. I think it was Picasso who said he spent his life trying to paint like a child, because they're so free."
Freedom, for Smith, is a prized commodity. His company is still independent – despite an impressive turnover of over £200m, which must have luxury-good conglomerates snapping at his heels. Sir Paul (he was knighted in 2000) still owns 60 per cent, and he's involved in almost every aspect. "Nearly everything we do is in this building in Covent Garden, where I'm sitting. We have the shop design team, so tomorrow I'm seeing them for two hours about new projects in the pipeline. Today, I've been with two or three of the different designers. I'm more of a stylist these days, because there are literally too many jobs to do," he says. "I hope I'm not autocratic but I hope I keep my eye on things and direct it in the right way. I'm the only person who sees all the collections."
Smith draws the crowds – he proudly relays that the opening Saturday of the latest Design Museum show is "The most visitors they've ever had. Ever. It beat any previous records." He's beaming. In Japan, he's mobbed on the streets by autograph-hunters (see the picture on page 45). He has over 200 shops in the country (to put that in perspective: he has 17 in the UK). It's natural, therefore, to wonder if Smith is the quintessentially English designer, offering fundamentally English clothes to a foreign market eager to snap up a slice of our tradition. It's something that's been hypothesised a few times, and I'm eager to know what he thinks.
"I'm confused about Britishness these days," begins Smith. "I'm not sure if it exists any more. When I first started, my very first collection was quite traditional. It had little tweed jackets, but the tweed was in colours that were unexpected. It had little checked shirts in slightly brushed cotton, which could have been seen as a country shirt, and corduroy trousers... but now, you don't really see any British looks." He ponders further, brow furrowed. "I'm not sure whether you'd call Savile Row very British these days... The world's such a small place and we get so much information now. We sell out clothes in 72 countries, so therefore you need Paul Smith fashion rather than a particular Britishness."
But, I argue, isn't that Paul Smith approach to fashion – that oddness, that 'classic with a twist' – in itself British? Plus the fact that, as Brits ourselves, maybe our perception is warped. "That's absolutely true," says Smith, unexpectedly enthusiastic when I'm countering his assertion. But Smith is open to ideas. "I'm very British. I'm quite down-to-earth, very polite, have a sense of humour. My personal character is very British, probably more than the clothes."
Then again, Paul Smith the man is intrinsically tied up with Paul Smith the label. It doesn't mean it won't carry on without him – Smith is adamant that he wants it to. But it's difficult to extricate the one from the other. Take that Design Museum exhibition. Smith calls it, "A very honest exhibition. It's very passionate, it's very down-to-earth, it's very hands-on". You can't help but wonder if, really, he's just talking about himself, and indeed his clothes. He's a clever man – so halfway through, it seems that the same idea clicks in his head. "Hopefully, it's just a reflection of my own personality. Just a normal bloke really. Just getting on with it."
Hello, My Name is Paul Smith is at the Design Museum, London SE1 to 9 March, 2014
Register for free to continue reading
Registration is a free and easy way to support our truly independent journalism
By registering, you will also enjoy limited access to Premium articles, exclusive newsletters, commenting, and virtual events with our leading journalists
Already have an account? sign in
Register for free to continue reading
Registration is a free and easy way to support our truly independent journalism
By registering, you will also enjoy limited access to Premium articles, exclusive newsletters, commenting, and virtual events with our leading journalists
Already have an account? sign in
Join our new commenting forum
Join thought-provoking conversations, follow other Independent readers and see their replies