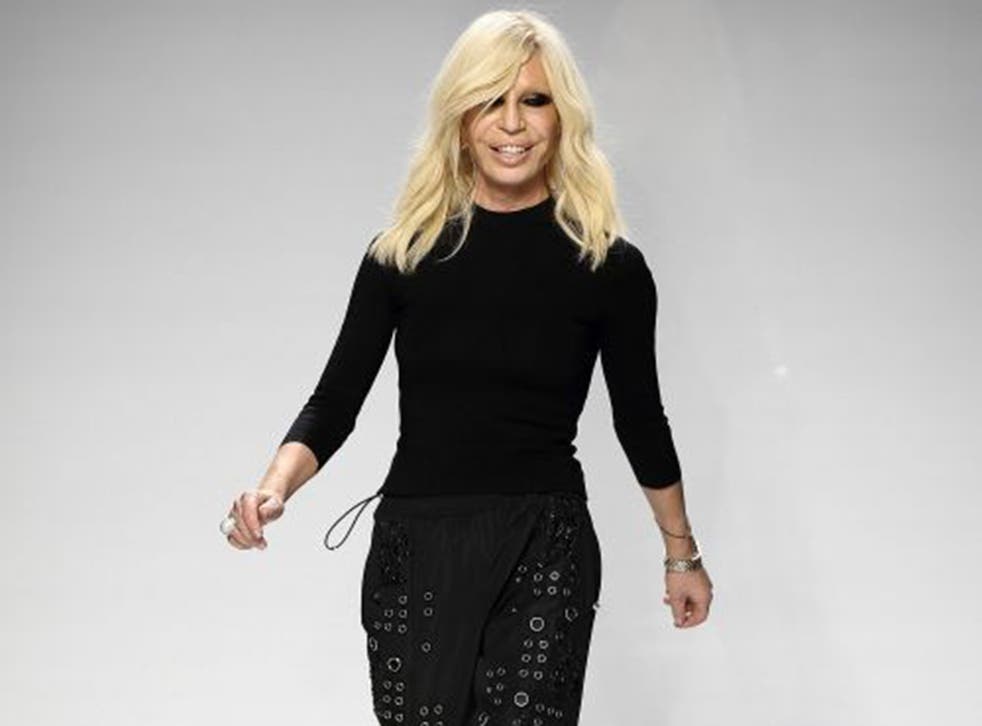 Donatella Versace interview: Creative director on why she has plenty to smile about as Italian label begins revival
Things are on the up, as Donatella tells Alexander Fury in Milan
Alexander Fury
Fashion Editor
Friday 26 February 2016 22:51 Comments
A few hours before her autumn/winter 2016 womenswear show, Donatella Versace seems cool, calm, collected. In control. She wears her habitual towering platforms, hidden under a pair of kick-hem trousers, elongating her slender limbs. Her skinny torso is wrapped in a soft coloured but sharply-cut sweater, splashed with graphic baroque curlicues across one shoulder. Her hair is blunt-cut, a little tousled, no longer ironed straight into absolute submission. It feels more natural.
Generally, Donatella Versace feels more natural these days. At sixty, she finally seems comfortable in her own skin. At one point, interviews with her were conducted in her apartment, cosseted in a single plush antechamber, Versace herself curled up defensively on a couch. Today she lets people see how she works, walking journalists through her collections confidently, and indeed proudly. Perhaps that pride is because, after a decade or so as the sickly child of Milanese fashion, shuttering shops and floundering creatively, Versace has recently fought against the odds and emerging as an unlikely success story in a crowded and bloody global luxury marketplace. The house sold a 20 percent stake to a US private equity firm, Blackstone, in 2014; the sale price (210 million) price valued the label at over a billion euros. In 2014, the house opened more than forty boutiques worldwide and announced revenues of around £425 million - Gian Giacomo Ferraris, Versace's CEO since 2009 (when the turnaround can be pinpointed to begin) reported growth rates of 16.9 percent in the same year. Their 2015 turnover, as yet unreleased, is estimated to sit at around half a billion pounds.
Backstage, Donatella Versace is quoting her opening track - 'Ti Ricordi Di Me' by Erasmus, an imprint of 2ManyDjs, taken from the forthcoming film Belgica by Academy Award nominee Felix Van Groeningen. "Do you remember me? Do you remember me? It's not possible that you don't remember me," spake Donatella in her rasping, heavily-accented Italian. "This is a strong woman talking. Talking about herself, her personality. How can you forget her? She did something that is so important that you can't forget her."
Again, she's talking about a soundtrack - but, of course, she could be talking about herself. Versace was, to many, the power behind the throne, an inspiration to the label's founder, her brother Gianni Versace. A few dubbed her his muse. "I 'ate the word," she says. Possibly because it denigrates what she did and always has done - being a touchstone, a creative director. When Gianni Versace died in 1997, Donatella stepped into his shoes.
People forget what Versace did as a woman, and as a label - too often boiled down to supermodels and S&M. The latter come from a 1992 collection that elevated the trappings of the sex-shop - buckled corsets, dog-collars, lotsa leather - to a five-figure price-tag and an Italian catwalk. Today the clothes seem loud, but not especially shocking, with their billowing ball-gowns and gimmicky, fetishy straps, but at the time they were vilified. There's nothing kinky for winter 2016 - bar a bit of patent leather. But the supermodel is something Donatella Versace is keen on, and something she feels is now being revived. "Gigi Hadid is an exclusive for us tonight - she flew just for this show," says Versace, referring to the American model Jelena Noura Hadid, who originally found fame with on the reality television series The Real Housewives of Beverly Hills. She may sound a bit Jodie Marsh, but to Donatella she's the new Helena Christensen. "There is a new generation of models - Kendall [Jenner], everyone," says Versace, tossing her mane excitedly. "Top models are coming back. We've been so long without very strong personalities. I think now they're going to come back, I'm ready for this moment!"
Gianni Versace helped create the supermodels - paying the likes of Linda, Cindy and Naomi (no second names required) thousands to appear in his catwalk shows and launching their careers on a global scale. What they modelled, however, was equally influential: revived an exuberant, influential brand of Italian renaissance decoration - "barocco" demurs Donatella, as she runs her hands across a swirling print like the architecture of an especially florid palazzo (Versace itself is based in one, on Via Gesu, a prime chunk of Milanese real estate just off the money via Montenapoleone).
The autumn/winter collection revives the notion, curving that decoration across a selection of evening dresses, but mostly sportswear, in neapolitan ice-cream shades of mint, pale strawberry pink and shades of vanilla. "Troppo daywear," said Versace, forcefully. There are only two long evening dresses in the entire show, "the alta moda is for the red carpet," says she - referencing the hand-sewn Italian equivalent to French haute couture, and doubtless thinking of the Oscars on 28 February (a dozen of the long beaded evening dresses Versace showed back in January have been shipped out to California for fittings).
Before her show, Versace fiddles with some Versace - a zipped flap on a knee-length black dress. The entire collection is inset with invisible zips, allowing the designer (and, eventually, the wearer) to deconstruct their outfits. A sunctioned-in sheath dress is unzipped with a whip to free up a panel of fabric, adding movement to the skinny shape. It feels modern and inventive, but also real.
As those aforementioned figures attest, plenty of women - some famous, some not so, all rich enough to spend a few grand on looking great - are electing to wear Versace again. I'm guessing they're drawn to clothes that aren't anonymous - the past few Versace collections have seen a return to bold colour and pattern, to an unapologetic sexiness and decoration. They're unmistakably Versace - strong clothes, for the kind of strong women she's dedicated her soundtrack to. I ask Donatella if she sees herself as a feminist and she shrugs. "I dress some of the most powerful women in the world… I know fashion is not something that can change the world, but it can change the woman. It can empower the woman. It can make her strong, in herself, and to believe in herself more." Just like Donatella herself. A woman you definitely cannot forget.
Register for free to continue reading
Registration is a free and easy way to support our truly independent journalism
By registering, you will also enjoy limited access to Premium articles, exclusive newsletters, commenting, and virtual events with our leading journalists
Already have an account? sign in
Join our new commenting forum
Join thought-provoking conversations, follow other Independent readers and see their replies