Facial awareness: Make-up as an art form

Show all 5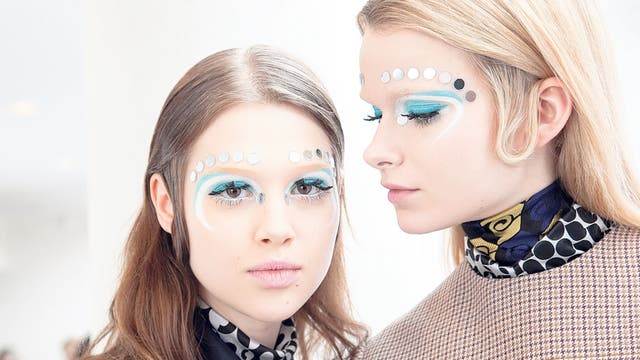 Facial awareness: Make-up as an art form
On the catwalk, make-up is about more than just a lick of mascara and a smudge of lipstick. Charlotte Owen reports on the beauty experts who are turning it into an art form
For me the season was about silly hats or silly hair." So says Katie Grand, stylist and editor-in-chief of the biannual glossy LOVE of the beauty looks on show at the autumn/winter collections. You can see her point.
At Louis Vuitton, comically oversized headpieces had a gently crumpled, elegant flamboyance, while Marc Jacobs opted for a similar look in his eponymous collection, just furrier, wider, brighter and taller.
For Grand the hair was about "colour and proportion". Hairstylist Guido Palau clamped the hair straight at Prada, brushed it back off the face and lengthened it with extensions in artificial hues matched with the models' natural colour, while at the McQ Alexander McQueen show he created a dense ring of hair that hovered, suspended above the forehead in a donut-shapedring. Crowning confections these certainly were.
But they were only half of the story. What about the face? One need look no further than the multibillion-pound cosmetic industry to know that make-up matters. Over the years designers have become increasingly interested in what the make-up artist Alex Box, a long-term collaborator of Rankin and Pugh, terms "face architecture". Think Hussein Chalayan's tear-drop wooden mask, Gareth Pugh's ecclesiastical mouth lights or McQueen's veil spiked by enormous antlers. Sounds a bit heavy? As luck would have it, many designers found a new lightness of touch with their fashion-forward creations north of the neck.
Take Rei Kawakubo's spring/summer offering for Comme des Garçons, where frothy rounds of creamy fabric bordered plain, childlike faces. Or Sarah Burton's collection for Alexander McQueen, where fabric crept up from the body, encased the skull and reached down on to the face. The finely woven lace in balmy pastel hues crafted a graceful softness from the macabre silhouette. Burton sought the femininity in a futuristic aesthetic for autumn, with mirrored visors adorning plain ladylike faces.
Kawakubo, meanwhile, inverted her previous season's silhouette by covering the face completely with a bondage-style balaclava that grew out of a bright floral body suit. The silhouette was constrictive but the character was warm and invulnerable. The thinly woven balaclavas pulled down over faces painted with a spirited flash of red lipstick at Rick Owens had a similar effect. His models strode out against an inferno; this was, he later asserted, a look he saw as completely wearable.
Predictably, not all designers embraced covering the face in such a theatrical fashion. Instead, traditional make-up was whipped up to show that eye shadow and lip-gloss were not for the sartorially small minded.
At Meadham Kirchhoff, designers Edward and Ben came to make-up artist Florrie White with a clear vision for their autumn winter show: 1990s supermodel meets 1980s drag queen. "It was gradual, as if the two were meeting each other," White says. As the old-school glamour and sculpted features of Christy Turlington entered a collision with Trojan, the drag queen at the heart of the Eighties club scene, a scrawl of paint around the eye grew into an hallucinogenic eye patch, a nude lip became a canvas for hyperactive pastel doodles. And those eyebrows? Lest any detail get lost in translation, each zig-zag was scrawled on by Edward.
The conflation of traditional beauty with an unusual element captured attention elsewhere. Bejewelled, ruler-straight eyebrows – embroidered in collaboration with the Maison Lesage – provided a graphic embellishment against a simple and austere base at Chanel. Colour was big elsewhere. Baby-blue hues and licks of white paint were flicked across the eyelids at Miu Miu in playful flourishes, while Prada dispensed a lesson in grown-up glamour, with orange scored across the eyebrows, a smoky-black lid and a flash of purple underfoot. Charlotte Tilbury took inspiration directly from Prabal Gurung's clothes for her autumn/winter creation. "We wanted to complement and enhance the clothes by creating an enchanting beauty look inspired by 'beetle wings' and birds of paradise. Dual tone teal green and bright blue shadows were applied diagonally on the lids all the way up to the eyebrows like colours in a peacock's feather."
As Tilbury aptly surmises, "the make-up looks for autumn were about making the girls look beautiful with a twist". So what had designers and make-up artists beating the same drum? For Grand, this was partly a reaction against celebrity models: "It was about keeping the girl blank, creating a blank canvas." Box applies this diagnosis to the look in general: "It's amniotic times and people want to wipe the slate clean." It is ironic and perhaps fitting for fashion's often contradictory grand narrative that the simplicity of new beginnings is located in a cacophony of colour and concealment. For this year, at least.
Make-up maestros
Kevyn Aucoin
Arriving in New York City in 1983, Aucoin quickly caught the eye of photographers Steven Meisel and Irving Penn and soon became the go-to make-up artist. "His signature touch was transforming a face by using neutral tones to sculpt, define, highlight and shape the complexion, minimising and maximising features," Charlotte Tilbury says. A true master of sophistry, Aucoin made up Cindy Crawford for her first Vogue cover.
Serge Lutens
Born in 1942, Lutens is a fashion veteran: his precocious work for French Vogue in his 20s earned him the task of launching Christian Dior's make-up line in 1967, where he created an industry powerhouse. "He did everything and really pioneered a rounded look," Alex Box says. Lutens has collaborated with the Japanese brand Shiseido since the 1970s and launched an eponymous collection of essentials in 2005.
Gucci Westman
Westman is something of a world-wide tastemaker. She was International Artistic Director at Lancome from 2003, until she took up the position of Global Artistic Director at Revlon in 2008. She speaks five languages, trained at École Chauveau in Paris and turned Cameron Diaz into frumpy Lotte Schwartz in Being John Malkovich.
Pat McGrath
Vogue has called her "the most influential make-up artist in the world". Not bad for a girl from Northampton. McGrath moved to London in the early 1990s and worked for i-D and The Face before going on tour to Japan with Caron Wheeler from Soul II Soul. Twenty years on and McGrath counts 20 of the world's greatest designers as clients.
Peter Philips
Philips did not pick up a make-up brush until he was 27: a degree in graphic design was followed by further study at the Antwerp Royal Academy of Fine Arts. On graduation in 1993, Philips cultivated his passion working with Alexander McQueen and Raf Simons before his appointment as creative director of Chanel make-up in 2008.
Charlotte Tilbury
If you haven't heard of Tilbury, you will have seen her work with covers for Vogue, Vanity Fair, W, LOVE and Pop, and ad campaigns for Versace, Tom Ford, Stella McCartney, Givenchy and Louis Vuitton under her belt. Tilbury makes her subjects look beautiful and interesting; think high-octane smoky eyes or a glazed lip on glowing skin.
Join our new commenting forum
Join thought-provoking conversations, follow other Independent readers and see their replies