Fashion! Art! Sex! Disco!: Antonio Lopez

Show all 5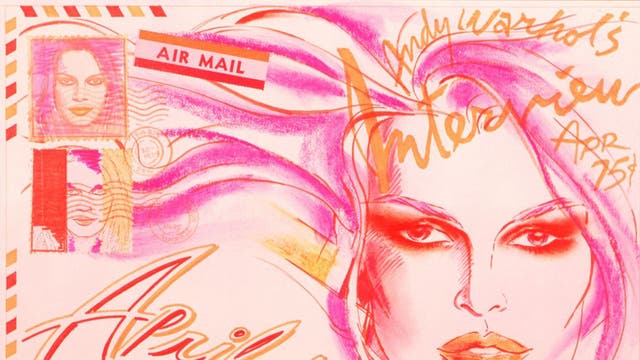 Fashion! Art! Sex! Disco!: Antonio Lopez
Antonio Lopez created the illustrations and photographs that embodied seventies style. Now his work is inspiring a new generation of designers, says Alexander Fury
Alexander Fury
Monday 08 April 2013 17:49 Comments
So, spring is all about the Sixties, right? The clean, hard, minimal lines that dominated shows from Marc Jacobs and Michael Kors through to Moschino and Louis Vuitton, with a heavy debt to Cardin, Courrèges and that Space Race Sci-Fi style moment circa 1965. Well, yes – but underneath that polished, preened and – let's say it – cold exterior there was something raunchy; raucous. You saw it slink down a couple of catwalks in London first, with Mary Katrantzou's glittering bias-cut chainmail dresses and those sinuous, streamlined silk slip-dresses at Jonathan Saunders. By the time the Saint Laurent finale bloused past in Paris, clad in billowing, jewel-coloured chiffon, it felt like a different seasonal story altogether. And a different decade – the Seventies.
It wasn't just any old Seventies, but the Seventies as viewed by one terribly erudite eye. That belonged to Antonio Lopez, the illustrious illustrator whose work quite literally delineated the fashions of the decade. It wasn't just that Lopez resuscitated the hitherto lost art of fashion illustration. He sketched and snapped a cadre of faces known as "Antonio's Girls" in the latest styles, his drawings in turn inspiring new garments.
Both Lopez and his creative partner Juan Ramos were born in Puerto Rico, but gravitated first to New York and then Paris. Sleeping all day and working all night, photographing and illustrating their friends and life for fashion houses, magazines, and often just for fun, Lopez and Ramos quickly formed the nucleus of a fashion milleu that included designer Karl Lagerfeld – then head designer of Chloe, now at Chanel – and models Pat Cleveland, Jerry Hall and soon-to-be music star Grace Jones. How to sum up that Antonio world? Try fashion, art, sex and disco.
That tagline is the subtitle of a tome by Roger and Mauricio Padilha, published by Rizzoli in September. "We had to sort of come up with a summary of Antonio's career and our book and those four words just seemed to perfectly capture his work, his life and the times," says Roger Padilha by way of explanation of the provocative moniker. "It wasn't about preaching to the Antonio choir but to show a new generation his genius."
It worked: a fresh crop of fashion designers, stylists and photographers seem to have been thumbing through Antonio's back-catalogue – the December 2012 issue of Vogue Italia featured a Steven Meisel covershoot titled "High Gloss" that paid homage to the heady world of hedonism captured in Lopez's polaroids, eye-obscuring Jerry Hall mane and all.
The same imagery – and that lop-sided hairdo – roamed Jonathan Saunders' spring catwalk in London. "People don't associate Antonio necessarily with his photography," says Saunders, "but there was something amazing about what he captured... It was a very stylistic time, a very glamorous time. Often, the imagery of that period isn't really raw. They're kinky, they're dirty – but there's no real edge. There's an instantaneousness to this that makes it feel more relevant to a modern woman." There are shades of Lopez's metallic-wrapped shots of Jones and Hall, and his Blue Water series – models stark naked and semi-submerged in startlingly lapis tubs of soapy water – in Saunders' turquoise and azure sequins and iridescent leather. "I love a reference without any clothes in it!" he laughs.
Antonio, of course, wasn't only about girls – his eroticised drawings of male models populated campaigns for Versace and Missoni in the eighties. Those exaggerated images – man as hunter-gatherer in buttery-leather and luxury knits, respectively – were fodder for Kim Jones' sophomore menswear collection for Louis Vuitton, where the emphatic shoulders, artfully wrapped capes and chiselled jawlines whispered of Antonio heroes past. Their feminine counterparts, the sketches of Jerry, Pat et al, inspired the disco diva bugle-beaded gowns of New York designer Jason Wu's 2013 pre-Fall collection, translating Antonio's pen marks into cashmere and chiffon. "That style of illustration seemed so out of style when I was growing up, in the early Nineties – super-feminine, super-exaggerated, super-glamorous – but right now it feels like there's something in the air that makes it feel really relevant," he says.
Jonathan Saunders' summary of the Lopez legacy is "Lycra, jersey, tight! Almost disposable clothes. It feels very modern." Leafing through Antonio: Fashion, Art, Sex and Disco, the modernity of the imagery is what strikes you again and again. In Antonio's French Vogue sketches, favourite model Eija Vahka Ajo could be sporting spring 2013 Miu Miu – only the caption of 1972 betrays the fact it's actually an early Karl Lagerfeld pencil-skirt and duster coat. Granted, Lopez's imagery entered the cultural slipstream of references even before his death in 1987, but there's something about the mix of decadence, eroticism and the sleek modern – but not Mod – lines of the garments (however minimal they may be) that makes them resound with fashion right now. The "relevance" that both Jason Wu and Jonathan Saunders talk about is exactly what cosmetics company MAC is banking on – for autumn/winter 2013, it's launching a range inspired by and celebrating the Antonio's work. "Antonio showed this tremendous zest for living," James Gager, creative director of MAC, said when the collaboration was announced. "When you see the pictures and the drawings, you want to re-meet these people at a party or on the street. You want to stop them and say, 'You look incredible!'"
Even with names such as Louis Vuitton and Jason Wu backing the Antonio look, it's a risky venture. After all, Antonio is well known to fashion insiders and obsessives such as Andre Leon Talley, who wrote the foreword to Roger and Mauricio Padilha's book, but relatively unfamilar to the public at large. "His work really pushed boundaries and it's amazing that the huge companies he worked for allowed him to really push their campaigns and imagery so far," says Roger Padilha. "In this world where everything is so branded and brand specific, it seems that this could never happen in these days."
MAC seems set to prove the opposite – the range launches alongside a campaign shot in homage to Lopez by Mert Alas and Marcus Piggott and starring his muses Jerry Hall, Marisa Berenson and Pat Cleveland, which promises to be as provocative as the Antonio originals. And on paper or off, the Lopez/MAC collaboration makes perfect sense: "Antonio would spend two hours making me up, with eye-liner, false eyelashes and plucked eyebrows," said Jerry Hall. "I used to sit for hours with his drawings of me and copy the make-up." Antonio's illustrations inspired not only the clothes, but the beauty for Jason Wu's pre-Fall collection.
"It's really about that high-octane glamour. It's a lot of make-up..." is Wu's summary of his stylised Seventies disco divas.
"I love the shapes – especially some of the black-and-white illustrations of Jerry Hall. The shapes of the eyes, the really thick eyelids, look really cool right now. And I never thought I would say that for the longest time! I was born in 1982 – when I grew up, I tried to run as far away from it as possible! But right now, that glamour is all I want to see!"
Music to MAC's rouged earlobes, no doubt.
Register for free to continue reading
Registration is a free and easy way to support our truly independent journalism
By registering, you will also enjoy limited access to Premium articles, exclusive newsletters, commenting, and virtual events with our leading journalists
Already have an account? sign in
Join our new commenting forum
Join thought-provoking conversations, follow other Independent readers and see their replies