Fashion legend Iris Apfel on secret to her happy marriage and why she's never had plastic surgery
The fabulous 93-year-old comes to London to celebrate the premier of Albert Maysles' documentary on her style and life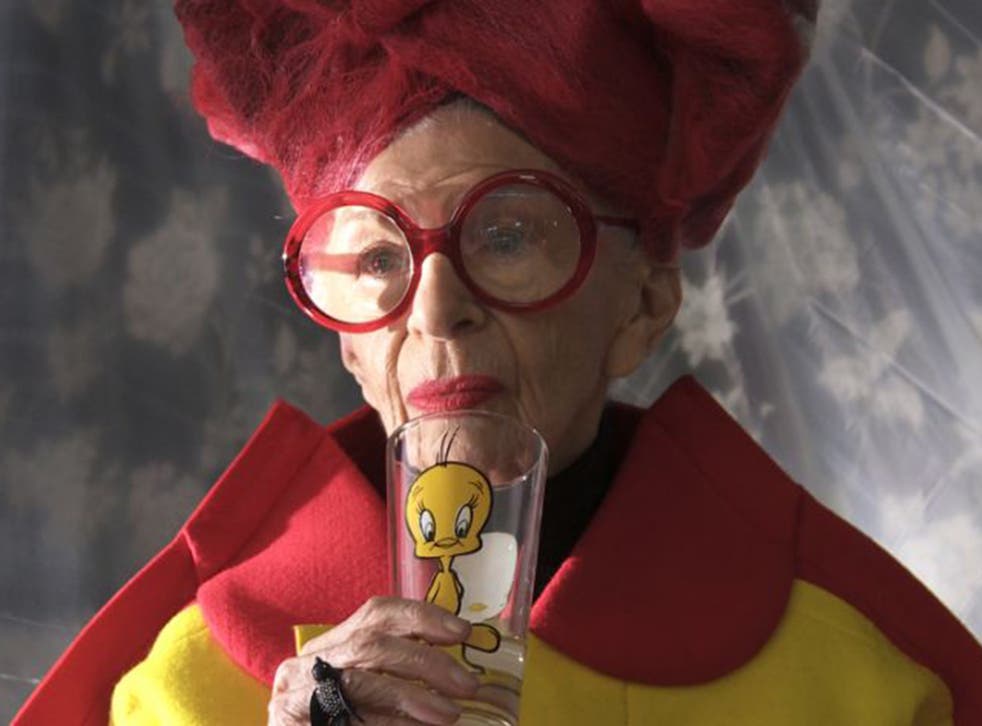 Iris Apfel is an inspiring, eccentric fashion legend, reason why she was one of the last subjects of filmmaker Albert Maysles, who completed a film on the New York fashion guru's career, life and sweet marriage before his death earlier this year.
The documentary opens in UK cinemas this week and to celebrate it, the fabulous 93-year-old flew to London from America to host various celebratory events on her name.
Iris, the film, portrays how she lives a fabulous life, decked in flamboyant fashion, combining couture with flea market accessories, oversized bangles and necklaces, furry scarves, multi-coloured dresses and, of course, her signature large rounded glasses. That's exactly the same sort of attire she was wearing last night at a private event hosted at J.Crew's Regent's street flagship shop in London, where she shared a bit more than her career.
"You can't learn style. I think it's in you DNA," she said frankly.
"I have no rule or regulation it depends how you feel," she explained when questioned about how she puts outfits together.
But, she also stated that despite her many exhibitions on her clothes and eccentric accessories, and owning one of the most remarkable collection of couture jewellery, she really doesn't call herself a collector: ""I'm not a collector of clothes. I've got clothes to wear."
But, fashion is not all the inspiration we can get from Iris. In the documentary her relationship with husband Carl is an example of caring love, so she shared her secret to a happy marriage: "sense of humour and giving each other some space."
These are some of the lessons from Iris on fashion, love and life:
Key to success
Individuality.
Shopping
Always bargain at flea markets – as she's seen doing it best in the film. "Sorry, I'm cheap," she tells the owner of an African clothing shop.
Plastic surgery
"Unless you have a nose like Pinocchio or have been in a fire, why mess... You might come out worse. I've seen few people that have come out like a Picasso."
Hues
"Colour can raise the dead."
Beauty
"I'm not a pretty person. I don't like pretty, so I don't feel badly. Most of the world is not with me but I don't care."
Life choices
"I didn't have children, but I never wanted children. You can't have everything and I knew I wanted a career..."
Rules
" I don't have any rules because I will only be wasting them, so it's a waste of time."
At 93, the nonagenarian, relentless fashion guru still got ambition to do more. Last night she revealed in a Q&A with Tank magazine's editor Caroline Issa an upcoming project with American department store Neiman Marcus and a book, which "won't be expensive" and is aimed for a "younger audience", she "hopes to get done".
Can we all be this fabulous at our nineties?
Register for free to continue reading
Registration is a free and easy way to support our truly independent journalism
By registering, you will also enjoy limited access to Premium articles, exclusive newsletters, commenting, and virtual events with our leading journalists
Already have an account? sign in
Register for free to continue reading
Registration is a free and easy way to support our truly independent journalism
By registering, you will also enjoy limited access to Premium articles, exclusive newsletters, commenting, and virtual events with our leading journalists
Already have an account? sign in
Join our new commenting forum
Join thought-provoking conversations, follow other Independent readers and see their replies