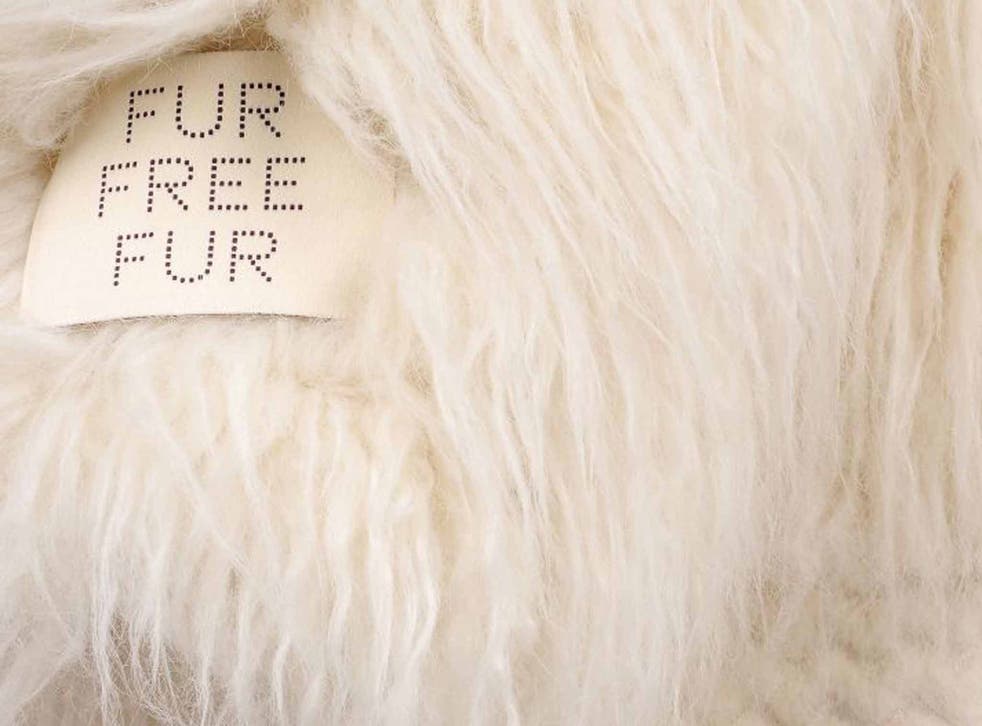 Fashion's faux and sustainable options: How designers are redefining luxury with ethical substitutes
​Think mink? Think again. Rebecca Gonsalves examines fashion's new heart.
As fashion victims go, Cruella de Vil is a particularly gruesome example – her rabid pursuit of the perfect pelt led her into some particularly hot water. She's an extreme example, but by no means unique: old habits die hard and fur is still seen as the last word in luxury in many markets, used liberally, and literally, head to toe (check this season's favourite fur-lined and trimmed shoes). However, as a buying public at all levels of income becomes increasingly aware of the true cost behind clothing –moral and environmental, as opposed to just fiscal – a market is booming for synthetic fur and leather chosen for ethics rather than economics.
Stella McCartney is the most obvious example – especially since her autumn/winter collection, which introduced gargantuan, shaggy "Fur Free Fur" coats, each prominently labelled with just that slogan. The vegetarian designer has long used synthetic suede and leather in collections she dubs "vegan", but for a long time she has shied away from faux fur. "I'd done fake fur many, many years ago," she says – her final autumn/winter 2001 collection for Chloé, for instance, was awash in the stuff – "and I'd really questioned whether it was appropriate to do it and if it was necessary. Because fake fur now looks so real, I was afraid that I was promoting real fur, but I created these fur-free labels that will be on the outside of products so you can actually tell people it's not [real]. We are a house that thinks that fur is not relevant. It looks old-fashioned."
Hannah Weiland's work could never be described thus; her colourful faux-fur clothing under the label Shrimps has won plenty of plaudits since it launched in 2013. "I specifically decided to use faux fur for a number of reasons: my personal taste and views, price, colour and creative flexibility," Weiland explains. "I was fortunate to come across a mill producing the highest-quality faux fur available. I think it is a misconception that faux fur is not a luxurious product – given how incredible modern technology is, you can now essentially produce faux fur with the same level of softness, quality and warmth as real fur, which makes the argument for real fur much harder."
Judd Crane, the director of womenswear and accessories at Selfridges, believes there is no argument – the department store has been proudly fur-free for a decade. Crane is cheered by the increased visibility of faux fur as a luxury proposition in its own right: "We're interested in alternatives that meet every luxury consumer's needs, and we have this for autumn/winter more than ever. Stella McCartney's faux fur has fashionable, luxury and ethical credentials and there are great options at Dries Van Noten too. Faux fur is establishing itself as a versatile fashion fabric that works year-round – Shrimps has been one of our biggest success stories in every store."
The production of fur, and indeed exotic skins such as crocodile, ostrich and python, is a complicated matter, and there is an argument that faux fur is not exactly a "green" material, due to the vast amounts of chemicals used to manufacture it, alongside its inability to biodegrade. McCartney, though, has worked to avoid this, even using biodegradable soles in her shoe collections.
Rachel Comey is a New York-based designer who has somewhat circumvented the two binary ideas of faux and real by using fur from animals that have died from natural causes, namely baby alpacas reared for their wool. "I work with a tannery in Peru that sources the skins," she explains. "The leathers come exclusively from the death of baby alpacas – the hard weather in the alpaca-producing zones 12,000 feet above sea level causes the death of 15 per cent of baby alpacas in the first three months of life." The nature of her sourcing means that Comey works on a small scale, ensuring exclusivity – a key word in the luxury market. But she believes that every manufacturer should abide by the same principles of ethics "both environmentally and humanely".
In the UK the use of real fur still provokes much emotion and heated debate. A number of British publications – including Vogue, Elle and Harper's Bazaar – will not photograph it editorially, while a poll by the RSPCA in 2011 revealed that 95 per cent of people in the UK would refuse to wear real fur, despite its prevalence on international catwalks. But ethical manufacturing is about more than just whether designers use real or faux fur – the supply chain introduces huge difficulties when it comes to social responsibility, from the treatment of staff to the use of toxic chemicals, water and minerals in the production of the raw materials.
Last year, the luxury group Kering – the parent company of Stella McCartney – made a bold statement of its ethical credentials. At a talk for the London College of Fashion, Kering's chairman and chief executive, François-Henri Pinault, explained that the Kering group had worked to create a way of tanning leather that did not use harmful pollutants such as heavy metals. This sort of environmental awareness might be expected from McCartney, or the ever-earth-aware Vivienne Westwood, perhaps, but as the majority shareholder in labels famed for their leather handbags and accessories such as Gucci, Bottega Veneta and Balenciaga, this was a bold step. Bolder still was the fact that Pinault announced he would share this information with rival companies, signifying a desire to enact real change rather than maintain a competitive edge in order to sell more bags.
"Needless consumption is not our friend," says Iain Renwick, the chairman of Eco-Age, a brand consultancy that works with retailers and manufacturers of all sizes to improve their sustainability. "There is an opinion that more expensive often means more ethical –this can simply be the case that luxury items are produced in smaller quantities, or use a lot of handcrafting, artisanal techniques. Fundamentally these are not disposable items." The very nature of the luxury industry means that it can be slow to enact change, no matter how much will there is to do so. But incremental change is better than none at all, believes Renwick, who recognises that brands still have products to push: "We call it the merging of ethics and aesthetics."
One label that has got the blend of ethics and aesthetics right is Edun – though it wasn't always the case. Now part of the Louis Vuitton Moët Hennessy stable of luxury brands, Edun was founded by Ali Hewson and her husband, the U2 musician Bono, in 2005 to promote trade in Africa. That's an admirable aim, yet the brand struggled to be taken seriously without a strong, relevant aesthetic. Danielle Sherman was appointed as creative director in 2013, bringing expertise from The Row and Alexander Wang, and the label is becoming an increasingly serious high-fashion proposition.
Ultimately, the fashion industry doesn't just sell clothes and shoes and bags, it peddles aspiration – and as Comey says, modern luxury lies in "slowing down, producing less and buying what is special and can last a lifetime".
Join our new commenting forum
Join thought-provoking conversations, follow other Independent readers and see their replies