For better, for worse: Four Independent grooms reveal how they chose their wedding suits

Show all 5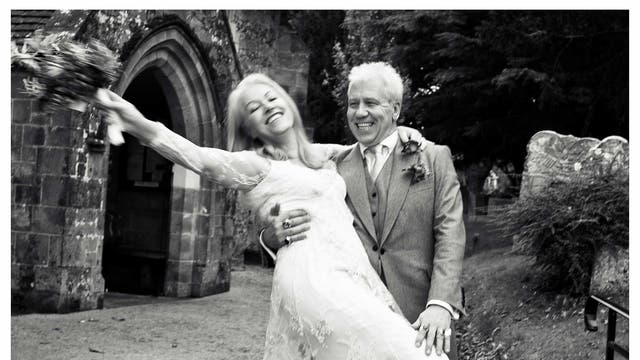 For better, for worse: Four Independent grooms reveal how they chose their wedding suits
'You're not to look like a Pirate King'
BY JOHN WALSH
If you're by nature a bit of a show-off in the clothing department, being a bridegroom gives you licence to cut a dash, don't you think? So I decided on a frock-coat. Blue satin, I thought. Double-breasted with frogging and brocade. A ruffle-fronted white shirt, with black trousers and over-the-knee, turned-back-at-the-top, seven-league boots.
"No," said the Bride, firmly. "You're confusing style with fancy dress. The idea is to look like an elegant groom not a Pirate King. When she comes down the aisle, the last thing a bride wants to feel is an urge to flee from the apparition in the front pew."
But I persisted. I took Sophie, my eldest daughter, to Favourbrook in Jermyn Street, whose window has been full of frock coats as long as I've lived in London. "I'm afraid you've missed the boat," they said. "Five years ago, frock coats were all the rage. But demand fell away. I think the look was considered too… piratical."
So we went on a gents'-outfitter crawl in search of the Full Piratical. In Savile Row, we tried William Hunt (who dresses Jonathan Ross and Graham Norton) and Lanvin, and the Duffer of St George, to no avail. We enquired in Vivienne Westwood. But no: frock coats were over, they said, seven-league boots frightfully last-century, lacy cuffs dead as vaudeville. But a shop assistant said that, if I wanted a really long jacket, I might try Sir Tom Baker.
His shop is located in mid-Soho, a milieu of topers, degenerates, horizontales and film buffs. The shop frontage involves a skull penetrated by a dagger; the window-display featured a red-sequinned bingo-caller's jacket. But a glance through the portfolio was reassuring: I loved the long, funky morning coats and matching weskits. If not quite piratical, they looked raffish and a bit rock'n'roll (and gave you a waist).
Tom Baker himself (the 'Sir' is a cheeky brand name, for which he's incurred some Establishment wrath) is a sight to behold. Six-foot-six, spaghetti-thin, with Harpo Marx white curls, he dresses in the tightest trousers I've ever seen, and cherry-red winklepickers. He has, in his time, dressed Robert Plant, Rhys Ifans, Gary Numan and most of Depeche Mode, and felt sure he could bring a bit of electroclash to a portly fiftysomething writer.
Sophie and I chose a cool, blue-grey, flannel-cashmere mix, light but rugged. We decided the jacket should be knee-length, with an extra cutaway in front – fusing a morning coat and frock coat into a unique hybrid.
The initial consultation passed in a dream of suggestion and response. Would I like the breast pocket asymmetric (ie, slanting up like a raised eyebrow)? And the pockets slanting downwards? Did we prefer a chain-link in the front to a single buttonhole? (Oh yes.)
It went on and on, like a manly courtship. One of Sir Tom's many trademarks is to make the back collar slant down to a triangular beak. Another is his black satin buttons. Another is his fund of knowledge. When I specified the cuffs should be flared an extra inch, he suggested five buttons on each with functioning buttonholes "as required by doctors in the old days when visiting tenement blocks, so they could attend to the sick without taking off their jackets or rolling up their sleeves".
There were four meetings: the consultation; the baste fitting (when everything's in rags and tatters); the forward fitting with the unlined waistcoat; and the final triumphant reveal, both of us hoping, with three days left, that nothing's gone wrong. Sir Tom now has a template of my impressive measurements for future use.
Getting the suit made was a blissful experience. The final ensemble was accessorised by new £100 black trousers from Jaeger, a pale-blue silk tie from Reiss, a Liberty-print hankie and a black-flecked-red rose buttonhole. It was all, I thought, admirably restrained. The bride came all the way down the aisle without bolting.
Some wedding guests complained, saying: "We're disappointed, quite frankly. We were expecting something more, you know, show-offy from you, something more over the top, more… fancy dress". Who, me?
'If Ray Winstone wears one…'
BY LUKE BLACKALL
When I told my wife, Francesca, who is also a journalist, that I had been asked to write about my winter wedding suit, she said that she wanted to write the piece for me and told me exactly how it should begin (something like this).
This could be an analogy of our wedding planning in general. But she has already written about our north Norfolk nuptials for another publication and my suit was, I felt, one area over which I had complete control.
Luckily, last year when I outlined what I was planning to wear, she sounded happy with it. Neither of us were keen on the mania for over-the-top or ultra-formal weddings in the name of 'tradition', when much of our parents' generation had ditched the morning coats in favour of something more relaxed and low-key.
I found the hired suits worn by other married friends had been either too polyester-ish or too robust, as though they were designed for those planning on a roll in the churchyard (for fighting or fornicating) once the service was over.
But my particularly vehement dislike is for the outfits popularised on TV soaps and in OK! magazine, where 'silky' has been mistaken for 'smart': shiny waistcoats over wing-collared shirts pulled together with bits of ruffled fabric which are neither ties nor cravats.
I had met tailor Gresham Blake last year when I went to the opening party at his shop in London. Having provided the well-heeled of Brighton with outfits for a number of years, he was expanding to the East End.
I liked him, and his whistles, straight away: they looked smart and well-made but were also nicely different to the production-line looks of the high street and some big-name fashion designers.
He showed me huge numbers of fabrics and styles, and seemed to quickly understand my desire to have something that was "classic, but smart and something that I could wear again". His perceptiveness was further proven as he measured me, correctly guessing my Irish ancestry from the length of my arms.
I decided to add a waistcoat for a number of reasons. It gave the overall look both a classically-smart feel, while nodding to current trends. Also, on a more practical note, it was chosen thinking that it would protect me from the cold winter air, while hiding any weight I put on before the December date.
My shoes – a black pair cut from a single piece of leather – and red cashmere socks were a gift from my mother and bought at my father's (and now my) favourite shoe shop, John Rushton in Wimpole Street in London.
When I returned to pick up the suit, I found that I had actually lost weight. As it was being adjusted, I overheard one of the shop's staff tell a colleague that the actor Ray Winstone was coming in to pick up a suit he had ordered. I shamelessly hung around as long as I could, but sadly missed him. Still, I felt that if the suits were good enough for Ray…
On reflection, I am very pleased with my choice. It survived the service, the dinner and the dancefloor and was the subject of many admiring comments. Crucially, I have also worn it to two more weddings since. Francesca (who gets a say at the end of this piece, too) was also a fan.
"I thought navy was an excellent choice for a winter suit," she says. "I liked the white knitted tie and the waistcoat – they stopped it looking office-like."
'I had purple cufflinks, but only I noticed'
BY TIM WALKER
Grooms have it easy. Once you've popped the question, the only things you're expected to pick out on your own are your best man and your suit. Beyond that, you mostly just smile, nod, write a nice speech and hope that the aforementioned best man doesn't have anything too humiliating planned for your stag night. Then again, when the suit is almost the only wedding decision for which you're solely responsible, you'd best get it right. Because if your fiancée spends months carefully selecting the venues, the menus and the flower arrangements, and you turn up in a too-baggy tux, it's not likely to go down very well.
My now-wife was prepared to travel the length and breadth of London NW10, and even some of W11, to find the perfect dress. (She found it, obviously.) But the idea of taking multiple shopping trips in search of a single garment filled me with dread. For that reason, I did most of my pre-purchase research online, browsing Mr Porter in my lunch hours for a sample of what some estimable menswear brands had to offer.
I had several criteria. I wasn't getting married in a church, so I wasn't about to wear a morning suit. If I'm going to spend money on clothes, I'd rather they're clothes that I'll get to use more than once. People only wear morning suits to weddings and Royal Ascot, and I never go to Royal Ascot. I wanted a suit by a tailor whose name might impress my more fashion-forward friends and colleagues, but I knew that having one custom-made anywhere near Savile Row would be way outside my budget. Finally, my brother-in-law-to-be had worn a superb blue bespoke three-piece to his own wedding the previous summer, and I was keen to find one in the same or a similar colour.
In the end, I bought off the rack. One of my ushers recommended Spencer Hart, whose founder Nick Hart has dressed some seriously excellent celebrities, such as Benedict Cumberbatch, Daniel Craig and Alex Turner. Although Hart's brand has a Savile Row store, its flagship location is half a mile away on Brook Street. There, a nice young man named Nelson sized me up and slid me into a one-button wool suit with a mid-width lapel, in blessedly slimming midnight blue. Once the leg and cuffs were altered, it set me back somewhat more than £500, but somewhat less than £1,000.
I already had a nearly-new pair of Paul Smith black shoes, and I bought a reasonably-priced white shirt by Ted Baker from John Lewis. I then spent a long time in the basement of Liberty, trying my best to match a Liberty print tie to a Liberty print pocket square – yet somehow the paisley patterns conspired to make the whole outfit look tacky. In the end I plumped instead for a white silk pocket square to match the shirt, and a burgundy silk knit tie by Lanvin for £80, which seemed to complement the rich blue of the suit. I had purple cufflinks, socks and shoelaces too, but I suspect I was the only person to appreciate that particular level of detail.
Our wedding was relatively informal, so there was never much question of my picking the ushers' suits. My brother, who was my best man – another easy decision – cut a dash in a charcoal-grey wool-blend from Jack Wills. Oh, and my buttonhole, like the rest of the day's flowers, was from a very classy florist called Scarlet & Violet in Kensal Rise. But that, of course, was the one bit of my outfit that I didn't choose myself.
'My suit was picked from a catalogue'
BY WILL DEAN
It would be a lie to say I spent much time daydreaming about my wedding day as a young man. Especially thinking about what I would be wearing. Er, a suit?
Jerry Seinfeld summed this up best in 1992: "The idea behind the tuxedo is the woman's point of view that men are all the same; so we might as well dress them that way. That's why a wedding is like the joining together of a beautiful, glowing bride and some guy. The tuxedo is a wedding safety device, created by women because they know that men are undependable. So in case the groom chickens out, everybody just takes one step over, and she marries the next guy."
My wife – then fiancée – spent several months trawling bridal boutiques between London and the West Midlands trying on different wedding dresses, worrying about where the train would flow through the slim aisle of the church she'd dreamed about getting married in since being a little girl, and which shade of white would match her skin-tone. My suit – like many meek grooms around Britain and unlike the other three stylish bastards on these pages – was picked out of the Moss Bros catalogue. By my wife. Some input was allowed, however. I think I chose the colour.
It had also been decided at some point early in the wedding planning that the best man and ushers were to wear the same suit, as were the fathers of the bride and groom. So that was seven suits to be acquired. Without wishing to shatter your illusions about the salaries of mid-ranking national newspaper staff, the cost of fitting them all out in bespoke suits was unviable, so it was a rental job. Which is why we ended up in Moss Bros and not Gieves & Hawkes. (Sorry Brian.)
It was agreed that we'd wear the Lingfield, a fairly classic-looking morning coat with a flattering sharp cut above the waist, dark grey colouring and a subtle tail. We added pale-blue waistcoats and cravats for the groomsmen, while my status as capo di tutti groomy was cemented with an ivory waistcoat and matching neckwear.
The prices weren't too bad – £90-a-suit for everything (and "grooms go free!") – but the rapid speed with which the assistants 'fitted' us was a bit of a worry. I expected at least a bit of cupping. Instead we were mainly sized up by the assistant's eye and handed roughly-fitting gear. And though the end fittings weren't quite Savile Row (more Savills estate agents) they were good enough, especially given the near-daily reminders that no one would be "looking at me" on the day of the wedding.
Besides the button falling off best man Sam's jacket and Greg the usher being given a waistcoat which would have fitted a Charley Chimp toy rather than a 28-year-old bloke, the suits held up pretty well over the wedding day and night (and next morning). Looking back at the photos I might have preferred to have spent the money on a Richard James suit for myself and a few matching Top Man ties for my ushers, but compared to our usual shabby personal stylings, well, we looked all right.
Register for free to continue reading
Registration is a free and easy way to support our truly independent journalism
By registering, you will also enjoy limited access to Premium articles, exclusive newsletters, commenting, and virtual events with our leading journalists
Already have an account? sign in
Join our new commenting forum
Join thought-provoking conversations, follow other Independent readers and see their replies