Gareth Pugh: His Dark Materials

Show all 7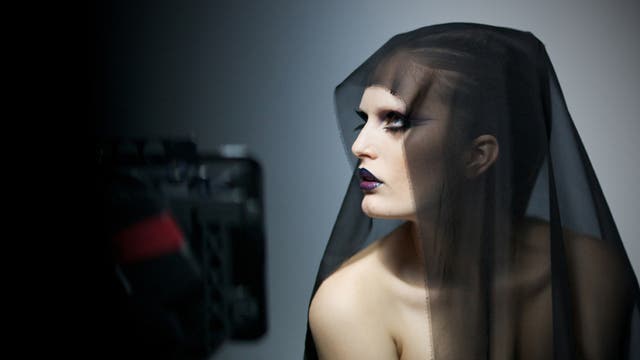 Gareth Pugh: His Dark Materials
Gareth Pugh's dramatic designs have long wowed the enlightened fashion follower. Now he's moving into make-up. Susannah Frankel meets the man behind the black magic
Susannah Frankel
Monday 07 November 2011 01:00 Comments
"She's very beautiful. But she looks like she might kill you," says Gareth Pugh of model Alla Kostromichova, the lovely if admittedly somewhat intimidating face of his soon-to-launch, limited-edition line of make-up and accessories, designed in collaboration with Mac.
And that just about sums up not only the designer's aesthetic more broadly, but also this latest venture.
On a table in front of us, all packaged in fiercely heavyweight, high-shine geometric black, is a duo-chromatic nail polish that flashes from emerald to amethyst; a powder designed to suit all skin colours and render the complexion entirely – almost a touch morbidly? – matt; and lip gloss that is relatively discreet when worn alone but high-impact when layered over dark and distressed shades of lipstick. Then there are probably the most enormous false eyelashes the world has ever seen – they're called Flight Lashes, presumably because should they catch the breeze their wearer might inadvertently take to the skies in them, which would be good.
"I got the biggest ones Mac does and chopped them up, basically," Pugh laughs. "When you put them on top and bottom they work really well. They look like horse blinkers." Speaking more generally, he says of the origins of the collection in question: "Mac asked me to send them things that I like – colours and textures. I went through my studio and I never throw anything away so I've got all this stuff." It almost goes without saying that said "stuff" is more than averagely interesting. "There's a butterfly ring, which is how we came up with the iridescent thing. There was a hematite rock that I'd picked up in Evolution in New York. I can't resist that place. It's full of dead things and crystals. I sent Mac the feathered head-dresses from my spring/summer 2010 show – light grey feathers, that's how we came up with that colour. It's all come from the same place so it works as a collection, I think. It tells a story."
And that story brings together what Pugh describes as "two opposing elements that can be merged and mixed. You've got a very dark, quite full-on element, and then there's an ethereal, silvery grey side to the collection." A promotional film has been shot with Kostromichova playing two different characters. "It's a bit like a fight. There's friction there," Pugh says. Directed by Ruth Hogben, styled by Katie Shillingford, with make-up directed by Val Garland for Mac and music by Matthew Stone, the end result, which will be screened in store alongside the product, is a group effort between people who have worked together often. And, like all the best link-ups, the relationship between Pugh and Mac has also developed over an extended period of time.
The cosmetics company has long supported Pugh, with independent make-up artist Alex Box and the Mac Pro team working on the make-up for his biannual ready-to-wear shows. Mac also shares with the designer a less than conventional approach to physical appearance. It has been associated with everyone from Lady Gaga to Elton John and from Pugh to – also later this month – newly instated fashion diva, Miss Piggy.
"We've known each other for a long time now, Mac and me," Pugh says today. "I've seen what Mac's done in the past and it's been great – very thoughtful and well presented. The company understands me very well. I don't do a lot of collaborations, especially not with big companies, and I think only a few of those would be willing to commit to this level of investment: custom packaging, a film. It's been done really beautifully and, like I say, Mac has done my shows for many years, make-up is important to my shows, I wear make-up and it's kind of let me do what I want."
Pugh, who turned 30 in August this year, has been wearing make-up since the age of eight. He grew up in Sunderland and excelled at ballet in particular ("like Billy Elliot"). "You had to wear make-up for the dancing," he says now. "I remember my mum taking me to Boots and buying me blue eye shadow, white eye shadow and lots of bronzer." Aged 16 he was forced to choose between a career in dance or fine art and opted for the latter. Following a foundation course at the City of Sunderland College he came to London, completed the BA fashion course at Central Saint Martins in 2003, and immersed himself in club culture, specifically !WOWWOW!, a creative collective located in a huge squat in Peckham where Pugh had his studio, although he lived in a flat around the corner.
It wasn't long before the designer was making stage costumes for Kylie Minogue and, soon after that, for Marilyn Manson. Knitting with refuse sacks and making dresses out of balloons; fringing his signature strong shoulderline with cellophane and decorating oversized coats with pin-pricks of electric light, he showed at London Fashion Week as part of the Fashion East initiative to support young talent and then, from the autumn/winter 2005 season onwards, solo and under his own name. In 2006 he received backing from Michelle Lamy, the wife and business partner of designer Rick Owens, and his label is still produced in partnership with her, which facilitates his more recent use of considerably more upscale materials, with production values to match. In 2009, Pugh won the prestigious ANDAM award; he now shows in Paris alongside fashion's big guns, to both critical and commercial acclaim.
If Gareth Pugh, the company, has grown up quickly, from purveyor of theatrical and even art-house indulgence to luxury goods brand with a menswear line, pre-collections, small leather accessories and now make-up all featuring, it's worth noting that the anarchic spirit that characterised his early work is still very much in evidence. There's never been anything shy and retiring about Gareth Pugh's vision of women – or men for that matter. Oh, and he continues to wear make-up ("or else I just look dog rough") to this day. "Everyone has insecurities," he says. "I occasionally have very bad skin and so I got into the habit of wearing make-up to disguise it. Now I don't really leave the house without it, even if I'm just nipping to the shops. To me, it's like putting my shoes on."
Mac, similarly, is not a name readily associated with the shrinking violet. "There's instinctually a synthesis between Gareth Pugh and Mac as brands," says James Gager, the cosmetic company's senior vice-president and creative director. "Mac loves black and Gareth loves black. We love a bit of goth; Gareth, from the beginning, has always loved a bit of goth." More seriously: "The main thing is that Gareth is this young, vital, progressive creative force. I feel that aligning ourselves with someone like that says a lot to both our [make-up] artists and our customers about the vitality of Mac as a brand."
For Pugh the experience has been a good one on every level. He holds up for inspection everything from the colours themselves to a black make-up case to contain them. "Look. It's really good," he says. "You've got a place for your lippie and for your shaver in here. My mum and my aunties are very excited about their Christmas presents this year.
"I didn't think about this project in terms of expansion. For me, it's never like that. I did it because Mac asked me and it's a great thing to do. It is really nice, though, that people who maybe can't afford my clothes can buy this. It's a bit like having a perfume, something that's entry level, a lot more inexpensive but still part of me. It's really satisfying for me to do something beautiful that a lot of people can buy."
Gareth Pugh for Mac will be available at selected Mac locations nationwide and at maccosmetics.co.uk from December 2011
Register for free to continue reading
Registration is a free and easy way to support our truly independent journalism
By registering, you will also enjoy limited access to Premium articles, exclusive newsletters, commenting, and virtual events with our leading journalists
Already have an account? sign in
Join our new commenting forum
Join thought-provoking conversations, follow other Independent readers and see their replies