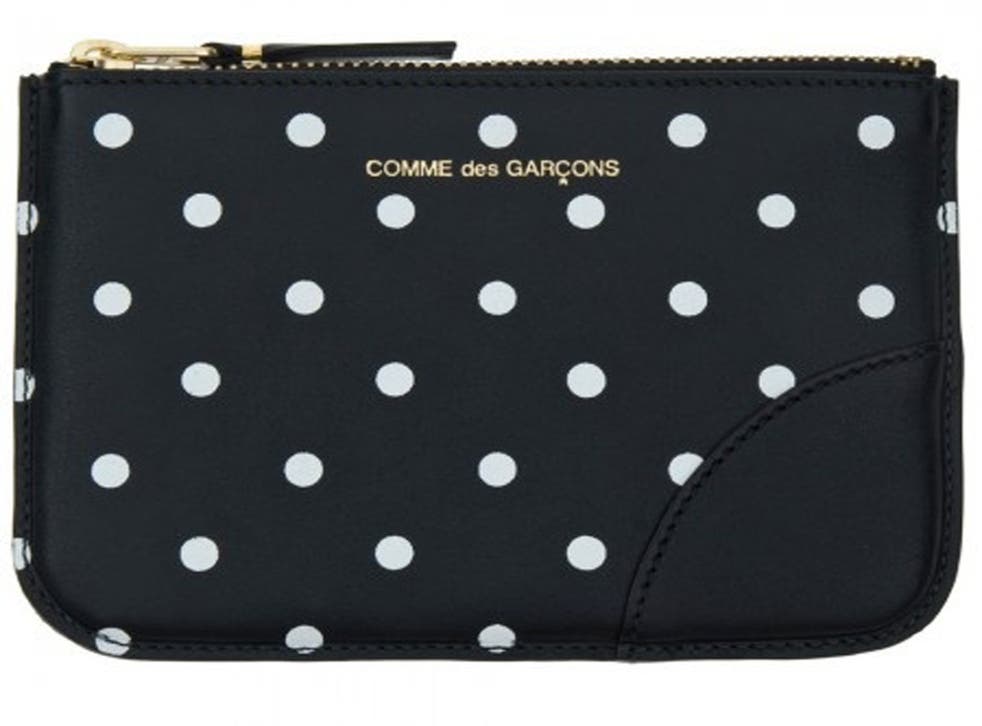 Gemma tries it on: 'Maybe the time has come to get a new purse'
Recently, I saw a friend that I hadn't seen for some time, and as I got my purse out to pay for dinner, she exclaimed, "Oh I can't believe you have still got this purse, I love it". Bit embarrassing. There I was, the fashion editor of a national newspaper, with the same purse I had eight years ago. Shame on me.
I obviously see purses differently to handbags; I don't get the urge to try out a new one every six months or even care if it goes with my outfit. A purse, to me, is mostly functional: to keep my money and cards safe and the place of rest for many receipts. I have been given a few new ones over the years but I've never found one that I like enough to replace my favourite.
The old purse in question was in fact a birthday present from a friend that used to work with me on the fashion desk. It's by Maison Martin Margiela and is constructed from one giant zip that fastens around and around until it closes at the top. Very clever. You can actually un-zip it all the way, too, but I don't – I'd lose my loose change.
I love it. I love its simple design and I love its size: it's small, so I'm forced to empty out the receipts at least once a week to enable it to close, but most of all I love that it hasn't looked unfashionable in all the time that I've owned it.
Eight years is a good innings for any purse, so maybe the time has come to get a fresh, new one; it is a little faded. So with a heavy heart, the purse hunt has commenced.
In this instance, size does matter. I don't want one of those oblong, heavy leather numbers by the likes of Chloé and Mulberry. I'm a hoarder, and I don't want to lug everything around with me, constantly giving me shoulder ache (I suffer from a dodgy shoulder from an old war wound: bus crash, age 15).
Accessories line mimiberry.co.uk has wonderful, simple zip-top styles in varying sizes. Even small enough to suit my needs, and I am rather fond of the metallic silver ones on offer. But being a bit of a fashion victim, I've chosen my new purse from Dover Street Market (doverstreetmarket.com).
I'm a huge fan of Rei Kawakubo and her Comme des Garçons label (I actually got to meet her after her CDG show last season, a high-point in my career!) and as I can't afford to buy any of her clothing designs, I reckon a purse is the next best thing. I was torn between an embossed style and the polka dot. And the polka-dot won.
But I'm not throwing away my old purse any time soon; as I said, it's an oldie but a goodie.
Gemma Hayward is Fashion Editor of 'The Independent'
g.hayward@independent.co.uk
Register for free to continue reading
Registration is a free and easy way to support our truly independent journalism
By registering, you will also enjoy limited access to Premium articles, exclusive newsletters, commenting, and virtual events with our leading journalists
Already have an account? sign in
Register for free to continue reading
Registration is a free and easy way to support our truly independent journalism
By registering, you will also enjoy limited access to Premium articles, exclusive newsletters, commenting, and virtual events with our leading journalists
Already have an account? sign in
Join our new commenting forum
Join thought-provoking conversations, follow other Independent readers and see their replies