Graduate Fashion Week 2013: In a class of their own

Show all 12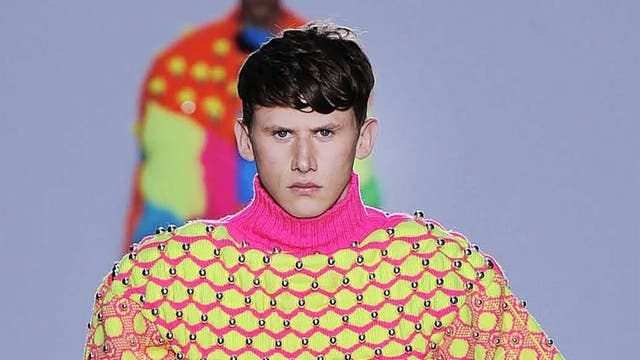 Graduate Fashion Week 2013: In a class of their own
The creative pizazz of our  homegrown talent is the subject  of worldwide acclaim. Among  the good, the bad and the ugly  of Graduate Fashion Week 2013,  Rebecca Gonsalves pinpoints  the design stars of the future
Anyone who remembers their student days as a time filled with cider drinking and general skiving is bound to be impressed by the work ethic of the today's fashion students. Exploration and boundless creativity is encouraged and technique and skills are at the forefront of modern fashion education. In recent years, employability and practical experience are considered priorities, too.
In the first of the recent round of graduate events, the show by students from the University of Westminster set the bar remarkably high. Although ostensibly a bachelor's degree, the university offers students a sandwich year of internships at such leading design houses as Lanvin, Balenciaga and Tom Ford that equips them with the skills and confidence to go straight into industry. Andrew Groves, course director at Westminster, thinks that this experience can only be a good thing.
"The industry experience our students gain is vital. They grow as designers and as individuals and come back more focused about where they fit into the industry and the amount of hard work that is needed. They get to see how many people are involved in the process of creating a collection and where they might fit into that world after graduation."
The designs of Westminster students were indeed remarkably assured. Standouts included Lisa Clayton, whose adept construction techniques ensured her multiple textile creations were given a sculptural quality while Philli Wood's use of trompe l'oeil-printed jumbo knits gave a new dimension to outerwear.
Riffing on the importance of the fundamental techniques of dressmaking, James Pawson's pattern-cutting inspired collection was witty and well-presented. In an industry obsessed with the now and the new, the next step for these fledgling designers will be of great interest. Many will face a choice between setting up their own label or cutting their teeth in the studio of an established name.
Since graduating from Westminster's BA course last year, both Ashley Williams and Claire Barrow have joined the Fashion East stable of emerging talents, showing their autumn/winter 2013 collections on schedule at February's London Fashion Week. Has their rapid – and well-publicised – solo progression been an inspiration to the current crop of students?
Groves believes so, although he assures me: "All our students are fully aware of how hard setting up on your own can be. But they also know how much support there is for new designers that have something exciting to say." Indeed, London fashion is a fertile breeding ground for the exciting and the emerging, thanks to sponsorship initiatives funded by industry heavyweights such as Topshop, Mulberry and LVMH and the work of the British Fashion Council.
Compared with, say, Milan fashion week, dominated by huge household names with little or no young talent emerging in the past 20 years, there is a much more egalitarian spirit in the English capital, reinforced by the excellent reputation of its design schools.
While the current retail climate has claimed many casualties, it has also motivated institutions such as the London College of Fashion to open pop-up shops and sell students' wares.
As the chief sponsor of the ever-growing Graduate Fashion Week, George at Asda is one particularly visible investor in the future of fashion – the £20,000 prize associated with its Gold Award is of particular note. Since first sponsoring Graduate Fashion Week in 2011, George has developed a range of initiatives to enable graduates to evolve into employed designers. Not content with "providing a platform for graduates to showcase their work to potential employers," brand director Fiona Lambert says the company provides mentorship and employment opportunities through its G21 Talent scheme.
Students in the design sector are not the only ones that will receive the benefits of such patronage. It encompasses the behind-the-scenes roles that power the British fashion industry, recently valued at £21bn.
"Our ambition is to cast the net wider, employing fashion graduates across the wider business with opportunities in marketing, buying, merchandising... to develop the brand and creating jobs for fresh young talent," says Lambert. The popularity of previous G21 Talent collections – including that of last year's Gold Award winner Chloe Jones – is indicative of the vital role that these young designers play. With such a solid backing, this success will no doubt be replicated by this year's winner, Lauren Smith, of the Edinburgh College of Art, whose collection featured laser-etched and beaded leather alongside Spirograph-doodle-printed designs.
Among the 25 student designers who showed as part of the Graduate Fashion Week Gala last week, there were many of note. Menswear was particularly strong, with boxy, urban sportswear shapes and modern tailoring updated with a sleek and strong aesthetic. The collection offered by Hannah Williams, of UCA Epsom, was beautiful in its restraint and confident, utilising embossed latex to render impressions of accessories, jewellery and even the imprint of a sharply tailored jacket and shirt across her garments.
Register for free to continue reading
Registration is a free and easy way to support our truly independent journalism
By registering, you will also enjoy limited access to Premium articles, exclusive newsletters, commenting, and virtual events with our leading journalists
Already have an account? sign in
Register for free to continue reading
Registration is a free and easy way to support our truly independent journalism
By registering, you will also enjoy limited access to Premium articles, exclusive newsletters, commenting, and virtual events with our leading journalists
Already have an account? sign in
Join our new commenting forum
Join thought-provoking conversations, follow other Independent readers and see their replies