Hats off to Isabella Blow

Show all 2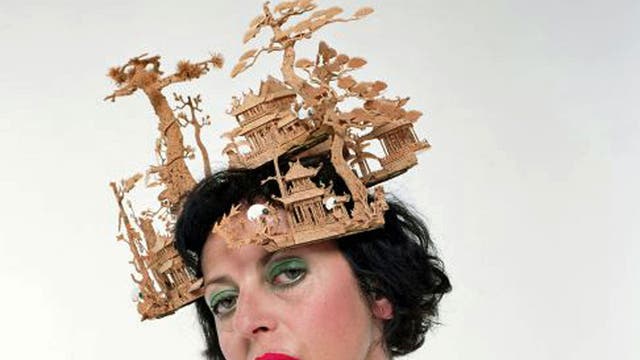 Hats off to Isabella Blow
On the eve of an exhibition to mark the exuberant personality and career of Isabella Blow, her cousin Simon Blow recounts the extraordinary private life of the woman he knew
As we celebrate the life and achievements of Isabella, it feels like the moment to say something about her complex personality. I knew her well. She was married to my cousin and I would frequently stay with them at their country house, Hilles, in Gloucestershire. Isabella had bewailed the loss of her original family home, Doddington Hall, in Cheshire. She cared about this even more than she grieved the pitiful amount her father, Sir Evelyn Delves Broughton, left his daughters in his will, the bulk going to her stepmother. Hilles became her refuge and her country seat to replace Doddington, where she enjoyed high spirits and laughter. It would also be the place where she would kill herself.
Isabella entertained in extravagance and went to great lengths to promote her protégés. Sophie Dahl and my maternal cousin Stella Tennant were weekend guests, as were Alexander McQueen and Philip Treacy. Isabella swished about the house in exotic hats, startling coats or a bedraggled fur. But my memories of her are of the outlandish things she would suddenly say. Taking me to lunch with Princess Michael of Kent, who lived near Hilles, her opening remark to introduce me was: "Naughty Simon has put his grandfather into bed with Lord Kitchener..." (I was working on a script of my grandfather's life and had read that the two men would meet regularly on Sunday nights, when "by mutual consent, war and politics were banished from the conversation".) I then got a 20-minute lecture from the Princess on destroying England's heroes. Isabella's response to my admonition afterwards was just her famous chuckle.
Though she would talk to anybody, Isabella's living standards were high. Periodically, she would move into Claridge's, where she always found a black-coated member of staff whom she saw as her private butler. But in her last years there were recurring visits to homes such as the Priory. When she got out, she would come to my Covent Garden flat and recline on the sofa, berating me for not visiting her while ill. I had wanted to keep apart from the many visitors she would have: the likes of Rupert Everett and designer friends crowding to see her. She knew so many people. At the same time, her many suicide attempts had begun. She told me that the jump from the Hammersmith flyover had splintered the bones in her feet. No more Manolo Blahniks, she said: flats for Isabella from then on.
I spoke to her for the last time a few weeks before she poisoned herself. I asked her if she knew what she was doing when she made these attempts and she replied, "not really." She told me she had had that streak in her since was a child and her baby brother died in her arms. He had fallen into the pool at the Cheshire farmhouse where her father lived. I told her she had a career to follow and her name would keep her in work. But her regular absences from work while she was dealing with her bipolarity were a worry for Isabella. "Nobody is going to trust me any more – I've blown it," she said. And then she was diagnosed with ovarian cancer and poisoned herself with weed killer. Isabella's late father-in-law, my uncle, had poisoned himself in Hilles, too, some years after he had poisoned my grandmother with hemlock. We had all learnt about the murder in 2008; my father was the eldest and next in line for the estate, but my uncle had forced a will and then killed his mother to inherit Hilles instead. Hilles, the House of Poison.
Yet none of this can overshadow Isabella's vivaciousness and sparkle, which shone in her talk and her eyes. Laughter was essential to her, as if she was always fighting her depression by it. And how she put pace and daring into the work of her protégés! Her influence on McQueen is inestimable. I know those who survive can never forget her. Neither can I. We shared laughter. "You have a wonderful lightness, Simon," she said to me. That is in my memory forever. µ
Isabella Blow: Fashion Galore!, 20 November until 2 March, Embankment Galleries, Somerset House somersethouse.org.uk
Join our new commenting forum
Join thought-provoking conversations, follow other Independent readers and see their replies