Haute couture: Fashion's Premier League – an artful craft that requires years of practice
Haute couture isn't just about hefty pricetags and hawking perfume. As the season begins in Paris, Alexander Fury unpicks its unique appeal to the world's richest women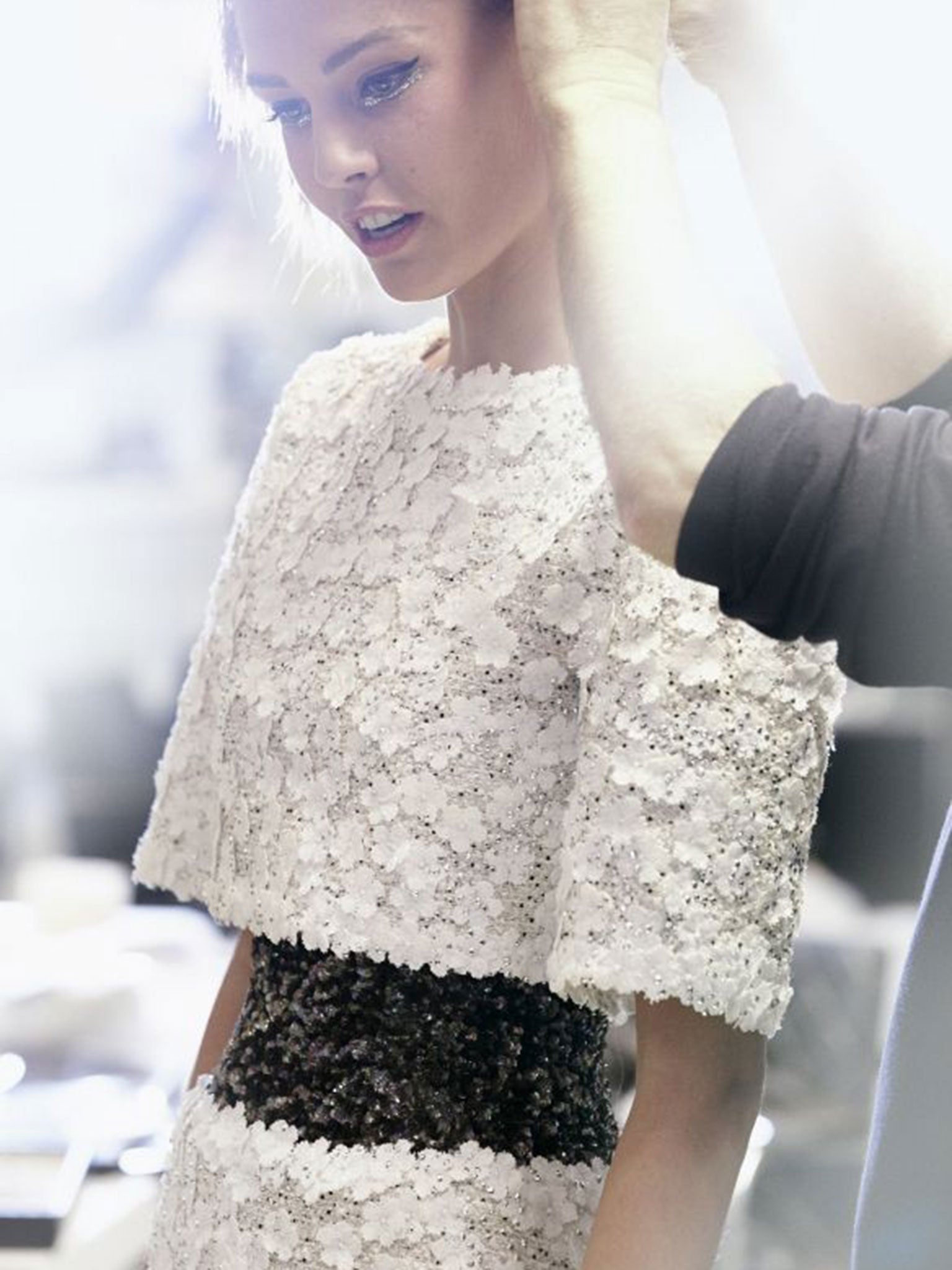 The autumn/winter haute couture season began last night in Paris, with Atelier Versace's show in the Chambre de Commerce et d'Industrie. All in all, 12 major houses will show collections this week, with a clutch of lesser-known names propping up a five-day schedule.
Haute couture has been going on for 150 years. However, it is still shrouded in secrecy and bogged down by ignorance. The facts most people know: it is outlandishly unwearable (debatable); astronomically expensive (no actual figures, but estimates average in the upper five figures); and no one much buys it. "Everything is done by hand, it's impossible to estimate the hours... the final price," says Marco Zanini, the designer behind the revived house of Schiaparelli, who shows his second haute couture collection today.
That's a common, coy couture response. "Most people think that 'couture' means 'expensive'," says Daphne Guinness, a scion of the brewing dynasty who has worn couture for 30 years. "That's just completely wrong. Yes, if you are buying something that is beaded from head to foot by Lesage, of course, it is expensive. But on the whole, it is no different to having a bespoke suit made on Savile Row."
The final assumption, however, is true. The number of haute couture clients worldwide is paltry, rumoured to fall between a couple of thousand and mere hundreds. During its post-war heyday, they totalled around 40,000. Jean Paul Gaultier is one of the few couturiers today who will actually talk numbers. Sort of. "There are between 60 and 80," he says of his clientele. "But the number has actually been growing."
What exactly are those women paying for? To borrow a timely football analogy, haute couture is fashion's Premier League – a painstaking, artful craft that requires years of practice to perfect. It is a direct link to the court of the Second Empire, where haute couture was founded by an Englishman, Charles Frederick Worth.
Often abbreviated to "couture" today, really it's the "haute" that matters. That implies the highest levels of expertise in the construction of a garment.
"The French are no slouches," Guinness says. And there are laws to protect the use of the term and stringent rules enforced by the Chambre Syndicale de la Haute Couture, a governing body established in 1868 to safeguard the industry. Chambre Syndicale specifications – established in 1945 and only modified in 2002 – lay down that a house must employ a minimum of 20 staff and show at least 25 "passages" – outfits (it used to be 60) – in January and July.
Most important of all? Haute couture must be entirely made-to-measure, sewn by hand and fitted to individual clients' measurements. Therein lies the much-vaunted superiority of haute couture, and the one thing that no one can buy. Time. "Bear in mind that it takes two people two weeks to make one suit all by hand," Lady Amanda Harlech says. She's a couture veteran, having worked alongside Karl Lagerfeld at Chanel for 18 years.
In fact, the hours in couture are just about the only figure that anyone is willing to tot up. Maria Grazia Chiuri and Pierpaolo Piccioli, of Valentino, have even taken to quoting the hours – 400, 500, 800 – spent on especially laborious garments, in their show notes. A wedding gown can require more than 1,000 hours of labour.
All that work produces incredible pieces – particularly when you take into account that every sequin, bead, feather or pleat has been entirely sewn by hand. Craftspeople – such as the embroidery houses Lesage and Montex, or the feather specialist Lemarié – are kept alive only by the demands of haute couture. As an example, Lemarié was one of more than 300 plumassiers in Paris in 1900. It is the only one remaining. "In the late Eighties, and early Nineties, when they were shutting all the couture houses in Paris, it was very sad," Guinness recalls. "It was 200, 300 years' worth of families that knew how to make lace, knew how to sew. These are industries. These are jobs. This is not just about rich people putting on something so that they can look better than everybody else." As if to prove Guinness's point, Chanel began to buy those specialist craft houses in the late Nineties to ensure their survival. The umbrella organisation they are grouped under, formed in 1997, is titled "Paraffection" – literally, "For the love of".
There's a lot of talk about emotion in haute couture. "That's mainly what inspires me," says Raf Simons, of Dior, whose first haute couture collection in 2012 has been charted in the documentary Dior and I. "That relationship between people, where there is a demand or interest in creating beauty on the body."
"Couture has a power that ready-to-wear can never have," Amanda Harlech says. "Because the intention of les petits mains [the couture seamstresses] as they sew, all that love and belief, goes into the cloth."
"The living soul of dress making," is how Guinness describes it.
That's lovely. But in reality, that soul was sold long ago. Since the Eighties, haute couture has been relegated to a loss-making PR stunt where hefty prices still barely cover labour costs.
"No, we don't make a profit from couture," Pierre Bergé, the original business partner of Yves Saint Laurent, said in 1987. "But it's not a problem. It's our advertising budget." The millions in editorial – such as newspaper articles bemoaning the whys and wherefores – are justification for the spectacle.
"Couture is the trailer for the movie that is the perfume and make-up," says Camilla Morton, the author of How to Walk in High Heels who worked with the house of Dior for more than a decade. "The way couture is now justified is the red carpet."
For many houses, that's the motivation for staying in the couture game – spinning off lucrative sales of beauty and fragrance via the impact of the clothes, which are often fanciful, given the fact that money really is no object. "Couture is my laboratory for ideas," says Gaultier, whose last haute couture was inspired by butterflies, and whose tin-canned perfume, introduced in 1993, is an all-time bestseller.
Video: Best of haute couture for spring/summer 2015
There's something odd afoot, though. Despite economic downturns, there's been a resurgence in haute couture. Giambattista Valli launched his haute couture line in 2011; Versace's couture branch, Atelier, began showing on the catwalk again in 2012 after an eight-year absence; and in January, Marco Zanini showed his first Schiaparelli collection. They're all netting clients.
And why not? Ready-to-wear prices have rocketed – MatchesFashion.com currently has a Giambattista Valli embroidered coat for £13,860, and a Givenchy cape clocking in at £15,990. The elite who can afford those season on season are a tiny minority – an elite who could easily escalate their spend to couture.
"We have much younger, much more international access to couture through the internet," Donatella Versace says. "The clothes I did in Paris are not for a grande dame de Paris. She can't wear it. I don't want her to wear it, basically!"
"My customers... I can say 28 to 38 is the core," says Giambattista Valli, deflating the stereotype of the bombe glacée-bouffanted middle-aged matriarch as couture buyer. His audience is perennially packed with ritzy young socialites wearing his flower-festooned chiffon gowns prickled with ruffles. Versace recounts clients from Brazil flying in to fit couture ordered via internet livestreams. They bought lustily.
So, in a nutshell, that's the justification for haute couture in the 21st century. The craftsmanship is old, the money is new, the red carpet frocks are borrowed and the skies above Paris are suitably blue in a fresh dawn for this age-old, but not old-age, artisan form.
Join our commenting forum
Join thought-provoking conversations, follow other Independent readers and see their replies